Entertainment
Storm Chaser Reed Timmer: Risky Job With Near Death Experiences: Married With Metereologist Wife
Don't you ever wish to have a risky but yet an exciting job? Reed Timmer holds one of such risky jobs of storm chasing or tornado hunting. His job is so risky that he has had more than one near to death experiences. Learn more about his job and who is his partner in life?
Reed Timmer has a great interest or rather an obsession with storms and tornados and has wanted nothing more than to capture the most historic storms. But as nice as all of it sounds, his job is no piece of cake. It doesn't matter how cautious you are anything can go wrong, and you can wound up dead.
To give you a proper idea of these real live daredevils that unlike normal people, drive into the storm instead of driving away. On May 31st a huge tornado struck El Reno that killed about 19 people. 4 of them were storm chasers like Reed; they were a squad led by Tim Samaras, Reed's friend, and colleague. Paul, Tim's son, was also one of the members of his squad.
Caption: A documentary Remembering Tim Samaras
Reed also faced minor injuries from the disaster, and the hood of his vehicle was blown away by the storm. That serves us a reminder of how no matter how much trained you are; things can go wrong any time anyway. The storm was, even so, powerful that it totally leveled Tim's vehicle.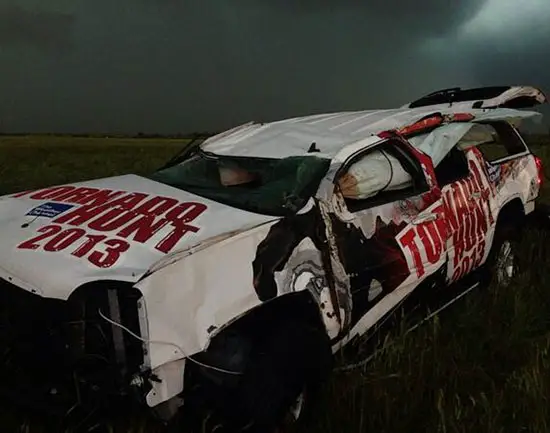 Caption: Totally destroyed vehicle of Tim Samaras
Source: wp.com
People oblivious to Reed's show, 'Tornado Chasers', may be wondering too why the hood of Reed's vehicle being blown away was such a big deal. This is because Reed and his team do not drive an ordinary automobile. He drives a specially modified vehicle built to stand against tornados known as '; The Dominator.' As bad-ass as the name sounds, it is perfectly suited just look at the picture; it resembles the car in the movie 'Into the Storm.'
But still, even the dominator is unable to withstand the full force of nature. So, they keep upgrading it. Till now they have already upgraded it to its third version. Yes, suddenly his astounding net worth of 250 thousand dollars seems less for all this, doesn't it?
Married to Former Meteorologist: Wife?
Who else will a meteorologist be married to than a fellow meteorologist? His wife is Maria Maliona Timmer, a meteorologist for Fox News Channel. But how did the couple with such adventurous everyday jobs get married? Well, it turns out they got married on the rim of Masaya Volcano in Nicaragua. Reed even posted about it on his Twitter account.
Well they had to top the engagement, didn't they? The proposal that took place while storm chasing and for their engagement photos the couple decided on an underwater photo shoot at pools of the Biltmore in Miami.
Caption: News of Reed and Maria Timmer getting married on December 2015.
Reed Timmer's Short Bio:
Reed Timer was born on 17th March 1980 in Grand Rapids, Michigan, US. He is a graduate with a degree in Meteorology from the University of Oklahoma. He has been storm chasing for 15 years of his life. He has also appeared in a documentary called 'Storm Chasing: The Anthology' this year.
The most recent update related to him is on March 18, 2016, when he accepted a challenge from the vice president of 'The Californian,' Louis Amestoy to this bet.