Entertainment
Sukanya Krishnan's New Job At Fox; Family Person Balancing Life With Husband
WPIX networks The Morning Show's host, Sukanya Krishnan had woken up the nation like a clock for the past 17 years.
However, that came to an end after her announcement about leaving the show in March 2017. Many viewers were left stunned that they might be the anchor for the last time. However, those fears were to be cleared when she turned herself as a brilliant addition to the FOX and is relishing her new job.
Besides, the talented anchor has also been brilliantly balancing her personal life with her professional life.
Want to know how she juggles between her personal and professional life?
Keep on reading till the end!
From WPIX To FOX, Different Channel Same Role
The viewers, who woke up and tuned into PIX11's Morning News were left surprised on 3 March 2017, when Sukanya Krishnan, the host for the program for 17 years, announced that she was leaving the show at the end of the March. Announcing her departure, she first thanked her fans for their continuous support addressing them as her extended family. In an interview with adweek.com on May 2017, she spoke of her departure stating,
I fell in love with all the colleagues I have worked with and all of you. We have all grown up together, laughed together and leaned on one another during some of the cities worst tragedies.
And the viewers planning for a fond farewell for the news anchor were left even more bemused when she was removed from her position after the third week of March, a week ahead of her scheduled departure.
However, five months after her departure from WPIX, she landed a new job, and this time it was with the FOX Network.
She was roped in with Jennifer Lahmers, to be the co-hosts of the FOX5's morning program, Good Day New York, airing every weekday from 4:30 am to 7 am.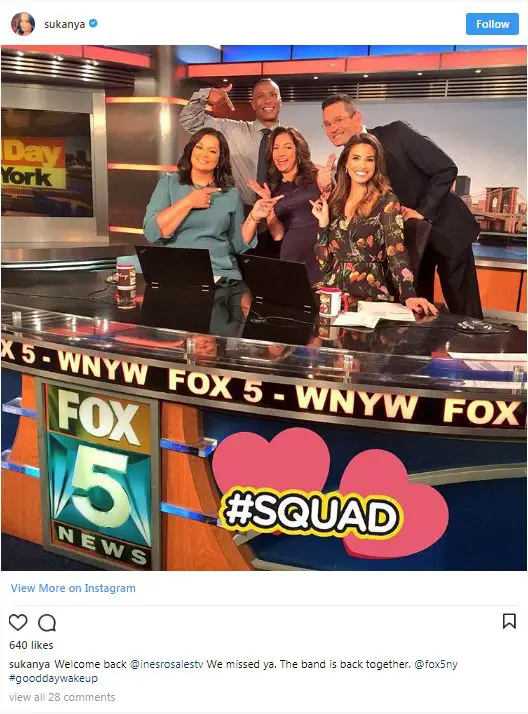 Sukanya Krishnan with the FOX5's Good Day New York crew members (Photo: Sukanya Krishnan's Instagram)
The Dickinson College graduate, blessed with a tall height of 5 feet 9 inches(1.75 meters), was back to the television sets again, waking up Americans and providing them with the news, weather updates, and traffic info to help them prepare for their day ahead. The former host of the show, Home delivery on NBC, has again been peeking the American households through her new job.
Sukanya, who enjoys the whooping net worth of $3 million, has not disclosed her salary from her new job. However, as per sources, Fox News anchor enjoys the average salary scale of $75,000 per annum, which Sukanya is also believed to enjoy.
Husband, Kids, Parents
Sukanya, who belongs to Indian-American ethnicity, was married to an officer of Fire Department New York, Eric Schroeder in 2007. The couple welcomed their first child, son Kiran in July 2009.
And on 30 May 2013, a heavily pregnant, Sukanya celebrated her husband's promotion to Captain, and her happiness doubled up a couple of days later when she went into labor and gave birth to her second child, daughter Shyla Alexy.
The news anchor is a happy wife and mother, who continually shares her family bond through her Instagram.
The Pittsburg Steelers supporter taunted her husband and her son on Twitter, after Pittsburgh's playoff win over The New York Jets, in 2016 NFL playoffs symbolizing the healthy banter the family enjoys.
Similarly, she posted on her Instagram, attending the Hamilton Musical with her son in 2017 and described it as an unforgettable experience. Next, she shared a cute snap of her daughter, sleeping in the car exhausted after her dance lessons, in June 2017.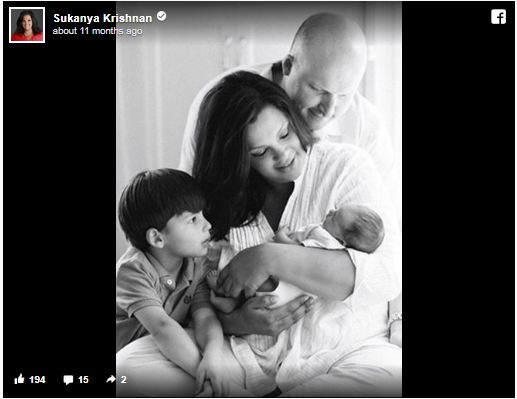 Sukanya Krishnan's family after the newest addition to family, daughter, Shyla Alexy (Photo: Sukanya Krishnan's Facebook)
Besides, the mother-of-two is also a proud daughter of her parents and calls them her superheroes. She penned a heartfelt message for her parents on their golden jubilee anniversary and thanked them for all the sacrifices they made to bring up their kids.
A lovely mother, a proud daughter, a caring wife, and superstar news anchor, Sukanya has been fitting every role. She is relishing every role with grace and juggling her family and professional life in perfection.