Entertainment
Summer Glau's Forever Questioned Ethnicity Answered; Has A Boyfriend Or Already Settled Down With Husband?
Appearance can often give answers to one's ethnicity, but sometimes it can be deceiving as well.
American actress Summer Glau is one the personalities whose appearance may fool everyone as she appears to be an Asian at first sight. But does she have an Asian ethnicity or people are just mistaken over her appearance? The forever questioned ethnicity of Summer Glau is now answered.
Question Of Mixed Ethnicity Answered But Is She Settled Down?
Summer Glau is often mistaken to be an Asian by many people. However, "Hawaii Five-0" co-star Grace Park revealed Summer's ethnicity in an interview with Entertainment weekly.
During the interview, Grace Park was asked how was it to work with Summer Glau. Answering the query, Grace also revealed Summer's actual ethnicity in her statement which said,
She was really cool. We were joking that her name was Summer G. Lau and she was actually of Asian heritage – that's what Daniel [Dae Kim] kept saying. I didn't know that her ancestry actually is Irish and German. But yeah, she just brought it. There were so many takes where the camera wasn't even on her, and she just gave it every single time.
Although Summer Glau is married to Van Morrisson, she remains silent regarding their dating before marriage along with the exact date and venue of their wedding.
However, Summer has captured her married life and first pregnancy with her beloved husband Van in a photo shoot session by her longtime friend and photographer Joan Allen.
In the photo shoot, the soon to be mother Summer and soon to be father Van were very much in love and gave some amazing moments to be captured by the camera.
Video Caption: Summer celebrating her marriage with Van Morrison via photoshoot and letting the camera capture their beautiful moments together.
Summer and Van welcomed their first child, a daughter Melina in January 2015 and photographer Joan Allen shared a picture where Summer is holding her cute baby, Melina, in pink romper suit at summer's home California.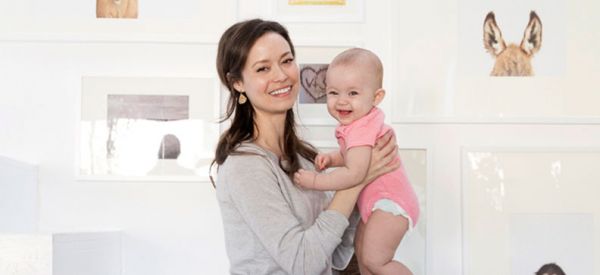 Caption: Summer holding her cutely smiling daughter Melina in her home at California.
Photo credit: Photographer Joan Allen
An actress and a ballet dancer Summer Glau started her career with a Television series "Waiting in the Wings" where she portrayed the role of a ballerina in 2002. With her performance, she was successful to make her mark in the eye of director Joss Whedon who cast her as "River Tam" in his critically acclaimed Television series "Firefly" and made her presence felt with her performance.
Her other memorable performance include "Sleepover"(2004), "Serenity'(2005), The 4400(2005-2006), "Terminator: The Sarah Connor Chronicles" (2008-2009), "Dollhouse"(2009-2010), "Alphas"(2011-2012) and "Arrow"(2013-2014), "Sequestered"(2014). With strong dedication and determination towards her craft, she has successfully gathered a net worth of $4 Million.