Entertainment
What Happened To Summer Rae's Married Plans With Her Then-Claimed Boyfriend? Were They Really Dating?
When the society claims women to be timid, shy and weak actress Summer Rae proved the statement wrong by entering the wrestling ring and being a number one professional wrestler. Her gigantic step did not only encourage women to pursue their dreams but also motivated most of them to stand against the wrong deeds.
Although she took away the spotlight via her wrestling profession she had once also been in headlines for her marriage plans. But till date, as no execution of the plan has been made, there lie a strong mystery and doubt in her dating life.
So today we shall learn about her non-executed marriage plans and open up the mystery of her dating life.
Marriage Plan: Failed or kept aside for a while ?
In the show of WWE, the lady was seen mingling with Rusev while she was helping the man overcome his breakup with his girlfriend Lana.The romance between Rusev and Rae brewed in the show, 'Keeping the stale love of Lana and Rusev' aside in the year 2014.
Caption:Summer Rae with Rusev at Eastern Pennsylvania (2015)
Photo Credit: cagesideseats.com
Although the man seems to be inconsiderate for Rae, she is seen sticking with the man. As posted by Cagesideseats.com on 27th October 2015, the lady is seen trying to impress the man by making him fall for him by changing her hairstyle and dress up by imitating his ex-girlfriend. Rae was so in love with the man, that she had made plans to marry the man who was equally competent in the wrestling field like her. She had even dreamt the title belt to be her engagement ring.
But, the dream of the women failed when she found her man cheating with his ex-girlfriend behind her back. As posted by Nesn.com on 12th October 2015, Rusev proposed his long time girlfriend Lana not only in reel but also in the real life shattering all the dreams of the lady.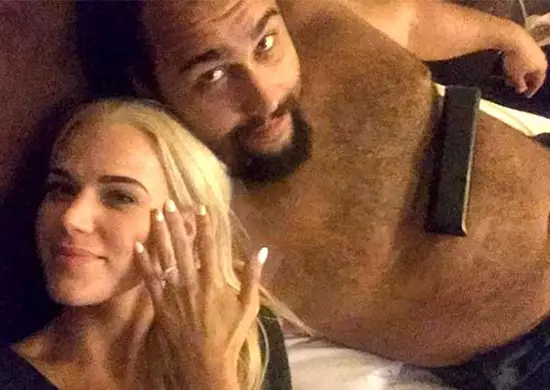 Caption: Lana showing her engagement ring given by Rusev (2015).
Photo Credit: Reddit.com
Well, the cheating series carried by Rusev brought an end to her marriage plan with the man. But the series is all based on the fictional character therefore in real life she has not revealed about any of her marriage plans and about her dating scenario.
Series of broken relationship: Before and After Rusev
Before getting along with Rusev the lady was involved with the WWE superstar Fandango.As posted by cagesideseats.com on 27th October 2015, the lady was paired up with Fandango as her dancing partner, however, the man dumped the lady for Layla.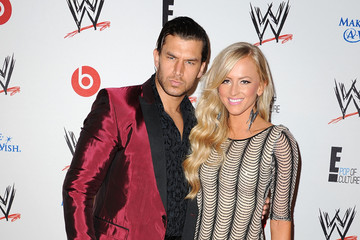 Caption: Summer with Fandango at WWE's 'Superstars for Hope' Event (2013).
 Photo Credit: zimbio.com.
When asked about the relationship with the Fandango as posted on Eonline.com on 28th August 2014, she said:
"Fandango and I are still very good friends.He gives the best advice. There's no weirdness just because we kissed and went out and I learned a lot from that. I learned that it's not good to force love and when I'm not looking it will come around." 
Similarly, after Rusev she was seen introducing her new boyfriend Tyler Breeze in the show. The major motive of introducing the man was not out of love or passion but it was just for the sake of revenge to make the other opponent regret i.e Dolph Ziggler  for not wanting to date her.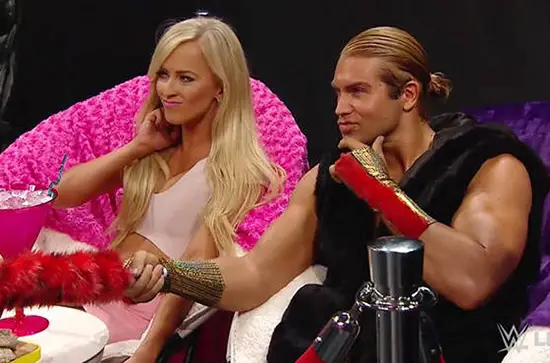 Caption:Tyler Breeze and Summer Rae at WWE Raw, October 26, 2015.
Photo Credit: Sportskeeda.com
The character of Summer in the show is shown as the lady who is eager to backlash anyone who tries to take away her spotlight. She has been portrayed as women full of vengeance and  women tolerating no nonsense.
However in her real life, she has kept her dating life, married life too secret. She has not revealed any of her dating mystery nor has spoken about her husband if she is really married.
Summer Rae: Net Worth 
Summer Rae has worked in television series like Total Divas(2014-2016) and has also contributed to the Hollywood movie, The Marine 4:Moving Target. She has worked in plenty of reality shows of Raw and has also played a football match with the Chicago Bills (2008-2011).
From all the works she has done till date has accumulated the total net worth of $ 1.5 million.She is still working on the reality show and will be seen on the television screen as well as in movies which will add more wealth to her accumulated net worth.