Entertainment
Sundance Head- The Voice Winner and American Idol Contestant Is Busy With Tours! Details
Not everyone is blessed with a vocal required to master Singing. It takes real skills and practice to perfect this soulful art, and only a few of many are able to taste glory in this very art form.
Amid all the veteran singers ruling over the music industry, the music related reality shows are doing a tremendous job of bringing forth the talent hidden in between the mass of the people.
One name, who stood out with precision, is the season 11 winner of The Voice and an American Idol former contestant, Sundance Head.
Sundance has been a sensation ever since the spotlight came on him, and now he is someone who has been making further inroads in his career as a musician with his singing prowess. Let us address and discuss his upcoming tours, sharing some information about his wife and the married relationship between them.
Winning The Voice Season 11 & Trying His Luck At The American Idol:
It was late 2016 when Sundance Head got crowned as the winner of Season 11 of The Voice. The finale held in Los Angeles saw the Texan, who was a pivotal member of coach Blake Shelton's team.
Looking to secure a victory, Sundance performed Etta James' classic love song, "At Last."
Caption: The Voice 2016: Sundance Head - Finale: "At Last."
Published on Dec 12, 2016.
The performance was so delightful that he ended up as the winner of the 11th season of the singing reality show.
Caption: Sundance Head, crowned the singing champion.
Published on Dec 13, 2016.
In addition to bragging rights, the aspiring Texas born singer also earned the star prize of a recording contract. The founder of the "Soul Country" is set to hit the fans with his new album this fall.
Speaking about the win and his nervousness regarding his then next gig, he said,
"Other contestants have more social media followers than me, I thought it would come down to that. I knew I had performances that swung the pendulum for me. I just prayed to the Lord and asked that either way, win or lose, I'd respect the results of the path he'd have me walk."
Moreover, sharing what it would be like to sing the national anthem at the Texans-Jaguars game, he elaborated,
"I think I'm going to be a nervous wreck. This song means so much, I'm paranoid I'm going to drop a line or sing something wrong. I've been challenged all summer; I look at it like another another opportunity to go slay. I hope [my voice] can soar to the rafters, knock the bolts out of the ceiling. Plus, I get a free game and a hot dog out of it."
But did you know, before being famous for his win on The Voice, he also tried his luck in the American Idol back in 2007?
Caption: American Idol S06 - Sundance First Audition
Published on Sep 2, 2011
At the Memphis auditions, Sundance performed a beautiful a capella version of the famous "Stormy Monday." He had all three judges in awe and total disbelief.
Simon Cowell said,
"Wow,Probably one of the best voices we've heard on the auditions this year in every way. I'm going to be amazed if you don't make the finals. I thought it was terrific, well done."
Paula Abdul raved about Head's "powerful voice," while iconic Randy Jackson also praised the singer by saying,
"We in Memphis and you come in singing a blues song and blew it out. You sounded great. 100 million percent yes, this boy's the bomb,"
Trying his luck in the sixth season of the American singing reality show, he got placed in the Top 15.
He wasn't fortunate enough then to go all the way on American Idol S6. Well, he surely has a bright future whatsoever.
His singing career has been ever expanding, and as a result, he has earned a healthy sum of money in his life. But still, Head has not opened up about the actual figure of his net worth.
Upcoming Tours:
Sundance Head is a man with an incredible voice, and that is why he has garnered such success in his career as a singer and a musician. People love to hear him treat their ears.
If you are one of the fans willing to catch him live on one of his tour shows, well, you might get lucky soon. He has got some shows lined up for his fans that started a few days back on August 3, and you would be damned if you live near the venue of the show and miss it.
Who knows, you could get to hear some of his amazing songs like "13 Years" live?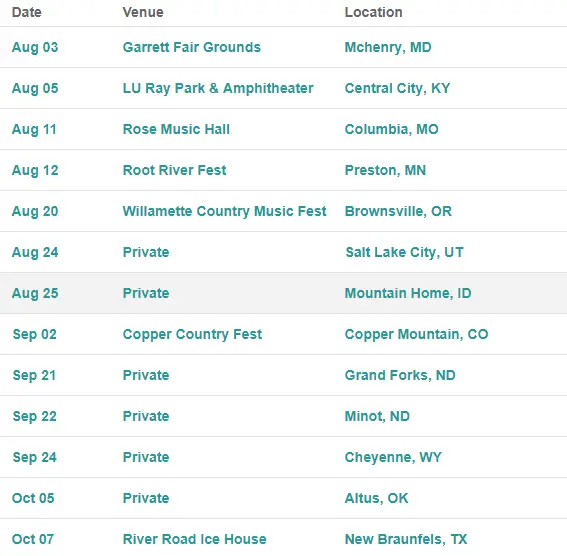 Caption: Sundance Head's tour schedule.
Photo Credit: bandsintown.com
Sundance's Married lIfe: Wife and Children:
Sundance Head is a married man, who has been with his wife Misty for close to a decade. He also has three kids to boost his love for her.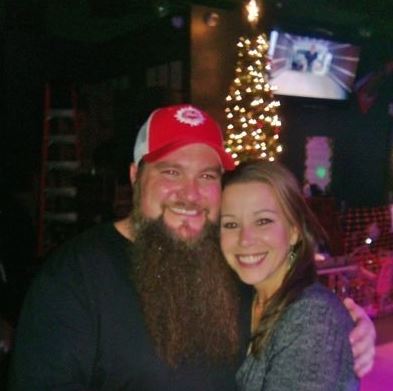 Caption: Sundance with his wife, Misty
Photo Credit: Dailyentertainmentnews.com
He has not brought his family life in the spotlight, but his wife is the one to manage him for all his tours and schedules related to it.
Stay with us for the emerging updates on Sundance Head!