Entertainment
Supa Peach Wiki: Age, Dating Affair With Boyfriend and Family Detail Of The Rising Music Artist
Supa Peach Wiki: Age, Dating Affair With Boyfriend and Family Detail Of The Rising Music Artist. Supa Peach is one of such social media born star who rose to fame as a rising music artist. And with the growing popularity, she is garnering fans and followers who are equally interested in getting divulged about her love life.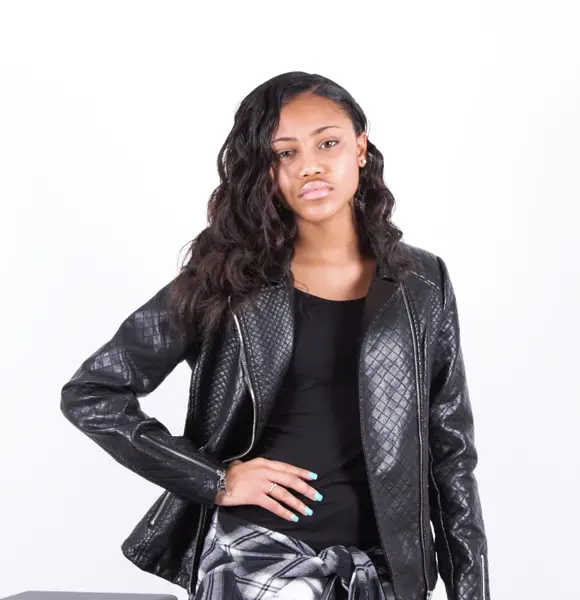 Social media has now become accessible on the tip of the finger. It has moreover provided a platform for the budding artists, and many people have become a celebrity just by utilizing the benefits of the platform.
Supa Peach is also one of such social media born star, who rose to fame as a rising music artist, and with the growing popularity, she is garnering fans and followers. Her fans, however, are still unaware of the life of this star beyond the social media.
So today, we bring you all the details you probably do not know about Supa!
Does Supa Peach Have Dating Affair With A Boyfriend?
Supa Peach has maintained secrecy over her love life, and no information regarding it has surfaced in the media. It is possible that she enjoys her singlehood status, but it's probable that she might be romancing her boyfriend far away from the limelight.
Whatever be the case, the fans are left to wonder the exact relationship status of Supa.
Although Supa has not shared any information about her love life, she enthusiastically talked about her music career in an interview with thesource.com back in May 2016.
When asked about her inspiration behind pursuing a musical career, she shared,
I've always loved music. It's always been a part of my life, since I was a baby. Music is like a video game I can't stop playing; I'm addicted to it!
Supa participated in the Lifetime's reality completion, The Rap Game in 2016. Although Supa did not win the competition, she got a bigger platform to showcase her talent, and she even called the reality show the highlight of her career.
Being on The Rap Game. It gave me more exposure and a bigger platform to showcase my talent and to deal with different artists. I learned a lot about sharing the spotlight, but I still feel I was the best.
Supa shared how life has changed since she began her musical career as,
Life didn't change much, but I do have more fans. I have fans calling to book me often and also perform at their birthday parties. I work so hard, I expect to be one of the best entertainers ever. I'm looking forward to showing the world more of SUPA PEACH.
Supa listed the characteristics, which she believes is important, to be successful as,
Showing appreciation to my fans, hard work, dedication, staying in school and always putting God first.
Moreover, she gave a piece of advice to the other young ladies in the industry and said,
Never give up on your dreams. Don't let negative things influence you. You can be whatever you want in this life, nothing is impossible.
So much for an inspiration coming from such young talent!
Supa Peach's Wiki-Like Bio:
Multi-talented personality Supa Peach was born on March 7, 2003, in the British Virgin Islands. She has gained popularity as Supa Peach, and it appears that it's her real name as well.
Supa has been performing before she reached the age of ten. On the track to her dreams, she participated in The Rap Game in January 2016. After the show, she released her first single called, "Run It" in June 2016 followed by another single called "Pretty Gang" in August 2016.
Moreover, she has released many songs including I Set Trends, We Do What We Want, Cool With Me and Numero UNO. 
Caption: Supa Peach performing in her musical number called "Numero UNO" (Video Published on  November 26, 2016)
Just at the age of fourteen, she has made a name for herself as a pop singer, rapper, model, actress as well as an all-around entertainer. She has furthermore a youtube channel on her name, which has more than 242k subscribers. 
Supa's family is also popular in the social media. Supa's older sister Precious Peach, who is also known as Precious Londyn is her manager. Moreover, Precious' daughter and Supa's niece, Mini Peach are also Youtube stars.
The sisters not only work together but also have fun together; Supa shared a fun video with her sister and niece on Instagram on September 16, 2017.
While talking about the YouTube stars, the question which usually pops up in our mind is-" how much the Youtube star earns?"
Well, we don't know about every one of them, but Supa Peach, as per reports, has accumulated a net worth of $100,000.
Stay with us for further updates on Supa Peach!