Entertainment
Tameka Empson Not Interested To Blab About Her Baby Father; Natters About On-Screen Husband Only
Tameka Empson Not Interested To Blab About Her Baby Father; Natters About On-Screen Husband Only.When rummaging over the human psychology, few people have the adaptive behavior of blabbering about their personal life while few people prefer to keep it secretive.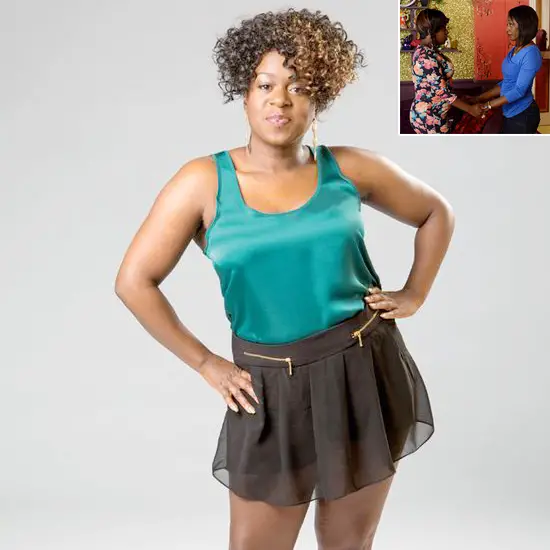 When rummaging over the human psychology, few people have the adaptive behavior of blabbering about their personal life while few people prefer to keep it secretive. So is the scenario of the actress Tameka Empson who prefer to talk about her on-screen husband but restricts herself from talking about her child's father.
Here, we shall know more about the biological father of Tameka's child and go through her present relationship status.
Talks About On-Screen Partner, But Who Is The Biological Father Of Her Babygirl?
In the middle of a season of Eastenders in the year 2014, the character Kim Fox all of a sudden vanished from the screen. The key reason for such sudden disappearance was due to her nearing maternity date. Tameka kept her first pregnancy matter secretive from the public and hence did not reveal anything about her pregnancy, but her close source on 21st February 2014 to Mirror.co.uk confirmed the news of her pregnancy in glee. They said,
"All the cast and crew are delighted for Tameka; she has managed to keep working and also keep her pregnancy a secret. There is not long to go now until the birth, so she is taking some time off because it is her first baby and she wants to get everything ready."
They even added,
"She may pop up now and again and will be welcomed back with open arms after some time off with the baby."
Tameka has not shared any birth details of her baby daughter Nylah, and after taking five months leave from work, she returned to the show but however, she has talked about her much-talked on-screen husband Richard Blackwood, and child Pearl in East Enders.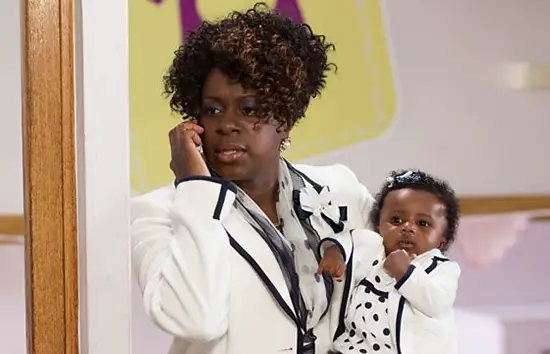 Caption: Tameka with her on-screen daughter Pearl in the series East Enders (2016).
Photo credit:radiotimes.com
When interviewed by Radiotimes.com on 19th May 2016 regarding her on-screen daughter and off-screen daughter, Tameka revealed about her bonding with her little one and even mentioned about her daughter. She said,
"I adore it when the costume department does that. It's like having a Mini Me. The idea came from them because, sometimes, they get Kim more than I get Kim. But it so works. Working with the baby is so nice because it's a reminder of what my own little girl was once like. She's now two and Pearl is one. But my two-year-old is going on like she's 12. She's grown up such a lot. So I get my baby time with Pearl."
Followingly when asked about her on- screen bonding with her husband Richard Blackwood, Tameka spoke about her romance with her partner and eventually also revealed few details of her character as Kim. 
"Yes, bouncing off Richard is great. And Kim is now a bit more grown up. Before, she was very much living the party lifestyle. But now she's taking her responsibilities seriously."
The ok.co.uk on 31st August 2016,  reports Tameka about having a husband but she has not spoken a word about her marriage events nor shared a picture of him and her daughter.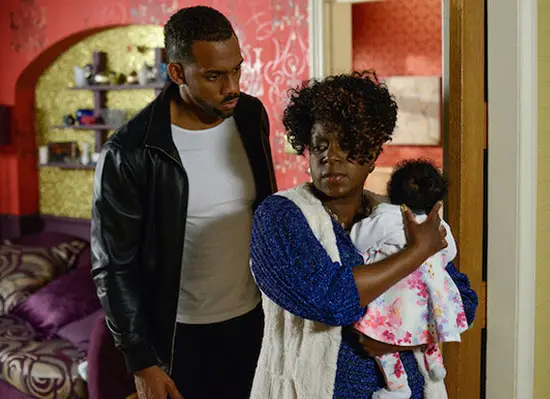 Caption: Tameka with her on-screen husband, Richard Blackwood and daughter Pearl in the series of East Enders(2016).
Photo credit:dailystar.co.uk
Tameka Reveals Less; Making People Wonder
Tameka seems to be adapted with a secretive personality as she has not mentioned the name of her husband nor about his profession. Maybe she does not want her husband to be caught up with the swarming paparazzi, or maybe she does not want to be in the attention of the public due to her personal life.
Recently, she came in highlight for her dance in the show Strictly Come Dancing with her professional dancing partner Gorka Marquez. She was evicted from the show due to her injury which she had while rehearsing for the show. Despite having the serious injury, the jury failed to acknowledge her issue which later got her evicted from it.
While going through her Twitter account on 15th October 2016, she has shared a picture of her and her professional partner Gorka Marquez where she had expressed her love for him.
Is She Seeing Another Man?
Tameka
 is still married and is enjoying her quiet married life without the interluding of media.There is no rumor of her involvement with her dancing partner Gorka or with her on-screen partner Richard nor she is pregnant with her second child.
Well, she has well kept her personal life and professional life apart from each other, and we all are waiting for the comedian to reveal about her mysterious husband and her little daughter. Someday, maybe she will share the details of them. Till than followers
enjoy her performance in her series
!