Entertainment
Tammy Townsend Still On Dating Terms With Boyfriend? Pinches Out Husband Rumors
With the concept of opposite attracts, actress Tammy Townsend had once emerged in the story for getting mingled with a person who was entirely different from her thoughts, habit, and personality. Their relationship started in the mid of 90's. Is there strong bafflement in the existence of their relationship or has the relationship taken the next level of marriage?
With several questions in mind, we are looking into the marital life of the actress followed by her family life.
In The Same Relationship Of 90's Or With A New Husband?
In the year 1995, Tammy was highly involved in a relationship with the "Talk About Being Different As Night and Day" actor Kevin Eubanks. The pair had accidently met on the parking lot of L.A before the recording studio while they were assigned to work for the Marsalis. Since that incident, Eubanks took the initiation to express his love towards her and to the people.com Eubanks revealed the entire scenario of his awkwardness. He said:
"I had to talk to her. She had a very low-key, organic vibe I dug."
While Tammy disclosed about the initiation taken by Eubanks when asking out on a date and spoke about how she felt before getting acquainted with him. She said:
"He was awkward at first, which I thought was cute,He had a pimple on his chin. That was cute too."
While the pair was seen in the 1996 cover page of Ebony Magazine as the "Top 10 Hottes Couple" in the January issue.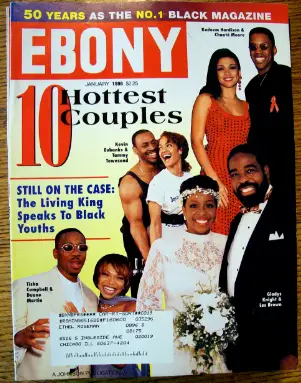 Caption: Kevin And Tammy in the middle of the cover page of Ebony (1996). 
Photo Credit: tias.com
Since then no news of their togetherness flared in the media, while Tammy got linked in a relationship with Carl Payne, Kevin is reported to be single. However, no news of Tammy and Carl relationship emerged in any of the gossip pages; there is a likely possibility for them to be in a relationship while they were working for the movie "Love Overboard" (2012).  Maybe the relationship was only a rumor due to the chemistry they shared on screen, while current Carl is reported to be possibly single.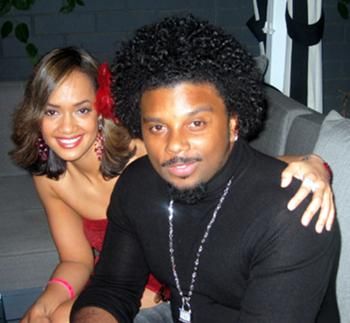 Caption: All set to ablaze the romance in the movie"Love Overboard"(2012). 
Photo Credit: whosdatedwho.com
Similarly, in 2014 Tammy revived in the gossip news for her husband rumor with her co-star Kadeem Hardison. The story might have emerged due to her wifely character she portrayed with Kadeem on the Disney show "K.C. Undercover".
Caption: On an interview about the "K.C Undercover" with Tammy and Kadeem with Red Carpet Report (2014). 
However, the rumor was taken care when Tammy through her Twitter addressed it as,
Okay let me clarify. Kadeem is my TV husband! See this is how rumors get started! Lol!

— Tammy Townsend (@TammyTownsend10) September 26, 2014
Despite playing a secret agent in the series and the wife of Kadeem, Tammy has maintained a friendly relationship with her on-screen husband with no real feeling while Kadeem has completely kept his current dating profile underneath.
Having worked with several handsome male stars, Tammy has not shared any of her relationship details besides her relationship with Kevin Eubanks. Even while scrolling through her social media, Tammy has uploaded several pictures of her day to day life and with pictures with her next co-stars, but she has not revealed any details of her husband or her boyfriend.
If she were married, she would apparently put on a solitaire and somewhat declare about the ending of her bachelor life, or maybe she got married and had eventually started a family but got divorced quietly. With so much confidentiality on her personal life, the actress has completely kept the media away from getting hold of her relationship and marital life.
So, lady, if you have a man in your life, do get married as we' d  love to see you wearing a white veil and if you have not found a perfect partner yet just don't jump into a relationship with any random man. Instead just wait for a perfect man to arrive in your life with whom you can start your family of own.