Entertainment
Queer Eye Star Tan France In Style With Husband At Age 35; Gay Love Goals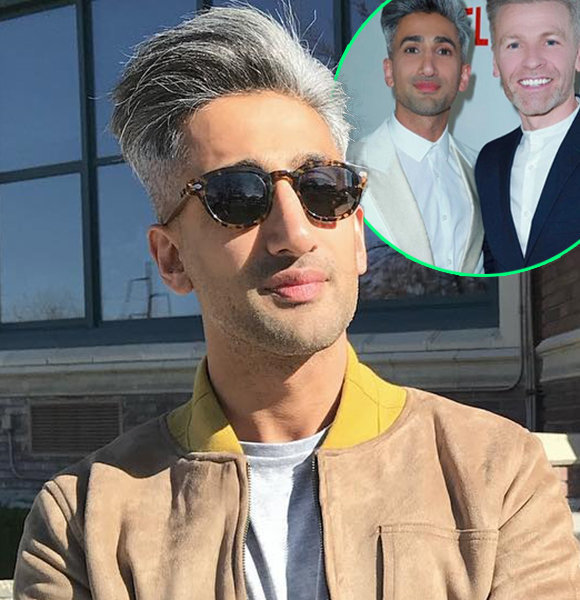 One of the Fab Five, Tan France manages the fashion section in the series, Queer Eye, the Netflix original series released on 7 February 2018. As the show itself revolves around five gay men and their struggles for society's acceptance, Tan is the Queer Eye's resident style, gay guru. 
But, Tan is a proud gay man in real life too, who wants people to consider the LGBT community as their peers and not just some piece of accessories. And for the man, who still has issues adjusting with regular people, he has found the desired comfort in his lover-turned-husband.  
Why don't you uncover all the goodies of Tan France's love life in one go! 
Beautiful Life With Partner
Tan met Rob Snow, a creative designer, through a dating site. Although the couple had differences at first, they eventually grew fond of each other and soon started dating. 
The lovers certainly had their differences in religions and ethnicities, with Tan, being a Paskitani parents' Muslim son and Rob, a Mormon. However, Tan age 35, revealed that the thing which brought them together was their religious nature.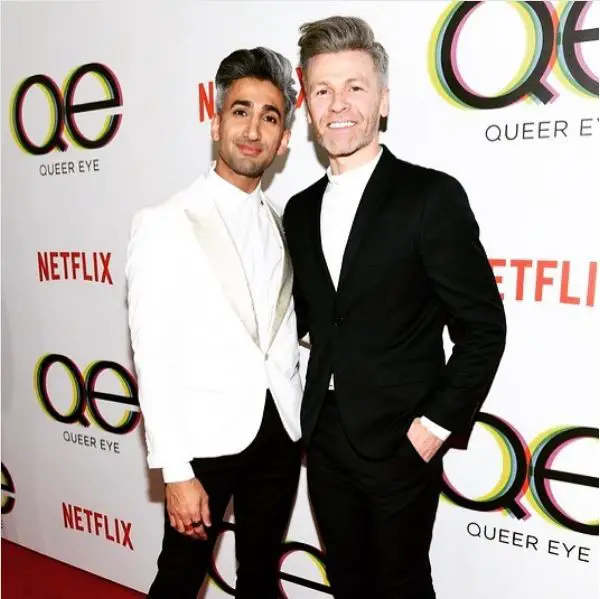 Tan France attends the premiere of Queer Eye with husband Rob (Photo: Tan France's Instagram)
The couple shares similar interests which made their dating life more comfortable. Tan said in a 2018 interview with New York Post,
"It made it easier to date somebody who had similarities to me. I don't drink alcohol, I don't smoke."
He further added about sharing a common understanding between their faiths,
 "We practice some of our religions' practices. We don't practice them all. We practice what works for us."
Moreover, Tan and Rob got married eight years ago even although the couple has not disclosed their wedding venue. Rob, who is taller, in height than his spouse, has also adopted the last name of his husband and now identifies himself as Rob France. 
Rob, who is also a painter, likes to show his love for Tan through his arts. He made a beautiful portrait describing the couple's married life and flaunted the picture on 13 February via his Instagram.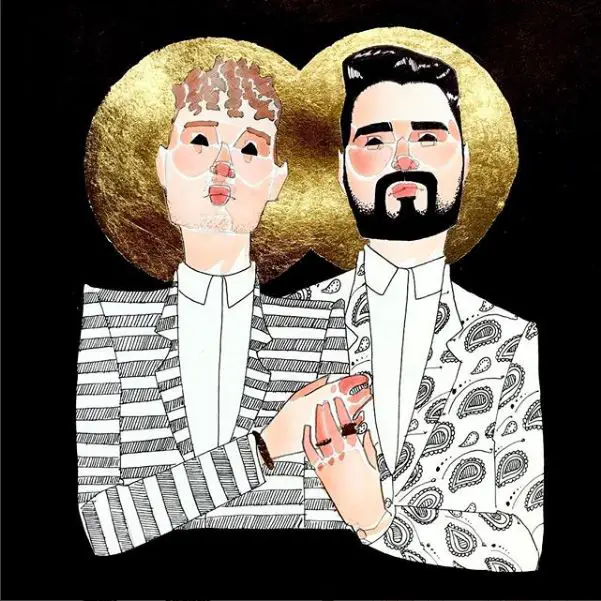 Rob paints a portrait of him with husband Tan on 13 February 2017 (Photo: Rob France's Instagram)
The life partners have not yet revealed any intentions of adopting a child and starting a family. However, seeing their compassionate love for each other; it can be quickly noticed that the two husbands have enough love between them to spare a few for a new member. 
Tan is currently living a comfortable life with his partner, but his past is full of trauma as he has been a victim of racism and homophobia.
Traumatic Life In UK
Tan, who originally hails from England, has been subject to bullies in his life. He has been discriminated for being a Muslim and a gay man. 
The TV actor further revealed in an interview that during his years of high school, he would dress and act like everybody else so people wouldn't think he was different. Moreover, he also told that he would be called a "Paki' for being born of Pakistani parents. 
But, now as he has moved to the US, he has not faced much discrimination and mentioned that life in the states is more relaxed than in the UK for a gay Muslim. Tan, who currently lives in Salt Lake City with his spouse also revealed that he was getting to the point where he could be whoever the f**k he wanted.