Entertainment
Tareq Salahi Moving On From Divorce! Wedding With Wife and Business Partner
American actor Tareq Salahi is known for his appearance on Bravo'sThe Real Housewives of DC.
Tareq went through the public humiliation after his wife abandoned him. Later, he fully-recovered from that pain of divorce and stepped into the romance department with a new life-partner, who is also his business partner.
Go through the article to know the person who changed his life from a divorcee to a married man!
Moving On From Divorce!
Tareq Salahi got married to actress Michaele Salahi back on 1 November 2003. But after sharing eight years of marriage life, Tareq reported on his wife's missing in September 2011.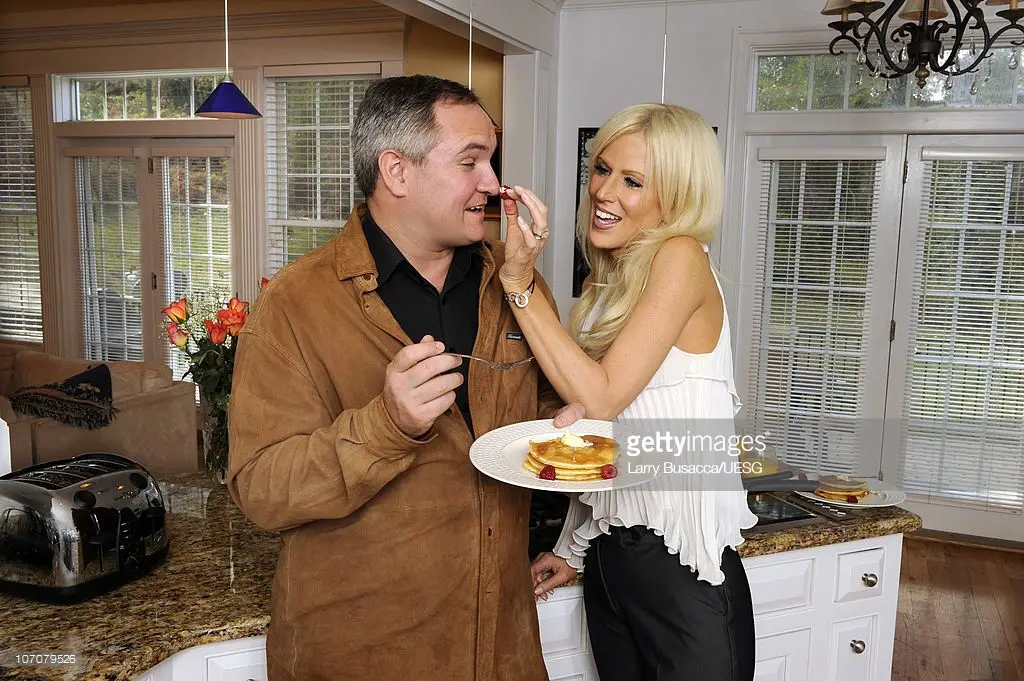 Tareq Salahi with former wife Michaele Salahi (Photo: Getty Images)
Michaele had not returned home from a hair appointment and a dance class when he alerted the 'Warren County Sheriff's Office' stating his wife had been kidnapped.
Aside from filing the missing complain to the Sheriff department, the concerned Tareq, who had claimed that he received death threats in the past, also took to Twitter, writing,
"RHODC star is MISSING, Please RT, if u know any details please contact Virginia Police Dept or missing@MichaeleSalahi.com... Michaele Salahi was last seen wearing a Baby Blue T-shirt dress with a silver glitter dolphin on the front and back thongs. #KIDNAPPED."
Tareq's manager, Gina Rodriguez stated:
"It is our belief as of last night, Michaele Salahi may have been kidnapped or abducted and is being held under duress and forced to tell persons, including authorities, she is OK."
In actual, she had not went missing or was kidnapped. She had run away with the Journey guitarist, Neal Schon and did not want her then-husband to know where she was. In fact, she was traveling with the rock star on his "Journey's United States" tour.
Well, Michaele had an extra-marital affair with Schon for two years before the news made it to the headline. After the news aired about an extra-marital relationship of Michaele, naturally, humiliated, Tareq planned to divorce his cheating spouse and the popular white house gate-crasher couple ended their marriage on 20 August 2012.
After the Salahis' public separation in September 2011–which Tareq at first tearfully described to a local TV station as a possible kidnapping of his wife, set out to start a new life.
The NBC celebrity talk show Access Hollywood obliged with a makeover. The program helped Salahi trim down, color his hair, and get invisible braces to straighten his teeth. He emerged younger looking and more fit.
Later, Salahi was spotted with self-proclaimed Manhattan madam Kristin Davis, who ran an escort business. Then, he even confessed to having a crush on another blonde of TLC's reality TV series Kate Plus 8, Kate Gosselin. Following this, he shared a steamy relationship with another stunning and very wealthy woman from Greenwich, Conn. named Natasha Justina Pray.
But as of now, he is embraced into the marital bond.
Business Partner-Turned-Wife
After separating from the wife of nine years, the polo-playing performer star of the series, Real Housewives of DC, gain a break in the romantic field.
Taleq, who comes from the business family background, found the new co-conspirator in love with the business partner and girlfriend, Lisa Spoden. They had been friends for almost a decade and had even started a company together named Hotels at Sea, which charters cruise ships for special events.
Tareq mentioned in an interview with nydailynews.com on November 2015,
"While working together, we fell in love. We decided that we are a perfect fit both in love and work."
Well, the two business partner announced their engagement in November 2015. And they threw their own splashy engagement party for 300 guests, a month later.
On 2016's New Year, Tareq who enjoys the net worth of $ 2million, again exchanged the sacred wedding vows to the business-woman, Lisa Spoden, aboard a Norwegian Cruise Line which headed for the British Virgin Islands.