Entertainment
Taylor Spreitler, Dating Musician Boyfriend In Cutest Way Possible
Taylor Spreitler, Dating Musician Boyfriend In Cutest Way Possible Having a similar kind of story is the actress and model Taylor Spreitler who is dating musician boyfriend in the cutest way possible.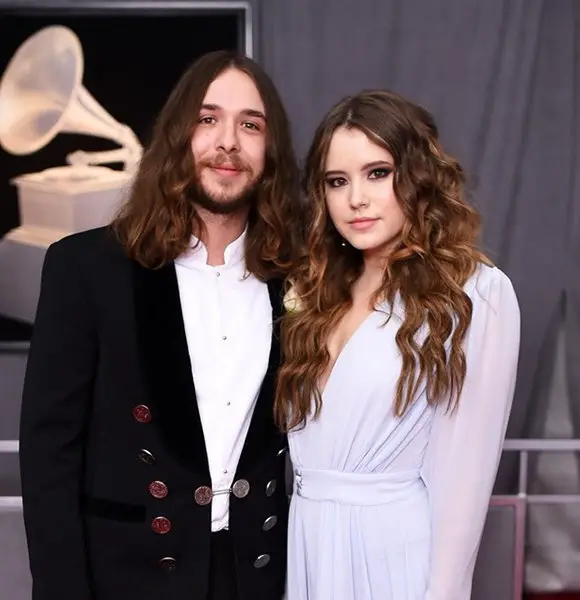 Not every relationship has the happy ending and not every people who are dating at the moment are meant to be together in the future. However, every couple possibly dreams of having the perfect relationship where they enjoy every moment together while loving each other to the moon and back.
Having a similar kind of story is the actress and model Taylor Spreitler who is dating musician boyfriend in the cutest way possible.
So today, we will have a deeper look at Taylor's romantic dating life with her musician boyfriend.
Taylor Spreitler Dating In Cutest Way Possible!
Like every happy couple, Taylor is also having a blissful relationship with her boyfriend, David Antonsson Crivello. Taylor introduced her boyfriend to her fans through a picture shared on Instagram in April 2017.
Likewise, in May 2017, Taylor shared a collage on Instagram where she looked smitten in love with her boyfriend.
A couple of months later, in August 2017, Taylor again shared another picture with her man on Instagram wishing him 'Happy Birthday.' She took the occasion to admire him saying that he is pretty and she likes him a lot.
On December 2017, Taylor shared a picture with her boyfriend where they were seen celebrating Christmas together. Taylor's picture also featured a dog and a puppy.
Through her Instagram post it clear that the couple is dating in the cutest way possible. Besides her dating bliss with David, Taylor had a relationship with Spencer Knight in the past.
On Valentine's day of 2014, Spencer surprised Taylor by decorating her room with balloons and card. She shared the scenario through her Instagram while complimenting her then-boyfriend.  
Likewise, in October 2014, Spencer joined the birthday party of Taylor in Studio City, Calif where Spencer gave his then-girlfriend kisses. However, their relationship didn't last long.
Taylor Spreitler's Short WiKi Like Bio: 
Taylor was born on 23 October 1993, in Hattiesburg, Mississippi, USA. She has a sister named Melissa. Both the siblings spent their younger years in Wiggins, Mississippi and then moved to Amory, Mississipi.
Initially a model, Taylor booked her first commercial audition, a national campaign for Motrin. This was followed by a series of spots, including JIF, Hess, and Chunk E.Cheese's.
In 2009, Taylor signed a three-year contract to play the role of Mia McCormick on the NBC daytime soap opera 'Days of Our Lives.' She then portrayed Lennox Scanlon in ABC Family's Melissa & Joey. Taylor is also known for playing the character of a pregnant girl in 'Stalked at 17' in 2012.
Meanwhile, in April 2015, Taylor shared through her Twitter that she is working out at Katie's Fit Lab which reflected about her weight loss.
She was cast as Kendra Gable in the CBS sitcom, 'Kevin Can Wait' in 2016. Later year, she co-starred Bella Thorne and Thoms Mann in the horror film Amityville: The Awakening.