Entertainment
Here's Why Tequan Richmond Isn't Gay! Personal Life & Family Details
American actor Tequan Richmond, who is famously known for his role as Drew Rock in the American sitcom, Everybody Hates Chris, often got speculated as gay due to the absence of a girlfriend in his life.
But the rumors do not seem to have penetrated Tequan's love life because he has a girlfriend on his side.
And there's more!
He has dedicated long romantic messages to his girlfriend via his social media.
Well, there's a lot to know; Tequan's gay rumors, his dating life and his love for parents. Dig in!
Not Gay; "Can't Live Without Girlfriend"
Tequan is active on social media and uses the platform to drop the hint on his dating life too!
Back on 4 March 2012, Tequan tweeted stating that he needs a girlfriend as all his friends were with their girls.
After four months of his revelation that he was single, Tequan revealed that he had a girlfriend and gushed about his feelings towards his girlfriend via a Facebook post that he posted on 15 July 2012. He wrote that he loves his girlfriend very much and can't live without her.
Moreover, Tequan revealed that he couldn't see her while he claimed that he would cry or even die for her. He even wrote that he waits by his computer in hopes to get messaged by his girlfriend though he knows that he should be the one to text her first. He ended his long dedicated message writing,
I Just Wanna Kiss You I Love YOU SO MUCH !
Though Tequan revealed his relationship status as taken, he did not reveal his girlfriend's identity or any information relating to her.
Later in October 2014, he was spotted close with a mysterious girl in Los Angeles. However, it is not sure if that's the same lady Tequan referred as his girlfriend.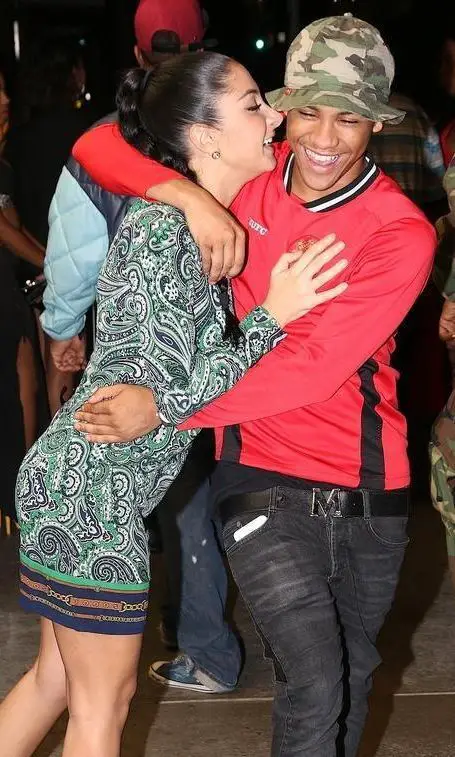 Tequan Richmond seen in smiles with a mysterious girl in 2014 (Photo: lipstickalley.com)
However, Tequan's preference for girls was sure by the presence of his girlfriend. His Facebook post and tweet surely falsified the gay rumors but instead hints he might be waiting for a perfect match to appear in his life.
Affection For Parents
If Tequan likes to keep his love-life a secret, he pours all his affection for his parents via social media. Back on 21 June 2015, he tweeted commemorating his late father on Father's day.
Similarly, he wished his mother a Happy Mothers Day on 8 May 2016 by Instagramming a picture of his mother and via the caption quoted her as his "partner, homie and Mom." He also revealed that his mother is the one to teach him to be sufficient as he is and praised her saying that she is the smartest woman he knows so far.
Tequan also took his mother's birthday to Instagram by uploading a photo of him and his mother on 5 October 2016. Expressing his gratitude and love, he also congratulated his mother for becoming a licensed Los Angeles Real Estate Agent and stated that he is very proud of her. The caption read,
"Really appreciate you not only teaching how to be a man but how to be smart about every lil thing I do. Love you ma Enjoy your day see you at dinner! ❤️? TR"
Tequan looks to be a loving son, and he is indeed supported by his family. With all the support and the work credits on his name, Tequan has already amassed a net worth of $500 thousand and is still on the way to amass more success and fame.