Entertainment
Terry Gross Is Not A Lesbian! Just A Young-By-Heart Personality With A Lowkey Husband Who Likes To Talk About Stuff
Terry Gross Is Not A Lesbian! Just A Young-By-Heart Personality With A Lowkey Husband Who Likes To Talk About Stuff. Rumors are part and parcel of the life of a celebrity, and sometimes, the rumors become so intense that they have to come forward to speak on the matter. Similarly, Terry Gross who maintains a low-key married life with a husband was also considered to be a lesbian, following which she came forth and cleared the rumor.
Rumors are part and parcel of the life of a celebrity, but sometimes, the rumors become so intense that they have to come forward to speak on the matter.
Terry Gross, who maintains a low-key married life with her husband, knows that well, as she too fell victim of a rumor where she was considered to be a lesbian, following which she was compelled to come forth and clear the rumor.
So, today, let us shed some light on Terry's thought on lesbian stories, while talking about the other details of her personal life.
Terry Gross' Thought on Lesbian Rumors:
Terry Gross was frequently assumed to be a lesbian; in an interview back in July 2012, she shared an incident of a party where her sexuality was being talked about, but being a good sport, she didn't make a big deal out of it.
The spouse of a recipient went up to my late mother-in-law and said: "That's Terry Gross. Did you know she's a lesbian?" She just thought that was hysterical. There's actually a Web site called NNDB, where they list people's biographical statistics, like your date of birth and religion. They have my sexual orientation as "Matter of Dispute."
The lesbian rumor surrounding Terry is just a hoax, as she indeed is a married woman with a husband!
Terry Gross' Married Life With Husband:
Terry Gross met her husband, Francis Davis in Philly, 1978, while he was working at the University of Pennsylvania campus in a Listening Booth. A mutual friend of Terry and Francis used to work at the same record shop, and as Terry visited the shop to buy records, she got to know about Francis' huge record collection. That was when she finally decided to feature him regularly on WHYY, related to rare jazz music.
Recalling the beautiful moment, she shared the memories in an interview with The Tonight Show With Jimmy Fallon in August 2017.
"He wrote me this script and it was so beautifully written. His use of language was so great. I started falling in love with him and his writing and his taste in music all at the same time."
Caption: Terry's talk with Jimmy Fallon about how she fell in love with her husband. (Published on Aug 11, 2017)
The initial meeting was only a start of the lifelong bond, which blossomed and eventually culminated into marriage. Terry and Francis got married in 1994, and the bond has only strengthened ever since.
Terry gushed about her relationship with her husband in an interview with Vanity Fair September 2012.
When asked about her idea of perfect happiness, Terry answered,
A glass of wine, a good dinner with my husband, and a day ahead of me without a deadline is close enough.
Moreover, when asked about her greatest extravagance, she replied,
Eating out with my husband every night.
Similarly, when asked about the greatest love of her life, her answer was her husband,
My husband, Francis Davis, who is also one of my favorite writers.
Furthermore, when asked about the happiest time of her life, once again, she mentioned her husband.
In 1978, I started seeing my husband, and Danny Miller, *Fresh Air'*s executive producer, started working on the show. Who would I be, where would I be, without 1978?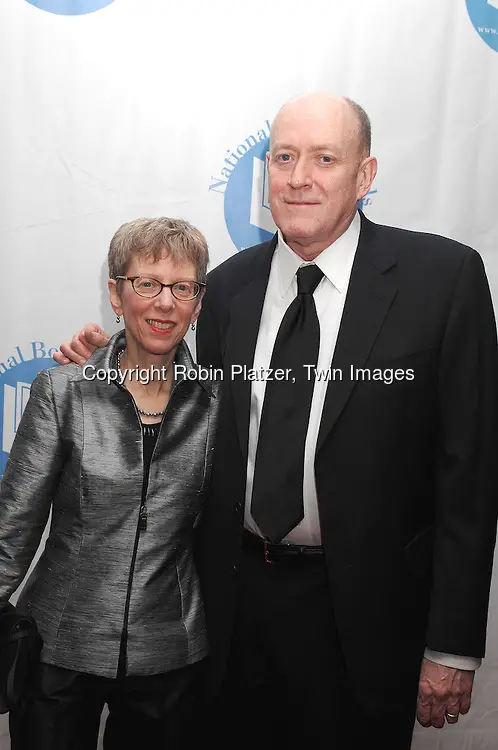 Caption: Terry Gross and husband Francis Davis captured on November 2007 attending The National Book Awards in New York.
Photo Credit: platzer-twinimages.photoshelter.com
Time and again in interviews, she has mentioned that her husband is the source of her happiness, so many would wonder about her family life with her husband and children. But Terry never felt the need to extend her family with children.
Terry even shared her thought behind not having children as,
First of all, I never really felt called to have children. And when I started hosting "Fresh Air," I had a lot of plants. After a few weeks of hosting "Fresh Air," I had no plants. I couldn't even keep up with watering them. I know I'm missing out on very, very special things; things I will never understand, because I will never get a chance to experience them.
Further, she added,
I relate to children much better when they get verbal. Sometimes I feel like when I see a baby that I should throw my catnip toy and scratch them under the chin like I do my cat.
Moreover, she projected her idea of not having children, strongly,
''I do feel like I was part of the first generation that actually had a choice. Where we would not be seen as either tragic or lacking in some way for not having children.''
Well, it's one's individual choice, making the decisions regarding their lives and Terry opted not to have children!
Shifting lights from her family life, let's travel back in time and talk about the young Terry, who had an inspiration of becoming a lyricist during her high school days.
When I was in high school I wanted to be a lyricist. ... Brooklyn public schools used to have something called SING! where you'd put on a show, each grade would put on a show at the end of the year and you'd write your own storyline. You'd borrow melodies from Broadway shows and write your own lyrics. So I was one of the lyricists for each year that I was there. And part of the time I was in high school my friends shared this interest in theater and it was great, and I thought, "If I could live that life where there's theater and there's song and there's music and people designing scenery and painting it, that would just be super."

And then I thought, "How do you get there? How the hell do you get there?" But it was kind of thrilling if somebody sang a lyric that I wrote. Like once I was walking down the street and I heard a couple of the basketball players singing a lyric that I wrote and I thought, "That is really — that's just fabulous."
Terry Gross, the co-executive producer as well as the host of the interview based radio show 'Fresh Air,' has been doing the show since 1975 and has conducted thousands of interviews in the tenure of forty-two years.
The show 'Fresh Air' is also produced by WHYY-FM in Philadelphia and distributed throughout the United States by NPR. Although her success in her career till this date has awarded her with a hefty sum, she remains reserved when it comes to opening about her salary as well as the net worth she has accumulated throughout her career.