Entertainment
Tessa Thompson Dating Discreetly Or Too Busy To Have A Boyfriend Because Of Multiple Career?
Successful and famous actress Tessa Thompson is a household name when it comes to gracing the screen. But not only is she an actress; she is an excellent musician too which makes her successful in both of her career paths. Professionally, she has made quite the name for herself but is she dating anyone who she can call her boyfriend without much publicizing? Is she married and has a husband in her life? Is she just too busy with her dual career? Let us find that out!
Tessa Dating Anyone? Married?
Tessa has been making a name for herself from the time she stepped foot in the industry. But just when she was enjoying her time in the film industry, she dropped another bombshell when Tessa revealed that she also got entered in an electro band, Caught A Ghost. That shows her professional part. But talking about her personal life, is she dating anyone? 
Well, she was once in a relationship with her former love partner, an American actor, Ben Crowley. However, she has kept all the major details out of the limelight, which includes the reason for their split as well.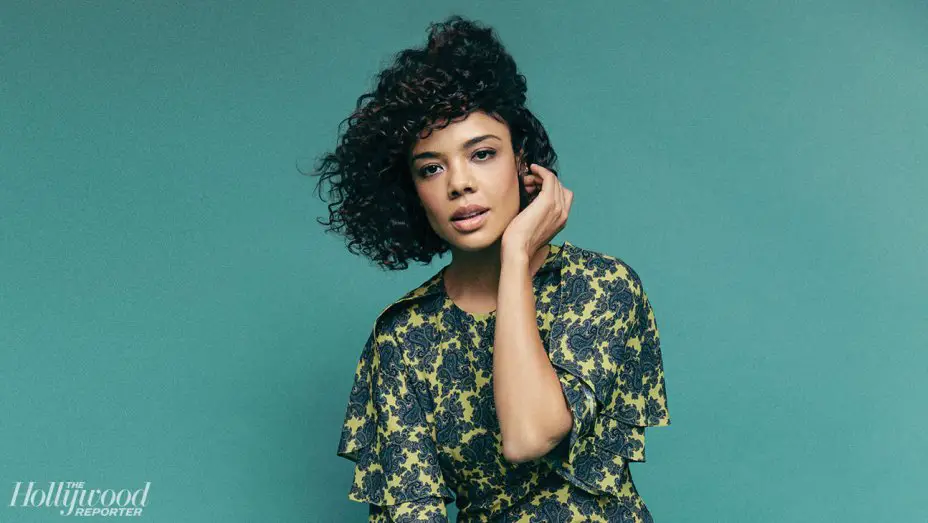 Caption: Tessa Thompson has given no clues about her love life.
Photo Credit: hollywoodreporter.com
Her busy schedules maybe the reason she prefers remaining single till date, or she might just be tending to keep her personal life out the media's eyes.
Moreover, her fans also crave to know if she is married and if she has thoughts of getting married anytime soon and welcome a husband in her life. But then again, she has not provided any significant clues regarding that and thus, we might have to wait and see if she comes up with anything exciting with regards to her love life. 
Balancing careers between Acting And Singing:
People find it difficult to maintain a smooth flow to one career. But guess what it must be like for Tessa as she has two professions to take forth in her life, acting and singing.
In an interview, she was asked about her entry in her band. Replying to the query, she stated,
"I was singing in a choir and all of my friends were musicians. I was part of this vibrant community of L.A. bands but on the periphery of it. Caught a Ghost happened just by being friends with [bandmate Jesse Nolan]. I was really doing it for fun and then it became sort of supplemental."
Moreover, when she was asked if it is difficult to balance between acting and singing, she replied,
"On tour there have been moments where I had to make a last-minute audition tape. I did one in a venue's bathroom stall, literally in between soundcheck and the show. So there have been points when they conflict. But we're going to shoot a video with [White People director] Justin Simien, so there have been lovely points of intersection too."
Furthermore, she also revealed that she prefers acting more than singing. In her words,
"I've been acting longer, so [music] still scares me. I love the sensation of taking a deep breath and jumping; when I perform with the band that's what it feels like.
Similarly, after winning millions of hearts with her performance in  "Creed,"  she was asked if having a musical background (her father was a singer and a songwriter too) helped her with the role. Addressing to the question, she said,
 "I think [Creed director/co-writer] Ryan Coogler was really interested in authenticity and had thought that maybe Bianca would be played by a musician that was maybe making her acting debut. Then I think what he found is that he wanted to make sure that whoever played Bianca could really challenge Mike, both as a character and an actor. So I think at that point it made sense to have an actor step into the role."
She continued,
"[Ryan and I] had met at Sundance when I was there with Dear White People and he was there actually just taking a break from writing Creed to just see some movies. I think it was helpful for him to know that I had been onstage, that I could be onstage. He didn't know much about my writing specifically, but I think he felt pretty safe once he knew that I could be onstage and command that part."
Caption: Tessa Thompson song, Grip.
Published on Jan 2, 2016.
Currently, Tessa is a part of the blockbuster movie series Thor in Thor: Ragnorak as Valkyrie, who captures Thor as per the direction of the Grandmaster. 
Caption: Thor Ragnarok: Trailer.
Published on Apr 10, 2017.
Born on October 3 of 1983, in LA, California, USA, Tessa Thompson is an American actress and a singer best known for her roles in "Creed," "Dear White People" and her band "Caught A Ghost." She is the daughter of acclaimed singer-songwriter Marc Anthony Thompson, of the band "Chocolate Genius."
Tessa attains her mixed ethnicity from her father of Panamanian descent half Mexican and half European ancestry of her mother.
Her successful careers in both music and acting have paid her good dividend, and as a result, she has been able to accumulate a huge net worth of $4 million.