Entertainment
Theo Rossi Eternally Together With Wife! Flaunts Married Life
Theo Rossi Eternally Together With Wife! Flaunts Married Life. Working with dedication on the path of achieving our dreams somehow makes us compelled to compromise on the other aspects of our life. But, although it gets difficult, it is not impossible!  American actor and producer, Theo Rossi can explain it to you better, as he is someone who holds a successful career as well as manages enough time to spend with his content family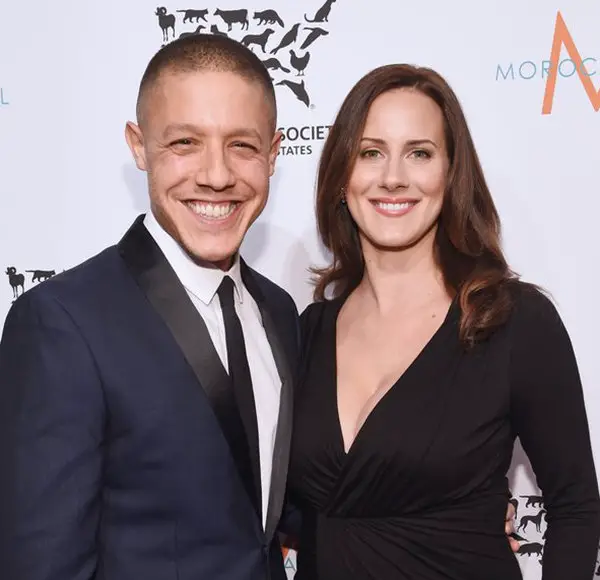 Working with dedication on the path of achieving our dreams somehow makes us compelled to compromise on the other aspects of our life. But, although it gets difficult, it is not impossible! 
American actor and producer, Theo Rossi can explain it to you better, as he is someone who holds a successful career as well as manages enough time to spend with his content family. So, without further ado, let's get familiar with the beautiful married life of actor Theo Rossi. 
Theo Rossi's Blissful Married Life
When actor Theo Rossi is off-the-cameras, he leads a beautiful life with his gorgeous wife and children. Theo and his wife, Meghan McDermott said "I, do" to each other on 17 November 2014. The couple who enjoyed a private wedding ceremony, have since been showering each other with a lot of love, as depicted by their social media pictures.
Moreover, on the occasion of the duo's first wedding anniversary in November 2015, Theo uploaded a photo with his wife, Meghan followed by a sweet caption. 
" One year ago today this Angel on earth accepted my invitation to spend our Eternity together. We are just getting started kids." 
The beautiful couple welcomed their first son, Kane Alexander Rossi who weighed 7 lbs, 12 ounces on 8th June of 2015. Theo shared his excitement to E!News, saying,
"We are so excited to start this new chapter in our lives as parents. My wife is doing great and my son Kane is perfect!"
Well, the couple's happiness doubled when Meghan was pregnant with their second child. Theo shared a picture of his pregnant wife via his Instagram on July 23, 2017. 
Eventually, the couple was blessed yet again, as their second baby arrived in this world on August 3, 2017, and weighed 8 lbs, 13 ounces. They named their second son, Arlo Benjamin Rossi, and according to DailyMail, Theo blushed with happiness while gushing about their son's arrival,
''My wife and I couldn't be happier or more grateful to welcome our son, Arlo Benjamin Rossi, into the world!''
Well, besides the couple, their first son, Kane also became a happy big brother ever since he got introduced to his younger brother. Theo expressed,
''My wife and the little man are doing terrific, but I think our two-year-old son Kane is the happiest now that he's a big brother.''
With no doubt, having two children at home has brought a lot of joy to the proud parents. Besides Theo, his wife, Meghan also keeps sharing beautiful pictures with her two children via her Instagram.
Indeed, a lovely family!
Additionally, did you know, prior to Theo's relationship with Meghan, he was in a dating affair with actress and ex-girlfriend, Sarah Jones for a few years?
More about Theo Rossi
Theo Rossi was born on 4 June 1975 in New York and goes by the full name, John Theodore Rossi. He is best-known for his role as 'Juice' Ortiz in the series, 'Sons of Anarchy.' Theo possesses mixed ethnicity as he belongs to Italian and one-quarter Syrian ancestry. Also, he once said that he probably has seven different ethnicities in him.
Talking about the initiation of his career, Theo started his career by working in commercials for beer, fast food as well cars in Los Angeles around 1999. 
Well, today he has successfully earned a name for himself as a talented actor and has flaunted his acting skills in a handful of TV series, including, American Dreams (2004), Grey's Anatomy (2007) and Lost (2006) to name a few. Additionally, Theo who enjoys a net worth of $4 million, has also appeared in movies including The Challenge (2003), Cloverfield (2008) and Lowriders (2017) few others. 
Moreover, Theo who has come this far in his career believing in himself, opened up back in 2017 about the LGBTQ community helping him to understand more, on what it is to believe and be proud of oneself. When Billboard asked celebs to write love letters to the LGBT community on the occasion of the Gay Pride Month, Theo wrote one as well, emphasizing what the LGBT group taught him. Rossi expressed,
" The LGBTQ community has shown me, and the world, what it is to truly believe in yourself and be proud of who you are in this world we live in today. Our differences are what set us apart and make us unique in this life. Those differences and uniqueness only truly come alive when we have PRIDE in them. "
He further concluded his letter by saying that he will always support the LGBT community,
" I will always have the LGBTQ communities' back because they taught me that PRIDE is more than a word in a dictionary, it is a symbol of strength." 
Something that everybody needs to learn!