Entertainment
Theo Walcott's Physiotherapist Beau Melanie Slade Harry Potter Return, Thanks to Aunt and Uncle
It can be anticipated to be another fantastic release because it is coming from J. K. Rowling and the director David Yates- the film "Fantastic Beasts and Where to Find Them," which is one of those most awaited prequels in the industry. Hard-working director David Yates along with his wife Yvonne Walcott Yates is hoping for the best response from the viewers.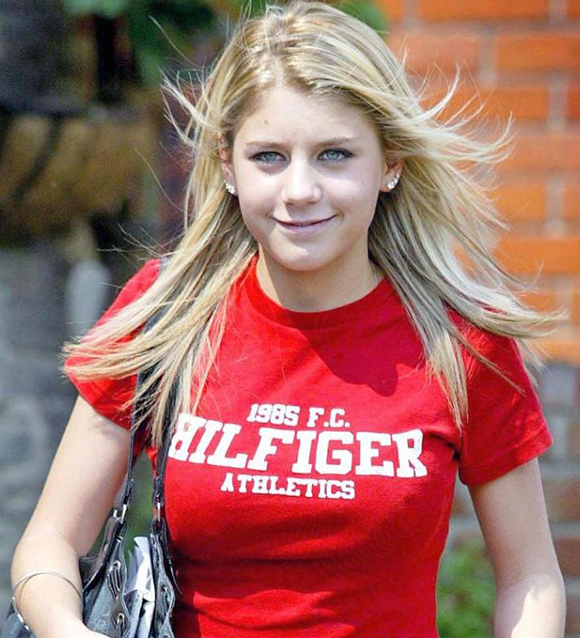 The 2016 film Fantastic Beasts and Where to Find Them had been anticipated as another fantastic release because it is the outcome of very famous  Harry Potter writer J. K. Rowling and the director David Yates. Hard-working director David Yates along with his wife Yvonne Walcott Yates were hoping for the best response from the viewers. And looking at the hype the trailer had gained, why not?
Interestingly, David's niece-in-law Melanie, who is Everton football star Theo Walcott's wife, also enjoyed a cameo role in the anticipated movie. If you may, Theo is the nephew of Yvonne, David's wife. And the movie as expected was well received by the viewers.
Cameo From Wife Of Then-Arsenal Star, Theo Walcott: 
To be starred as a cast of any film-related with Harry Potter was an achievement on its own. Over and above that, acting was one of Melanie's most deep-seated interests.
According to an insider back then, Melanie and Theo were euphoric with Melanie getting the opportunity to be the part of the awaited movie
Apparently, she didn't achieve the role just like that. She certainly had some acting and persuasion skills that made the director believe in her. And it's not Melanie's first Harry Potter experience as well.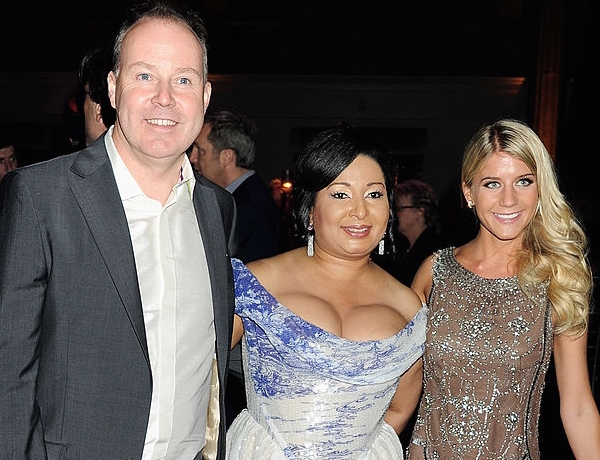 Melanie, seen with Uncle David and Aunt Yvonne during the Harry Potter and The Deathly Hallows Part 2 World Premiere in 2011 (Photo: Zimbio.com)
If you don't know, she enjoyed a small role in Harry Potter and The Deathly Hollows Part 1 in 2009 at age 20.
In the movie, she was seen as a Hogwarts student/ witch during the "Gryffindor Quidditch Tryouts" scene beside Emma Watson's character Hermione. Then, she landed the role because her then-boyfriend Theo's aunt Yvonne had convinced David to gift Melanie a role.
See Melanie is not your average WAG, a famous term to refer a footballer's wife or girlfriend. In fact, she is a sports physiotherapist, ex-blogger, and philanthropist and an aspiring actress for some potential movies.
The physiotherapist Melanie and Theo have been married happily since 2013 and have made various happy appearances in public. They got engaged in 2012's new years eve at their Hertfordshire home. Melanie has no reason to be less happy.
The couple got married in 2013, and only a year after that they were blessed with a baby boy named Finley. But the little boy went through heart surgery when he was eight weeks old. 
And only a couple of years after that, back in 2016, the duo announced their second pregnancy to the public.She shared the news with her husband on the occasion of his 27th birthday.The former Arsenal footballer recalled the incident like it was yesterday when he first heard the news from his wife:
"Arsenal were playing Barcelona away in the Champions League and I'd said to Mel, 'You really don't have to come.' But she's always so supportive.We were in a communal area with the other players when Mel took me aside and told me, very quietly, that she had some news.I don't mind admitting I got emotional when she said she was pregnant, but as it was still very early days, I managed to keep it low-key until I got back to my room. Then I just started jumping around."
When questioned about the baby's sexuality, Melaine then said:
"We honestly don't have a preference.I see myself with a girl but at the same time I can picture Finley with a little brother because he's such a boy.I don't think you can really call it.But I do feel my bump is a lot heavier and lower this time."
Well, she gave birth to a healthy baby boy named Arlo in November 2016. The striker shared the news with his fans by posting an adorable picture of his two sons on his Instagram.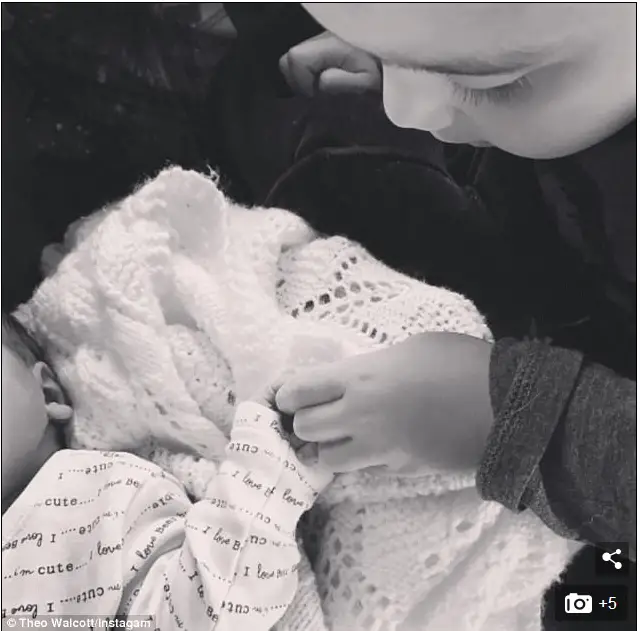 Finley holds the hand of his little brother Arlo (Dailymail.co.uk)
It didn't take the mother of two to get back on her curves and gain amazing physique after giving birth to her second child. The family of four were later spotted at a beach where Melaine flaunted her post-pregnancy figure wearing a white bikini and looked every bit sexy.
Surely Theo's contacts made it easier for her to get the role in the movie Fantastic Beasts and Where to Find Them. But you cannot take anything away from her, as she is an independent woman who has own successes in her life.
Melanie who had chosen Theo from her very teenage days must not regret now for it is somehow because of him people know her. After having dated each other for such a long time, they have become the greatest well-wishers for each other. She also must be really grateful to have gotten the chance to work with David Yates; a prolific icon in the entertainment industry.
'Theo and I are clearly headed to mutual ambition along with accomplishing our individual goals'

-Melanie Slade
Nobody knew Melanie (then a high-schooler) until her boyfriend Theo was selected in England's World Cup squad in 2006. Since then, Tabloids have been comparing her to other WAGs. But she has always been a standout in such comparisons, still earning spotlights despite being a limelight-shy personality. No wonder, Victoria Beckham is her idol.
Believe it or not, she turned down Theo's gift, a £140,000 Ferrari, in 2010, which Theo gave her on the occasion of her birthday. Amazingly, she was happy with £20,000 white VW Beetle that he bought her for her 18th birthday.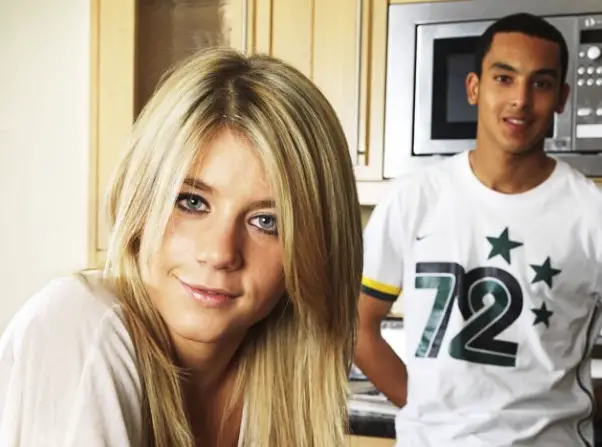 Teenage sweethearts Melanie and Theo 
Melanie and Theo first met back in 2005 or 2006 when Melanie was 15 and Theo were 16. Melanie was then working at a shop located in West Quay shopping mall. She was outside the shop carrying a basket when Theo announced, "the basket is for phone numbers". Theo and his friend dropped their numbers into her basket, and the rest is history. Melanie was so impressed by his confidence and also by the fact that Theo mentioned his full name and details into her basket.
The ex-blogger Melanie and British striker Theo are certainly two inspiring beings both as individuals and as a couple. Melanie and Theo were conscious of each other dreams and career since the beginning. That was the reason they married after around nine years of dating.     
Personality wise, Melanie is often referred to by the words such as "independent," "down-to-worth," and "well-behaved."
We can clearly see the drive in her to make a mark for her career as an individual that is a bit too far from the shadow of Theo's fame. Theo's aunt Yvonne was also proud that they selected her in their project. Everyone anticipated a good return from the movie. 
The box office hit movie (earned $814 million) indeed made an addition to the couple's net-worth. The couple has no problem in the money department. The recent Everton footballer made a shift from Arsenal to Everton for a whooping sum of approximately $25 million. Her husband already has a splendid net worth in millions.