Entertainment
Thomas Barbusca: How Parents, His Sibling Help Him Become Actor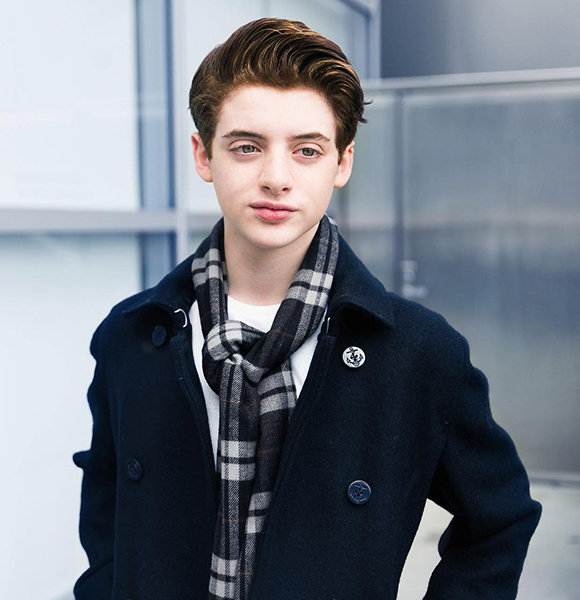 Thomas Barbusca: How Parents, His Sibling Help Him Become Actor
Entertainment
Every celebrity has their own source of inspiration in the journey to fame which indeed makes their story interesting. And in the case of the young actor Thomas Barbusca, his family happens to be the source of inspiration. So, let's find out in what ways his family has helped him become the actor he is today.
So, without further ado, let's get in touch with all the inside details! 
Thomas Barbusca's Road To Fame
Cute and charming actor, Thomas Barbusca is one promising talent in the entertainment industry for sure. But, it must be intriguing as to how did he manage to become a well-known name in Hollywood at a young age. 
Well, Thomas is active in the showbiz since he was just six years old. Further, he moved to Los Angeles when his sister and actress, Brielle booked a series on a hit TV series, 'The Starter Wife.'
Thomas worked for several commercial ad agencies and has been part of award-winning campaigns for many brands such as; Dominos, Ford, Kraft, JC Penney as well as Lunchables. In a short period, he was able to be part of well-known brands.
He then took bigger steps and appeared on TV shows such as ABC's 'Body of Proof', FOX's 'The New Girl' as well as the popular, 'Sam & Cat' of Nickelodeon to name a few. He even worked on the coveted show, 'Grey's Anatomy' in ABC. What's more is that he began working on the 'Wet Hot American Summer' reboot for Netflix in the year 2015. 
Undoubtedly as a young actor, living in LA with a busy schedule in Hollywood requires the support of your near and dear ones along with passion and dedication for your craft. And Thomas's parents and sibling sister happens to be his much-needed pillar of support. In an interview with HuffingtonPost back in December 2016, the Italian-born actor stated that his family is his inspiration. 
" My family. My Mom and Dad especially inspire me. They work hard to allow me to do what I am doing. They've sacrificed a lot to keep me and my sister, Brielle out here in LA. I really appreciate all they've done. Not everyone gets the chances and opportunities we've had." 
In another interview with LAtimes in 2016, he shared when he discovered his passion for acting as,
 " After seeing my sister go on set and film a show every day a couple of years ago, that was definitely when it started. Then, I just started going on auditions and working, and that's how that all started. " 
 He also shared that his mom motivates him and help him keep a positive attitude throughout many auditions, 
 " I just really choose to be happy and look on the bright side of life. Find a reason to smile! My mom is always saying there is always a reason to smile. I think I surround myself with pretty good people." 
Thomas is lucky enough to be blessed with an amazing family! 
Thomas, who appeared in the film, 'Middle School: The Worst Years of My Life,' could draw similarities from his own middle school with the movie too.
 "Middle school was really hard growing up when you try to fit in with the popular kids and try not to deal with bullies. "Middle School: The Worst Days of My Life" takes that and makes it really creative. "
The fourteen-year-old actor is for sure, here to stay! 
On the other hand, it seems as though Thomas' career is a priority for the time being as he seems to be too busy career and hasn't acknowledged anyone as his girlfriend. Meanwhile, his fans are suspecting singer Madison Beer, as his girlfriend since he posted a photo with her via Instagram in February of 2017. 
But, they haven't come forth to address the issue.