Entertainment
Thora Birch Dating Someone Now? Too Busy Getting Career On Track Again To Get Married Or Have A Boyfriend?
Personal life is usually overshadowed when a celebrity is committed to his career. At the point when a star does not open up about his life, many gossipy tidbits concerning his love life start emerging. Individuals are keen to know the answers to the questions like "is he dating someone or is single?" and "what about his plans of getting married?"
The thirty-five-years-old Thora Birch, who won the Young Artist Award at the age of nine is one of those actors who hasn't permitted her life mix with her profession. But, like any other celebrity, rumors start emerging when you do so. If you are also wondering about this actress' life beyond the screen, you've come to the right place.
Thora Birch's Dating and Relationships
Thora, who stole million of hearts as a talented child actor took a long break from her career. After resuming acting in 2016 from Carlton Cuse's television series Colony, she seems to be very busy making her place in the industry.
For a few actors, their family and companions are as critical as their profession, yet for a few, their profession comes first. Thora seems to be one of those few names whose priority is her profession as she is always ahead in keeping her personal life out of the spotlight.
When people devote time to find the information regarding her affair and boyfriend, they end up at the very point they started. Thora has never been spotted with a guy in public who could be guessed as her love interest and future husband. Thora is yet to discuss her plans of getting married at any of her interviews.
Well, this privacy in her love life has created many confusions and illusions. Some people even guess her as a lesbian as she is not witnessed dating a guy these days.
However, Thora Birch was once linked with Bill Maher. According to a source, she dated Bill from the year 2004 to 2005. However, the pair hasn't confirmed the news about their romance yet.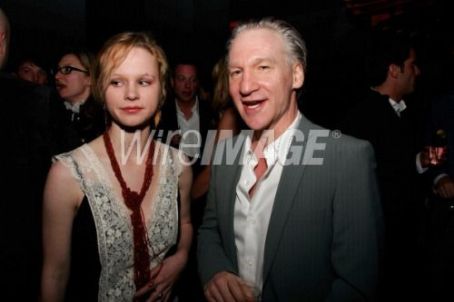 Caption: Thora Birch and her rumored boyfriend Bill Maher at an event.
Photo credit: wireimage.com
Short bio of Thora Birch
Born on March 11, 1982, to father Jack Birch and mother Carol Connors, Thora Birch began her acting career at the age of six. Her parents who were adult film actors were her business managers.
In the late 1980s, she appeared in the commercials for California Raisins, Burger King, Vlasic Pickles and Quaker Oats. She even appeared in the movies like American Beauty (1999), Dungeons & Dragons (2000), Ghost World (2001), Slingshot (2005), Winter of Frozen Dreams (2009), and Deadline (2009). After appearing in Petunia in 2012, Thora took a break from her career.
She again made a comeback in 2016 by appearing in the television series Colony. Now, she is set to star in different movies in 2017 which includes The Etruscan Smile and Above Suspicion.
Stay with us for latest updates on Thora Birch!