Entertainment
Though Living on Opposite Coasts, How Fox News' Jenna Lee First Met Her Husband, Leif Babin?
We all dream about marrying the right person, but in reality meeting 'the one' is next to impossible with the ratio of 1 against 7 billion.  It seems like you have better chances of winning a lottery than finding the right one. However, some people get extremely lucky, for instance, the Fox News Journalist, Jenna Lee met the man of her dreams against all the odds. Learn about their wedding, married life and how they met here.
Her Wedding, Husband, and Married Life:
So, who is her mystery husband? The Fox News Journalist, Jenna Lee has married her, Lieutenant Commander Leif Babin who she believes is her soulmate. The two tied the knot on 1st July 2011; it was a charming wedding where guests were served with pink martinis symbolizing the couple's first date together. Let's take a look into their married life, shall we?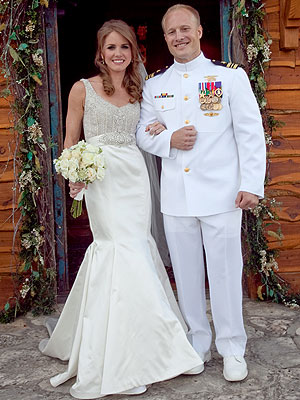 Caption: Jenna Lee on her wedding day with her husband, Leif.
Source: timeinc.net
How They Met:
They first met out of sheer co-incidence, but they somehow knew since the first meeting that their relationship would someday turn out to be something very beautiful. So, how did the lovebirds meet?
It turns out that both Jenna and Leif were visiting the Navy Seal Warrior Fund dinner - organized for families of Seals killed or wounded in battle.
Both of them had accepted a last-minute invitation and were assigned at the same table. 
'Wow, he's totally handsome, but not my type,' " Ms. Lee pondered after coming face to face with the commander. However, commander Babin, who had not seen Ms. Lee on television, complemented her revealing that he was moved by her "insightful questions and beautiful blue dress." 
When she was leaving, she handed him her business card. "Just to be nice," she insisted, adding that she had no romantic intentions.
Later, she called her mother the same night to notify her about an officer, whom she described as "a really incredible guy." On the other hand, confident commander Babin was busy telling his friends how he met his potential future wife.
But still, Lee rejected many of his dinner invitations because she thought it would never work out because of the distance and their jobs, but  Babin didn't give up so easily. Finally, his persistence paid off as she started to return his calls.  They later went out when he came to New York from Los Angeles on business.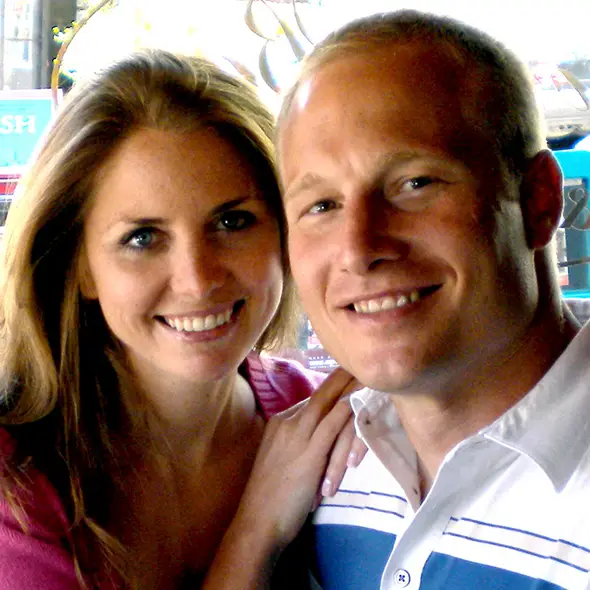 Caption: The happy husband and wife with their son Brian.
Source: foxnews.com
In a January evening in 2009, Babin called her to discuss their relationship. They met and agreed to keep on dating - so they often crisscrossed the country to meet each other until Commander Babin was sent to Iraq for his third tour in September 2009. He returned the following April, and the rest is history.
"I was worried initially how some might be critical of my relationship with Leif, how they might view it as skewing my ability to report on the war or the military. But being in love with someone who is willing to die for their country actually taught me so much more than I ever thought. It made me a better journalist."
True love does find its way around everything:
Lt. Cmdr. Leif Babin has been discharged from the army so that he could be a better husband and father. They had their first baby, a son, Brian Marc Babin in September 2014. She also recently gave birth to a baby girl on April 8, 2016.
They could only wonder what would have happened if one of them had decided not to go or they were seated at different tables. This is how their paths crossed, though living on opposite coasts.
Tough Love on Trump?
With the elections nearing up by the day, mass media has a bigger and bigger role in the ultimate decision. Even when all journalists have a political view they have to remain unbiased about these matters. There are however moments that makes journalists suspects for biasness.
For Jenna Lee, she is usually not someone who debates with politicians but come September 2016, she slammed the all the spokesman of Donald Trump who blamed Hilary Clinton for the Birthism nonesense. It seemed as she was almost showing toug love to Trump campaign by doing so.
Caption: Jenna Lee Smacks Smacks Down Trump Spokesperson Attempting To Blame Birtherism On Hillary Clinton on Sept 2016.
Jenna Lee leaves Fox News:
Jenna Lee announced her leave from Fox News on June 2, 2017. Her on-air announcement caught everyone off guard as there was minimal prior information about her plans to leave. 
"I've decided it's time for a change and has chosen to leave Fox News. I love being a journalist. I believe it's what I'm called to do. I have some really big ideas on how to better serve you in that particular arena." says Lee, hinting about future plans and furthermore added, 
"This was a difficult decision for me and I'm very grateful for the opportunities that the Fox News Channel and Fox Business Network have afforded me."
Fox News executive Jay Wallace released a statement on her leave which read as follows:
"We are grateful for Jenna's many contributions to Fox News Channel and Fox Business Network throughout her 10 years here. She is a talented journalist and we wish her the best of luck in her future endeavors," 
Jenna has been part of Fox News for a decade and she left the network surrounded by smiles and hugs, best wishes regarding to her future!
Caption: Jenna Lee announces departure from Fox News.
Jenna Lee's Short-Bio:
Jennifer Anne Lee was born on May 30, 1980, to Janice and Bob Lee, former NFL Quarterback. Her brother Zac Lee, followed in her father's footsteps and was formerly an NFL quarterback as well. The San Francisco native graduated from the University of California, Santa Barbara with a B.A. in English and Global Studies and later received a Masters Degree in 2005 from Columbia University Graduate School of Journalism.
A freelance reporter in her spare time, her first full-time work was on Fox Business Network after she was hired by Roger Ailes, the former Fox News CEO. She was part of the Fox Business Morning anchoring crew with Nicole Petallides and transitioned to Fox News Channel in 2010.
She announced her leave from Fox News on June 02, 2017.