Entertainment
Tichina Arnold Now Has Love Again! Puts Divorce with Cheating Husband in Past
Every one of us searches different qualities in our partner, and when we find someone who tends to be our perfect partner, we can't wait long to get married.
But the decisions which seemed right could go wrong in the future and the person whom we think perfect for us today might not be the best companion in future.
However, life goes on, and we still can find another person with whom there are chances of falling in love.
An American actress/comedian Tichina Rolanda Arnold, who has already marked her place in the Hollywood, might be a perfect example for this case.
Arnold faced two unsuccessful marriages in the past but has found love again. Let's read to know the answer!
Tichina Arnold's Failed Married Life!
Arnold got married to former professional boxer Lamon Brewster in the year 1992 and was bound in the marital relationship for around three years. The pair parted their ways in 1995.
In an interview with Essence back in March 2012, Arnold was asked about the things that she learned from the past relationship. She stated that she learned to be independent and not bossy. Furthermore, she shared how a great marriage took a drastic change after the third month of the marriage.
"A long time ago, when I was married, in the beginning it was bliss. I eloped after one month, and I married for security. I thought, I finally met a man who loves God and comes from a great family. I'm working, I love God, and I'm out here in California by myself, and I've met this great man. So, I said yes. And we eloped. The first three months were great, but then after the third month: Whoa. It got physical and it was just not a good situation."
An end to the marriage wasn't an end to Arnold's love life as she fell in love with music producer Carvin Haggins. However, her relationship with Haggins also couldn't last long, but their relationship blessed them a daughter named Alijah Kai Haggins born on March 16, 2004.
Arnold, who believes that every people deserve two marriages then fell in love with former Golden State Warrior's Assistant Coach, DaRico Hines.
Talking about her relationship with Rico in March 2012, she said,
"I think every person deserves two marriages, because you may not get the first one right. You really never knew. That's why divorce is so big. We all want it to last, but that' not always the reality of it. But when I met Rico, I knew what to say to him, and I knew what I wanted out of the relationship. And, when he said he was able to fulfill that, I trusted him. With relationships, it's all a matter of building trust. Before him, I didn't trust relationships anymore. I wasn't willing to put my trust in another person."
The beautiful Arnold got married to Rico on August 18, 2012, in Honolulu, Hawaii. She gave an insight into her intimate wedding ceremony and said,
"We decided to forego lots of the traditional elements such as a wedding cake and a white dress for me .We both wanted a wedding that was reflective of our personalities and our normal everyday lifestyles – and that is good friends, good food and good fun."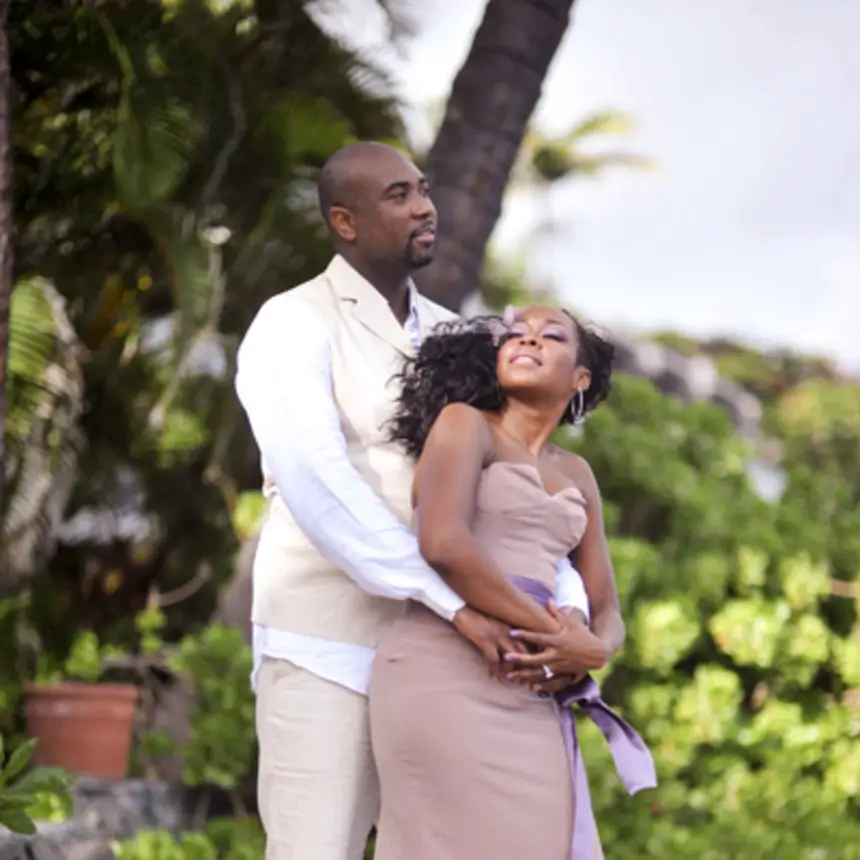 Caption: Tichina Arnold got married to former Golden State Warrior's Assistant Coach DaRico Hines on August 18, 2012, in Honolulu, Hawaii.
Photo Credit: Essence
Arnold's relationship with Rico couldn't bring a happy ending in her love life like her past relationships.
The pair separated in January of 2016 after Arnold discovered that her husband was cheating on her.
Meanwhile, a sex tape of Arnold's estranged husband, Rico Hines, with another woman was leaked. Further, the actress felt betrayed and said that she couldn't trust Rico again as he had been unfaithful in their marriage.
Spirits Elevated Again To Fall In Love?
Arnold, who previously doubted if she would get married again, is now sparking a new romance. The mother of one is reportedly dating professional heavyweight boxer from Detroit, Cedric Boswell.
The 48-year-old star was seen enjoying a quality time with her alleged boyfriend last month.
The bond between the pair seems to be very strong as they are seen very comfortable with each other while kissing and snuggling up. However, it's unclear how long these two have been together.
Arnold might be unlucky in love on the basis of past relationships, but she surely has a wonderful bonding with her family members. Her family is her priority and can't compare anything with her family.
Well, Arnold is very close with her sister Zenay Arnold with whom she stands on the frontline in the fight against a debilitating disease.
Zenay has seven diseases, and lupus was one of them. They together have started the We Win Foundation… to help the people affecting from lupus.