Entertainment
Tim Robbins And His Abortive Dating Affair That Left A Big Dent On Partner's Life; Looking For Love In Young Girlfriend?
ove doesn't consider age as a barrier but takes age merely as a number and there has been numerous couple who have had a solid relationship despite having a big age gap. And Tim Robbins shares a similar story and was captured riding on a cycle with a mystery lady in front on a cycle, where he was looking much younger than his age. Lets' get into details.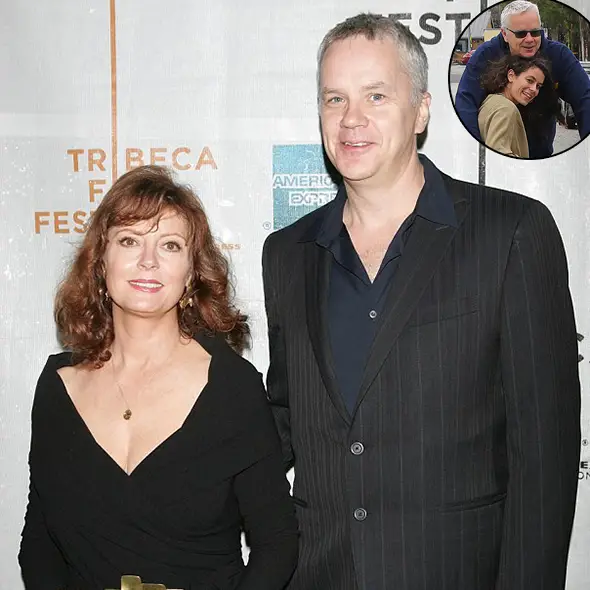 Love doesn't consider age as a barrier; there are many couples sharing a stable relationship despite their huge age gap. Actor Tim Robbins seems to share a similar story as he was spotted riding on a cycle with a mysterious lady who looked much younger than him. Are these allegations true? Let's dig in to find out.
Soft spot for young ladies?
This 'Oscar Winner' multitalented American actor was captured by the Daily Mail while strolling on an environment-friendly ride, i.e. cycle on June 8, 2016. It seems that they have been dating for quite some time now; as he was riding with a mystery lady who was clinging to him while holding the strap too.
Tim Robbins was casually dressed in a jacket, pair of jeans and black flip-flops with contrasting white hair and looked great for a 58-year-old. Happily, Tim was flaunting his lady, probably his girlfriend, who was dressed in a tan top, blue jeans and high-heeled boots with whom he was cycling in Venice Beach neighborhood, Los Angeles.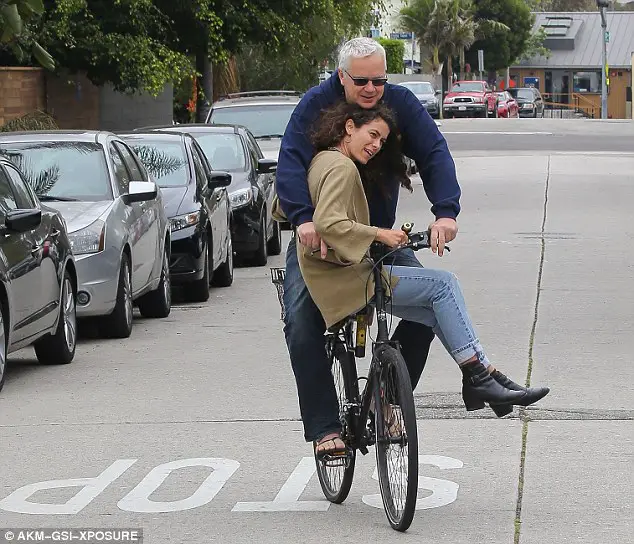 Caption: Riding bike with a mystery woman on June 8, 2016, Venice Beach neighborhood, Los Angeles. 
Photo Credit: dailymail.co.uk
It's not the first time that Tim Robbins has been spotted with a younger woman, as earlier in 2013, he was spotted with a young woman in Venice, where they very much indulge in flirtatious talking not bothering about getting spotted by media.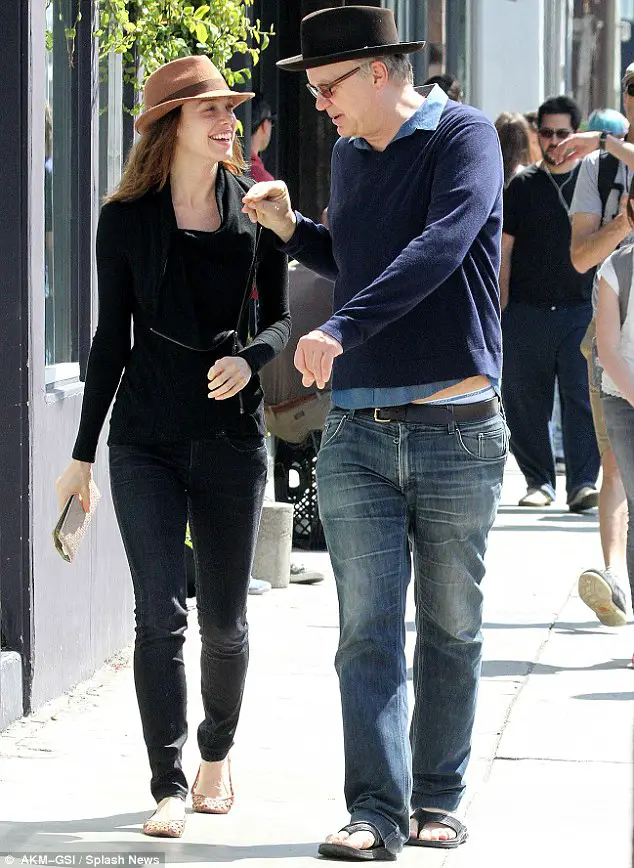 Caption: Talking with his mystery woman Venice, California back in 2013. 
Photo Credit: dailymail.co.uk
Abortive dating life ends enduring partnership with big dent on partner's life
Tim Robbins was in a relationship with 'Oscar winner' actress Susan Sarandon for two decades (1988-2009). The couple shares two sons together, Jack Henry (b. 1989) and Miles Guthrie(b. 1992). The couple split in 2009, and their separation made quite a ripple, as they were admired for their strong enduring relationship despite 12 years age gap. The reason for their split is yet to be confirmed, but Susan seems disheartened by the split.
Tim Robins and Susan Sarandon first met on the set of 'Bull Durham' in 1988. They fell for each other instantaneously and started dating. Although Susan could not be his wife, she cohabited with Tim for 21 long years before going separate ways in 2009.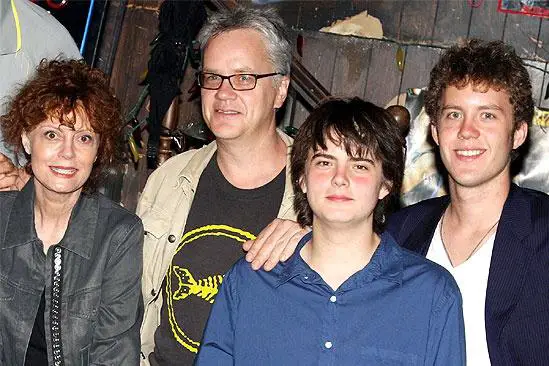 Caption: Never married couple Tim Robbins and Susan Sarandon with their sons. 
Photo credit: broadway.com
In 2009, Susan's representative Teal Cannaday revealed PEOPLE,
"Actress Susan Sarandon and her partner of 23 years, actor Tim Robbins have announced that they separated over the summer,"

"No further comments will be made."
Moreover, in March 2012, Susan opened up about her troubled partnership with Tim Robbin in her statement,
"Of course you feel like a failure. It's a big deal, but again, it's an opportunity to grow,"

"It's been a lot of different things. It's traumatic and exhilarating,"
Furthermore, she explained her relationship experience as,
"The one thing that's been really clear to me is that you have to think of your own life and your relationship and everything as a living organism. It's constantly moving, changing, growing. I think long-term relationships need to be constantly reevaluated and talked about."
Susan further opened up with AARP The Magazine in 2014 regarding her relationship with Tim where she revealed she was heart broke by her long term relationship.
"You can't do a meditation on death and stay in a situation that's not authentic."

"It made me examine where I was in my union and in my life, and to have discussions about making changes."
After Susan's breakup with Tim, she made the headlines in 2013 when she linked with Jonathan Bricklin, a film writer-editor, who is 30 years junior to her. Jonathan Bricklin and Susan Sarandon are business partners in New York ping pong club SPiN. Moreover, Susan Sarandon dated an Italian filmmaker Franco Amurri, with whom she shares a daughter, Eva Amurri(b. 1985).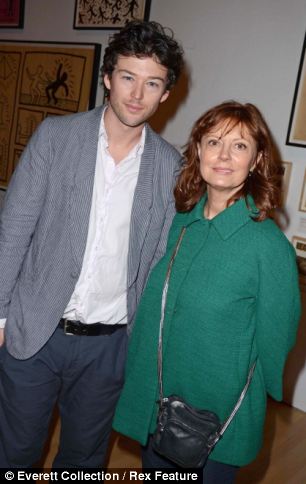 Caption: Susan Sarandon posing with Jonathan Bricklin. 
Picture Credit: Daily Mail
Born on October 16, 1958, Tim Robbins is an American actor, director, screenwriter, producer, activist, and musician. He is famous for his role as Andy Dufresne "The Shawshank Redemption(1994)" and even attained an Oscar in Acadamy Awards for the Best supporting actor for his performance in Mystic River(2003). His other remarkable works include his performance in 'Bull Durham,' 'Jacob Ladder,''The Player' and as a director for Dead Man Walking and Bob Roberts.With his strong dedication to his career, he has successfully accumulated a splendid net worth of $60 million dollars.