Entertainment
Tobias Jelinek Family Love; Elated As Parents With Gorgeous Wife
The American actor, Tobias Jelinek, who has featured in television series Arrow, seems to have a blissful family life apart from his entertainment career.
Tobias shares a bond of marriage with the mother of his children. Tobias has been married for five years and now shares a family of four with his wife.
Gleeful Family Life With Wife And Children
Tobias Jelinek, also known for his role as Jay in Hocus Pocus, shares a blissful family life with his wife and children. Tobias has been married for more than five years to writer Irina Costa.
Even though how the couple met and fell in love with each other is still a mystery, their social media posts do provide some insights into their family life. It has come to light that the pair tied the nuptial knot in 8th September 2012.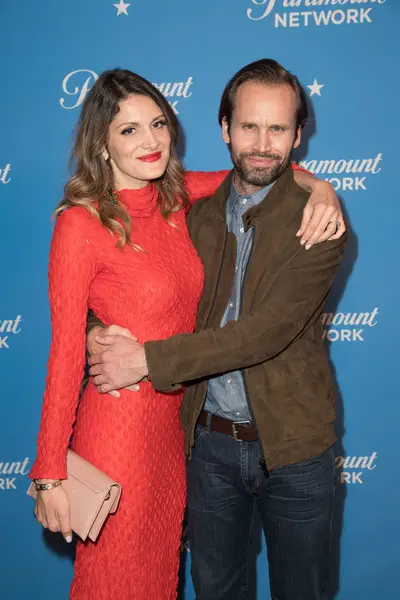 Tobias Jelinek attends Paramount Network Launch Party wife Irina Costa in January 2018 (Photo: zimbio.com)
About two years after their marriage, the pair had a new addition to their family. Back in April 2014, Tobias's wife Irina posted a picture showing off her baby bump while posing on a beach. Through the post, Irina let her well-wishers into the news that they were expecting a baby. She captioned the picture as "Baby on board #lifesabeach."
About three months later in July, Irina had her first baby shower. During the baby shower, all the guests were encouraged to put on round lanterns cover as the custom urban on their head.
Well, even though the pair has not revealed the date of birth of their firstborn child, Irina first posted the picture of the child on 21st August. In the picture, Irina can be seen leaning close to her baby boy hugging him close to her face. She captioned the picture, calling her baby "scrumptious."
As it turns out, the pair often mentions their first born as Jack in their Instagram posts.
Welcoming Second Baby
Well, the couple after having a taste of parenthood, welcomed the bundle of joy into their family. Tobias, who had a family of three, welcomed a second child into the family.
The pair had remained utterly silent about her second pregnancy until Tobias's wife Irina posted a picture of her growing baby bump with her husband Tobias's hand around her tummy. She hashtagged the picture "Babies," revealing that the pair was expecting their second baby in November of 2016.
A month later in January, Irina gave birth to her second boy. The couple didn't reveal the exact date of the birth of their child during the time.
However, after three months, they first posted the picture of their baby boy. They often mention their second baby as Julian on their Instagram post.
As of now, their family of four seems to have cherishable moments together.
Anniversary, Birthday, Wedding
Tobias and Irina, the parents of two, had their five-year anniversary on the September of 2017. Tobias posted a snap of them together in which he can be seen placing a sweet kiss on his wife's lips on the occasion of her five year anniversary. A month later, Tobias celebrated his wife's birthday on 6 November 2017.
Adding to it, the pair in 2018 attended a wedding that was held in a desert. Tobias, whose age is not disclosed, posted a picture in which he was seen holding his wife Irina in his arms with his eyes fixed on her. The pair had all smiles posing for the picture.
Well, the American Women star has a blissful family life with his wife and two children.