Entertainment
'Saw' Star Tobin Bell Hides Familly Under His Heavy Pile of Movies! Has Wife and Children but Who Are They?
The horror franchise, Saw, has already spawned seven movies from the year 2004 to 2010 and is all set to release its eighth celluloid, Jigsaw this year at Halloween, probably October 20 in UK cinemas. Well, the film is supposed to be a perfect Halloween scare-fest.
The title for the eighth installment is dedicated to the award winning villain, John Kramer aka Jigsaw, who lays out insanely intricate and deadly traps for victims. But how many of us cognise the family of the person behind the mantle, Tobin Bell? The answer would be only a few.
Tobin has played tons of theaters, TV shows, and movies and has a lot more projects in the queue as well. Meanwhile, he excels in keeping his family details behind his nonending movies list. However, we are here, unveiling his family to the fans of this aspiring film actor.
Tobin Bell's Family Composition:
Tobin Bell is a married man who keeps all his marriage details concealed and neither shares the moment when the children joined them in their marital life to complete the family.
Tobin and his wife Elizabeth Bell share two sons together; Justin Bell and Cooper Bell. However, the family gets spotted at the public places by and large.
Tobin, along with his wife and one of his sons, got spotted enjoying their time together on a beach, while they were on vacation in Miami, Florida on August 9, 2012.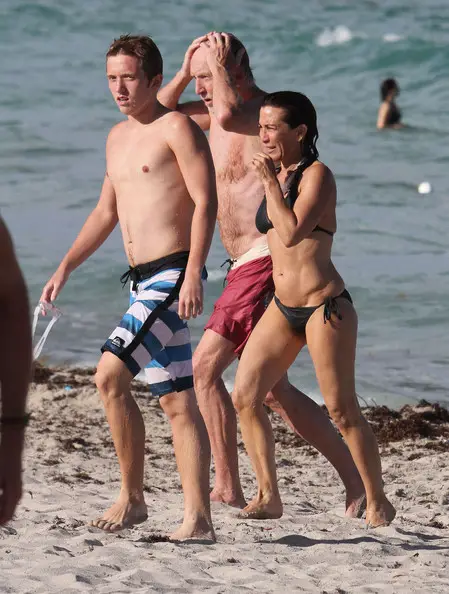 Caption: Tobin Bell and his family on vacation on Miami beach on August 9, 2012.
Photo Credit: zimbio.com
Moreover, Tobin takes to Twitter and makes frequent tweets relating his family.
Back in 2014, he tweeted a picture, where he was enjoying having meal with his wife and Canadian actress Alison Pill in Los Angeles.
The other tweet of August 13, 2016, from the incredible person, showed his fondness for hiking. Well, his son Justin accompanied him in the hiking to Arizona Meteor crater.
Tobin's another son Cooper seems to be a music lover whom he dedicated a tweet in May.
Tobin has hobbies of hiking and playing guitar, and he appears to be living those moments through his sons.
What Has 2017 Planned For Tobin?
The iconic villain "Jigsaw" of the Saw series, Tobin, is known for his low and raspy voice, who usually plays the villainous characters. The year 2017 has a list of movies lined up for the actor.
Some of his film projects from this year are Whisper of the Wolves, The Way We Weren't, Sins of the Father, Belzebuth and the most awaited thriller movie from the Saw series: Jigsaw.
The acting career of more than three decades yields a tremendous net worth of $16 million for the 74 years old actor. Besides acting, he has provided his voice for video games: Saw and Saw II: Flesh & Blood and has hosted a website for his fans.
Stay with us for the emerging updates on Tobin Bell!