Entertainment
Tom Westman Credits Wife For His Survivor Win! Reveals Living Low With Family With Little Change in Lifestyle
"Behind every successful man, there is a woman."
Citing the above quote we want to introduce survival fame, Tom Westman, who credits his wife on winning Survivor: Palau (Season 10).
Today, let us divulge more into the life of Tom and his wife, who was the reason behind him participating in the game show at the first place.
Plus, he reveals living the same lifestyle despite receiving a grand prize of $1 million. Why? Is there a strong reason behind it? Well, stick around to find out!
Tom Westman's wife: The Driving Force Behind His Success!
The incredible Sole Survivor, Tom is one lucky man to have been married to a woman like Bernadette. While talking to CBS news back in May 2005, Tom mentioned about his wife and additionally shared why winning the show was important.
"She's the one who pushed me to go. Thought she was trying to get rid of me for 40 days or so, but it was just so unbelievable, from getting a chance to play a game like this and then getting to win it. It's a dream. It was great. She is a self-sacrificing person who said, 'You know what? You got to do this. I (was worried about) taking this kind of time off from work and what it will cost us financially to have this adventure if I didn't win. She was just like, 'You'll spend your whole life looking back if you don't do it.'"
Thanks to her encouragement that the survivor fans got a chance to watch Tom perform. After receiving the title as the winner of Survivor at the Ed Sullivan Theatre on Broadway in Manhattan, he acknowledged his two friends along with his wife when he said,
"The way that this played out I owe to two good friends (Jim Feeney and Jim McParclan) and my wife most importantly".
Bernadette was also in the audience to cheer and support Tom. She expressed her happiness to finally see him back home after 50 days in the show.
Moreover, when co-anchor Harry Smith awarded him with the cheque of $1 million on TheEarlyShow, Westman said,
"My wife should be here, so I can just pass it to her."
He further stated he wasn't sure whether there would be any massive splurges, but he and Bernadette opened a bottle of champagne; the first thing!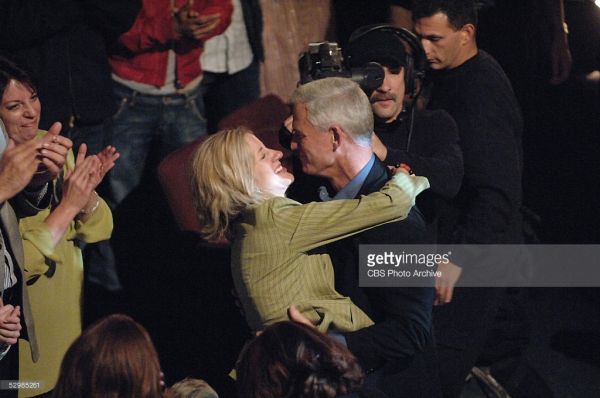 Caption: A blissful moment of Tom Westman with wife Bernadette after Tom was announced as the winner of Survivor: Palau.
Photo source: Gettyimages.com
It is definite that Survival is one of the most challenging game show on Television. There is a list of difficult challenges in the game that one has to complete to retain their position in the game.
Westman, among all participants, won five individual immunity challenges. He was the head of the tribe 'Koror,' and eventually, they succeeded every immunity challenge as a tribe.
Here you can have a glance at the compilation video of him during 'Survivor: Palau.'
Caption: A video of Tom's moments in Survivor ( Published on April 1, 2010 ).
Tom won a total of 17 extreme challenges and got a 6-1 vote at the end leading him to be the winner.
Tom admits the hardest part of the game was being far away from the family. Tom and Bernadette share three children together; a daughter, Megan 21, and two sons Declan 19, and Conor 17.
Despite a million dollar prize, the family is still holding on to the usual way of life. He divulged,
"There's been a really quick return to normal again. That's what kept my family normal. None of us have had unrealistic expectations. We've stayed grounded throughout it."
Westman previously stated that his family had a mortgage before he participated in the game. They also carried the responsibility of their children's education, and Tom himself was studying history at Queens College, NYC. No wonder why they are living a grounded life!
Tom was approached for Survivor: Fans vs. Favorites, but he publicly declined, stating he didn't want to tarnish his legacy as a champion. However, the man with athletic height, amazed the public when he made his return to Survivor: Heroes vs. Villains.
Back in an interview with UPROXX in 2010, revealed the reason behind coming back.
"I had said "No" to this one as well and as time was going on, she felt like I might regret it down the road and say, "What if?" She pointed out that nothing but good stuff has come from the whole experience. It's been just enormously positive and just a lot of fun for not just me out there having the adventure, but for our friends when you come home and get to watch the whole thing again. So, I thought I'd take a little time. The kids weren't in school. Why not give it a shot?"
Nevertheless, Westman didn't feel as welcomed as he was before. He confessed he felt like an 'outsider' among the younger participants. Unfortunately, Tom was voted out finishing in the 16th position.
Caption: Tom Westman's elimination in 'Survivor: Heroes vs. Villains.' (Published on February 2017 )
The ultimate Sole Survivor Tom Westman was born on January 4, 1964, in New York, USA. For a living, he works as a firefighter. His leadership, survival and social skills were said to be the causes that made him the toughest competitor to beat in the game history. He even got nominated for Teen Choice Awards for Choice TV Male reality star.
Stay with us for further updates on Tom Westman!