Entertainment
The Fosters Actor Tom Williamson Reveals Girlfriend Isn't Most Important; Then Who?
American actor Tom Williamson, who is famous for his recurring role as AJ Hensdale in ABC's Family series The Fosters, has a spectacular view on the topic 'love.'
The Washington DC native doesn't regard dating as the most important thing in his life. He has things to give priorities to, but not just for dating relationships.
Dating Mysterious Woman
Tom, who stands at the height of 1.85 m (6'1"), was once in love with a mysterious woman. He had updated his Instagram with her pictures cautiously, not disclosing her name.
On 26 June 2016, the actor also Instagrammed a picture of them together, writing "girlfriend" in the caption.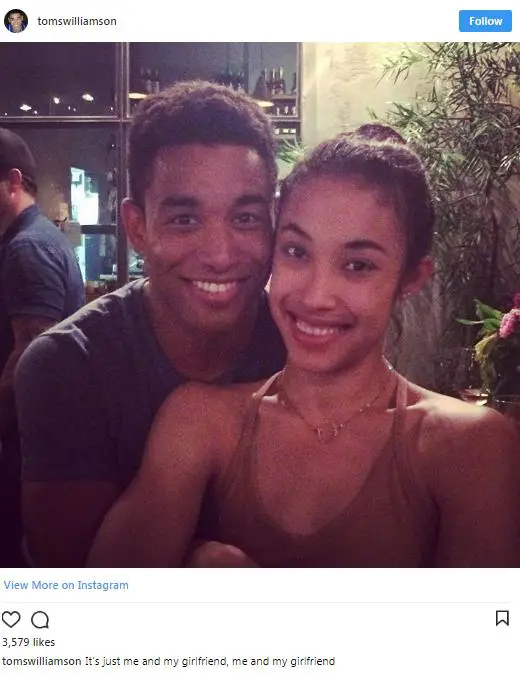 Tom Williamson, 28, hugs girlfriend back in June 2016 (Photo: Tom Williamson's Instagram)
Another update came in September 2016 when Tom posted a picture of them having a fun time  
 She is having way too much fun #girlfriend #love #smile #joy#trouble #choke #dinner
Later, the actor stopped uploading pictures of the mysterious girlfriend on his social media. The couple broke their relationship and parted their ways. He had first met her at a music festival, BottleRock.
Too Busy For Dating Game 
After his break up with the mysterious girlfriend, he turned too concerned about his career.
Tom Williamson speaks of being one woman man in an interview with Love Jays in May 2017 (Photo: Youtube)
In an interview with the Love Jays in May 2017, he said he was a "one woman man." He also gushed about his passion toward his acting career and quoted, 
For me right now, the most important thing is my acting. If I am not fully committed to my acting. If I don't, you know, feel like I m giving my all in, because we take so much of ur identity out of our career and professions and it is not always the best thing but that's what it is.
Also, Tom highlighted the fact that he cannot have a good relationship if he cannot satisfy his priorities first. 
um if I don't feel fully satisfy there I have no business, being with a woman , none
Indeed, the actor wants an ultimate success in his career. Although he is too busy for a serious relationship, he has his family to look upon for the love and guidance. 
Close-Knit Family: Love For Siblings, Parents
Tom knows how to share his affection and gratitude towards his parents. He shares the picture of his family members on his social media.
The famous actor Instagrammed a wedding picture of his parents on 15 May 2018, dedicating a heartfelt message to them. Writing that the moment captured a blissfully pure love between two humans, Tom quoted his mother as his protector, guiding light, and his greatest love. 
Further, he Instagrammed a picture of him kissing his father, on 19 June 2016. In the caption, he wrote that he loved him.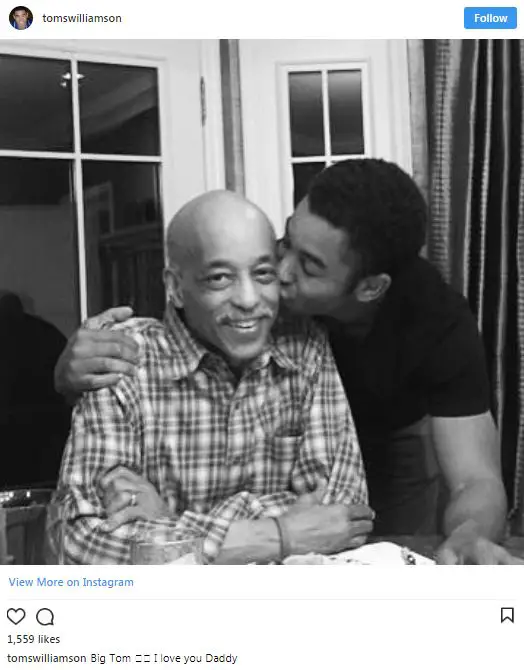 Tom Williamson kisses his father back in June 2016 (Photo: Tom Williamson's Instagram)
Later, Tom also Instagrammed a throwback picture clicked with his siblings in 2015's eve on 25 November 2016. In the caption, he stated that "family is the only ones in the cruel world," and said that he loves his family. 
With love for parents and hardcore dedication for acting, Tom is likely to garner more success and achievements.