Entertainment
Tommy Zizzo Wiki: Age, Personal Life, and Every other Detail on Erika Jayne's Police Officer Son
Quick Information
Birth Year

1994

Nationality

American

Profession

Police Officer

Ethnicity/Race

White

Father

Thomas Zizzo

Mother

Erika Jayne

Children/Kids

Not Yet

Relationship Status

Single

Divorce/Split

Not Yet

Gay

No

Net Worth

Not Disclosed

Education

LAPD

Grand Mother

Renee Chahoy

Height/ How Tall?

N\A

Weight

N/A

Hair

Short

Hair Color

Dark Brown

Eye Color

Dark Brown
For The Real Housewives of Beverly Hills star Erika Jayne, fame and spotlight is part of her life. She has garnered enough popularity that even her only children have been dragged to it. 
The only son of Erika, Tommy Zizzo has also hyped the fans' attention to fulfilling their curiosity. However, he speaks of zero presence in the media spotlight due to his profession.
Out of many pieces of information, Tommy is a police officer by profession. Well, why don't you read the whole story of Tommy Zizzo leaking his wiki-like bio!
Who Is Tommy Zizzo? Policeman's Wiki-Like Bio:
Tommy Zizzo is the son of reality star Erika Jayne and her ex-husband, Thomas Zizzo (Tom).
As per Erika's new book, Pretty Mess, the reality star got pregnant with her son Tommy after she missed "a few days of my birth control pills." Both, Erika and Thomas then decided to get married after her pregnancy with Tommy. Erika gave birth to Tommy when she was 21 years of age. 
However, the pair split after their turned 18 months old, which Erika revealed in her book saying, 
"We broke up when my son was a little more than 18 months old." 
Tommy's parents got divorced in 1996 during his childhood, and Erika took full responsibility for raising him as a single mother. 
However, as of now, Tommy is all grown up, 24 years of age and lives in Pasadena. Formerly, he lived in Jersey City, New Jersey, but shifted to L.A. sometime before 2014, after graduating from the police academy. 
He is a police officer by profession.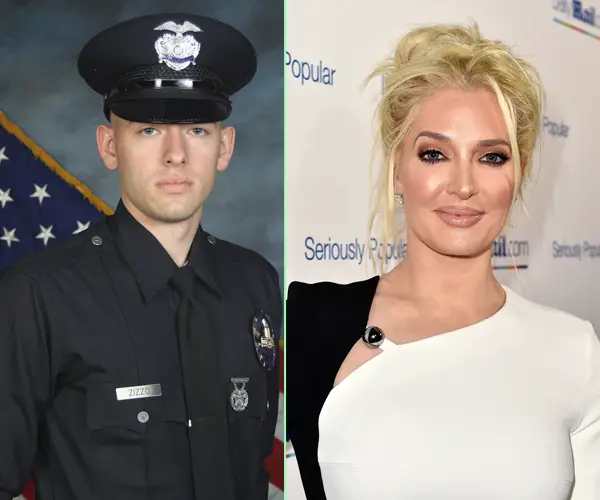 Tommy Zizzo and his mother, Erika Jayne Girardi (Photo: liverampup.com)
Being born as the celebrity's son, Tommy attracted the limelight towards him, but due to his police profession, he chose to keep most of his life out of the public. 
Erika addressed the fact too and talking to inquisitr.com, she said that he would stay off cameras,
"It's not weird [that people are interested in Tommy]. I'm sure that they're curious because the only thing that they see is this thing. But I am a mother. He is a police officer and he will remain off camera."
Moreover, in an interview, Erika elaborated what it was like to raise her son as a single mother.
"Single moms have it tough. It's hard. It's exhaustive, but at the same time it's very rewarding. You know especially now that he's older and he's doing so well. I think that really makes the struggle worth it."
Further, Erika herself was raised by a single mother, and she cited how influential her mother, Renee Chahoy has been in her life.
"My mother taught me to dream big. My mother taught me that anything was possible. She really inspired me in a lot of ways and continues to inspire me. She just finished her degree, graduating on the President's list, Dean's list … she's great. She's amazing."
Erika, who also has made a good name for herself as a singer once, said that she and the father of his son, Tommy are close and everybody in her life has been supportive of her.
"My ex husband and I are very close, and we have a great relationship. Everybody's very supportive — my mother, my ex husband, Tom, my son — we're all very close."
Erika has also been someone, who has given several useful tips for a healthy marriage, as she has been espoused to her second hubby, Tom, for 17 long years.
"You have to be friends. You have to be friends and you have to have a common ground. You have to like the same things. You have to see the world the same way. You have to have the same interests. And when you are genuinely rooting for the other guy — you know Tom is very supportive of me and I am very supportive of him — and I think that's what makes it work."
Tommy's mother is currently married to a big shot lawyer, Thomas Girardi. 
Mother's Dating Requirements
Tommy's mother has recently opened her opinions about his dating life. In an interview with romper.com on January 2017, she stated she has no requirements for his son's girlfriend for he can take care of that himself saying,  
"I don't have any requirements for my son, who he dates, because he's an adult. He has good judgment and he has a great head on his shoulders. So whoever he chooses to date, I'm sure they're lovely."
Similarly, she has expressed her confidence in her son that he "would never bring someone home that was insane" in an interview with Bravo. She also added that if the situation does not go her way, she would "have to have a talk about it."
Stay with us for further updates on Tommy Zizzo!