Entertainment
Tony Ortega Is Married Man; Meet His Mysterious Wife
Controversies always follow the one who tries to do something big and why would they leave the American Journalist, Tony Ortega behind?
Being the man who shares his thoughts with blogging, Tony had to face a lot of criticism through his work on 'Church on Scientology.' When it comes to writing, Tony has often been in the spotlight; however, the attention hasn't been turned towards his married life more often.
You might all be familiar with his work, but if you want to perceive more about his married life, you have come to the right place.
Meet Tony Ortega's Mysterious Wife!
Award-winning journalist Tony is one of those who likes to keep his personal life under his hat. However, back in March 2007, a source confirmed that Tony was the new editor of the 'Village Voice' and also revealed his wife's name. According to the source, Tony's wife name is Fatima who is from Jakarta, Indonesia.
However, in the Twitter account, Tony mentioned his wife but did not reveal her name. Back on 6 December 2017, Tony, who is best known for his daily blog about the 'Church of Scientology,' took it to his Twitter where he tweeted that it might be his mother or his wife's mother who gets the visit from a creepy Scientology private investigator?
If you are curious to see the tweet, you can look down below.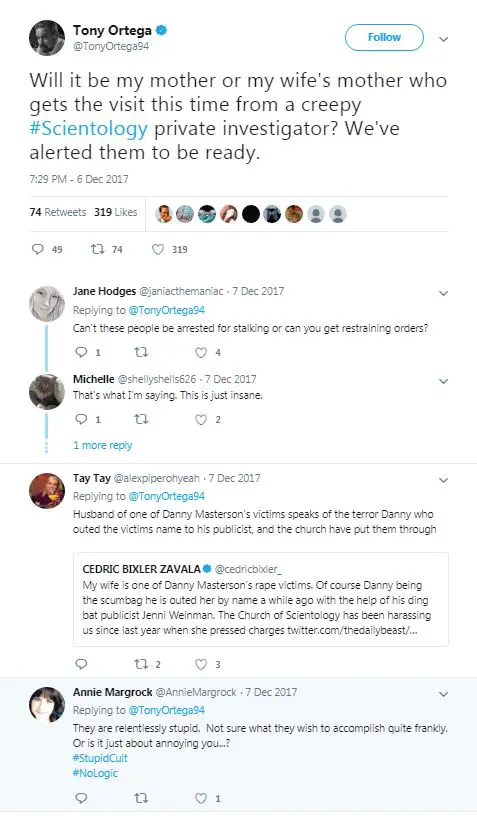 Tony Ortega's tweet about his mother and wife's mother (Tony's Twitter)
Similarly, on the same day, he again tweeted after an hour stating that Scientology tried to intimidate his wife again with a phone call at her work, claiming to be a reporter asking questions about him.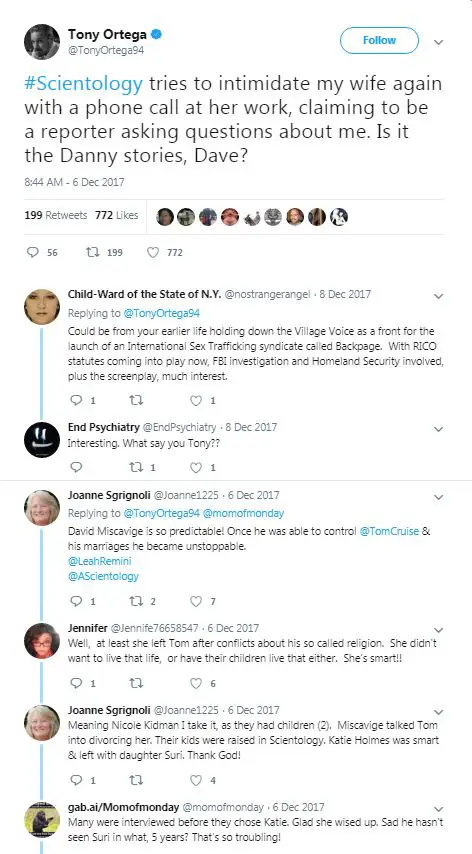 Tony Ortega tweet about his wife (Tony's Twitter)
Tony doesn't hesitate to talk about his wife on social networking sites. Nevertheless, he has never mentioned her name or talked about their relationship. Well, in this context, we can say that Tony wants to keep his family-life close to his chest probably because he does not want to stir up rumors relating his personal life.
Tony Ortega's Life At Glance
Tony was born on 23 May 1963 in Los Angeles, California. Raised in California, Tony received the John Jay Scholarship to attend Columbia University, where he completed three semesters.
He advanced his studies at California State University, Fullerton where he obtained his B.A and M.A in English. Tony then pursued more graduate work at UC Santa Cruz prior landing his first journalism job as a freelancer at the 'Phoenix New Times' in 1995.
Likewise in 1996, he reported on alleged corruption in the office of Maricopa County Sheriff Joe Arpaio, writing a series of stories for which he was nominated for the Arizona Press Club's Virg Hill Award in 1997.
At the University of California, he researched the 'California Agricultural Strike 1933' under the tutelage of Louis Owens. Tony later wrote an article about his research in the 'Village Voice.'
Tony has spent nearly seventeen years working for various alternative weekly newspapers in the Voice Media Group (VMG). He has also operated at the 'Phoenix New Times,' the 'New Times LA,' and 'The Pitch.'
Tony also reported on Scientology in 1995 while working at the 'Phoenix New Times' and kept on covering the issue throughout his career. Likewise in September 2012, Ortega publicly announced his resignation from 'The Village Voice' in a post to the Voice's 'Runnin' Scared' blog.
On September 2012, Tony left the 'Voice' and began writing a freelancer blog entitled 'The Underground Bunker' that is focused on Scientology. He also worked as an executive editor in an America online news organization 'The Raw Story' from 2013 to 2015.