Entertainment
Tonya Reneé Banks Age 53, Mother To Grown Daughter Needs Tall Husband
American actress Tonya Renee Banks is famously known to be the first little black woman lead in the entire film history via her role in The Internship Games.
She is also better known as one of the stars of Lifetime's reality series Little Women: LA, who is on her route to balance her relationship with daughter and professional life. And when it comes to her dating life, it has come to the limelight that Tonya wants her partner to be taller than herself. 
Height Criteria Most For Boyfriend 
Tonya, whose height is 4 feet (1.2 m), has some particular conditions regarding her dating life. 
In an interview with the blackamericaweb.com in February 2016, she stated that her boyfriend has to be of normal height. She revealed that she had never dated any little person and would never choose to as well.
Tonya also disclosed that she needs her boyfriend to be taller than herself so that he can do things that she cannot.
"I've never dated a little person, but everyone has their preferences. I choose not to. I need them to be tall so they can do the things I can't do."
But as per the speculations, 54-year-old Tonya is possibly single and probably waiting for a match like her conditions to appear up.
Though she looks to be single now, she has previously been linked with her boyfriend of 30 years with whom she has a fully grown daughter. 
Ex-Fiance: Father To Her Daughter 
Tonya, who has kept her net worth concealed, has been in an on-and-off relationship with Kerwin Johnson for thirty years. He is the father of Tonya's only daughter, Angelique, who has an average height just like her father, Kerwin.
She and Kerwin were apart since Angelique was at the age of five. But in August 2016, Kerwin moved from Texas to California and rebounded with, Tonya. He even joined Tonya in the reality series, Little Women: LA. 
But their reconciliation teared up their daughter as she was not previously informed of the duo's patch up. In one of the episodes of the series, Angelique showcased her glum stating that she is scared of the things that are going to change after her father's return to their life.
Tonya calmed her daughter and reassured that she would never put a man before her child. 
"No, I'm not going to put a man first, before my child, I never did. And I won't." 
Just like her say, things were going smoothly as butter. The parents even attended the graduation programme of their daughter together on 21 May 2017.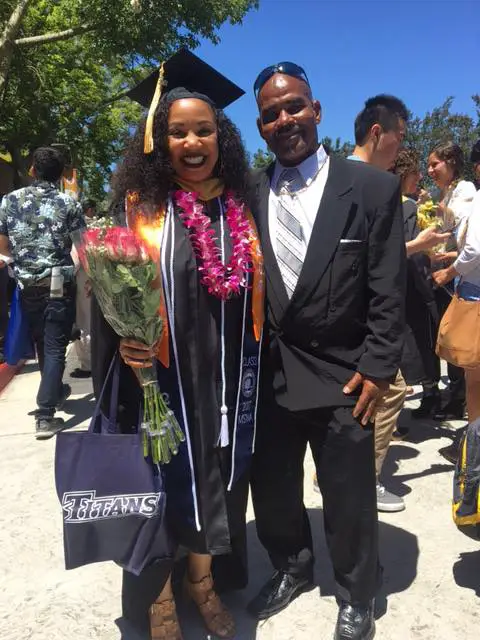 Kerwin Johnson joins daughter, Angelique on her completion of Master's on  21 May 2017 (Photo: Tonya Bank's Facebook)
Tonya took the happy news on her Facebook account and shared her happiness by uplaoding a picture. She also captioned the photo writing that she is proud of her daughter on receiving Master's degree from the Cal State University Fullerton.
Their relationship appeared cozier when Kerwin proposed Tonya to marry him on the 6th season of the series, which aired in July 2017. Interestingly, Tonya said yes, and the two happily got engaged.
But their relationship showcased challenges when Tonya spoke to relationship expert Hasani Pettiford in August 2017. She explained that she loves Kerwin, but she dislikes him a lot of time. Her words also reflected that she was not ready to accept Kerwin as her husband. 
And likely to the prediction, the pair called off their engagement and parted ways in March 2018 via the seventh season of the show.