Entertainment
Torrei Hart On Good Terms With Kevin Hart Even After Divorce! Ex-Hubby Reveals Why Marriage Did Not Work
A person needs a companion to spend their life, as life is very long to enjoy alone. As a person keeps on searching for a partner for them, there is a one in a million chance to find a perfect companion. When one feels that they have met their soul mate, they take no any time to get married.
But as time passes, the person might realize that he/she isn't perfect for them and regret getting married at the early age. The comedian, actress, entrepreneur and producer, Torrei Hart is one of those celebrities who got married at the very young age, but her marriage wasn't successful at all.
So what actually happened that caused her married life to end in a divorce? Stick around to find out!
Torrei Hart's Unsuccessful Married Life:
Torrei Hart met Kevin Hart while they attended the Community College of Philadelphia. They moved to Los Angeles together to fulfill their dreams of being an entertainer.
In the May of 2003, Torrei got married to her boyfriend, Kevin. Together they share a twelve-year-old daughter Heaven Leigh Hart and nine-years-old son Hendrix Hart.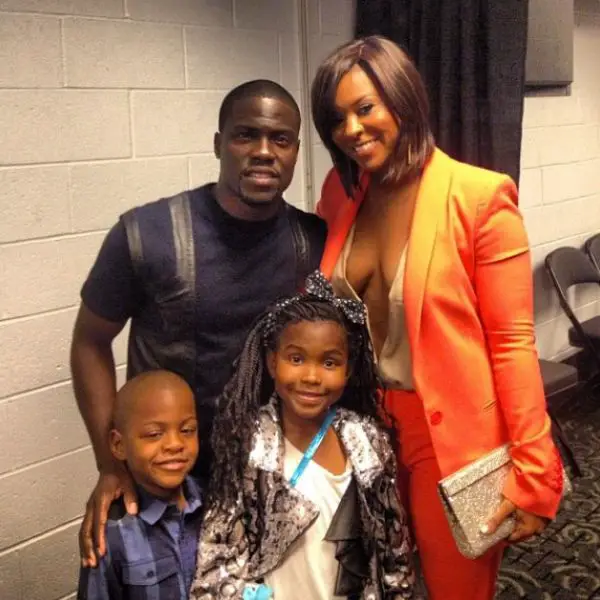 Caption: Torrei Hart with her ex-husband Kevin Hart and their kids Heaven Leigh Hart and Hendrix Hart.
Photo Credit: Gossip Grind
The relationship between Torrei and Kevin turned sour as time passed. In February of 2011, Kevin filed for divorce citing irreconcilable differences. Their divorce was finalized in the same year in November.
According to the terms of the divorce, Kevin, whose net worth was reported to be $9 million, paid a sum of $175,000 to Torrei. Additionally, Kevin had to pay $19,785 per month as child support.
In an interview with Chelsea Handler in October 2016, Kevin talked about his past marriage and how he messed up it. He revealed that his marriage was messed up because of his age. Kevin explained-
"I was young on my first marriage, Chelsea. I'm not ashamed to say it, guys. I got married at the age of 22. I was still all over the place. I didn't really understand the definition of marriage. I wasn't ready for it, so I take responsibility. I can say I messed my first marriage up. I'm man enough to say that."
He continued-
"At the same time, that was when I was in the prime of my sexy, so don't blame me. That's when I was figuring it out. I will say that me and my ex-wife, regardless of the problems we went through, are in an amazing place now where we're friends, we're great parents, we're coparents."
Caption: Torrei Hart at the Netflix show, Chelsea in October 2016 where she talks about the failed marriage and a new movie.
How Is The Relationship With Her Ex-husband?
As Kevin is now married to Enko Parrish and expected his first baby with her earlier this year in May, people around them wanted to see Torrei's reaction.
Even after the separation, the estranged partner seems to be in a good place, as Torrei revealed that she is excited with the news and is ready for a celebration as her two kids are longing to be older siblings. In an interview with TMZ, she said-
"I'm actually pretty excited because my kids are excited so I'm kind of feeding off my kids' energy. There's only one downside though that I was thinking about. I might have to babysit a little because Eniko has been spending a lot of time with my kids. And I'm done with diapers!"
She then added-
"I can't preach this enough, to blended families out there, just remember we're all family."
Caption: Torrei Hart reveals how excited she is to hear the news about her ex-husband expecting a baby.
Well, isn't it nice to see Torrei Hart in good terms with her estranged husband even after divorce?
We hope that Torrei will also come out with her partner and enjoy a blissful relationship in the days to come.
Stay with us for further updates on Torrei Hart!