Entertainment
Tracey McShane Wiki: Growing Age Means Better Married Life for This Author
Growing old with the one you love definitely strengthens the relationship. Usually, with every passing day, you are a bit more appreciative of what you have in the form of a partner and a lover. 
Moreover, the understanding and stability which is built with time eventually, form a strong foundation for a relationship which would indeed aid in withstanding any problem that may come across in future.
Similar can be said about the seventeen years long married life of Tracey McShane and famous comedian husband, Jon Stewart. Growing old with one another is indeed adding sparks to their relationship.
So, why not let's take a closer look at their married life while we introduce you to Tracy McShane up close, in a wiki-like bio of her.
Tracey McShane's Wiki: Know Her a bit More:
Born on August 6, 1967, in Pennsylvania, U.S.A, Tracey Lynn McShane, a Veterinary technician is 50 years of age. Tracy has spent 17 years of life with her husband, Jon Stewart as they got married back in November 2000.
Talking about how the married couple crossed path; it was Tracey's friend who fixed a blind date for Jon and Tracey at a Mexican restaurant. 
But, Tracey was over with the idea of dating at that moment and was hesitant to go on a date.
However, fate had something else in store for the two, as their date flourished into a relationship; that they have been cherishing ever since. 
Also, Jon's proposal for the marriage was a unique one. Stewart took the help of Will Shortz, a New York Times puzzle editor, to add the proposal clues to the paper's infamously tricky crossword. 
Moreover, the clues for the puzzles had special hidden meaning for Tracey. 
That was romantically smart move from Jon!
Furthermore, the couple has a  family to share their happiness with, which includes their two children, son, Nathan Thomas Stewart, born on July 3, 2004 (age 13) and daughter, Maggie Rose Stewart, born on February 5, 2006 (age 11).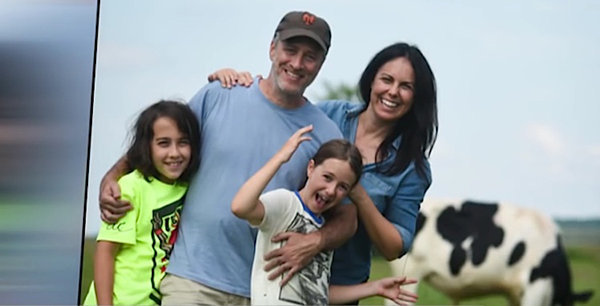 Caption: Tracey with her husband and kids.
Photo Credit: Goodnewsnetwork.org
Also, the Stewert family is animal lover by the looks of it, as their family also includes two pigs, four dogs, three rabbits, two guinea pigs, one bird and two fish.
Additionally, apart from her job as a Veterinary technician, Tracy is an author too, her first book is named, "Do Unto Animals, How We Can Make Their Lives Better."
Jon, who has accumulated the net worth of $ 80 million, promoted his wife's book saying,
"One of the great pleasures of this show is having a pulpit to introduce an audience to books I care about – books I love. I'm going to miss that. And so before I go, I'm going to do it one more time. I have found this book by this incredible young author. Her name is my wife. The book is about my wife's journey in finding her passion to work with animals, about how you can improve your relationship with the animals in your house and in your yard."
He further gushed about how proud he is of Tracey,
"It's incredible. I'm so proud of her. Listen, I've always known my wife is a kinder and nicer person than I am. But to know that she is funnier and a better writer — I'm not going to lie to you — stings a little bit."
Caption: Tracey's love for animal comes forth as the Stewert couple has an animal sanctuary at their New Jersey farm. (Published on Oct 22, 2015)
In the sanctuary, Tracey provides a home to the farm animals that are rescued from the cruelty. Also, as per Tracey, the joy of accepting animals as friend, instead of consuming them is life changing,
"the joy of interacting with animals as friends instead of using them for human consumption is life-changing. A trip to Farm Sanctuary should be on everyone's to-do list, but you can also bring a little bit of sanctuary home when you sponsor an animal through the Adopt a Farm Animal Program."
Additionally, did you know Tracey was once arrested? Well, Tracey got arrested for driving with a suspended license in 2005. Tracey did pay for the ticket a week before the incident, but the check wasn't processed.
Also, Tracey, who stands a tad bit smaller compared to Jon in height is assumed to be 5 foot, and 4 inches tall, as Jon is 5' 6'' in height.