Entertainment
Tracy K. Smith's Married Life With Husband Is Perfect! No Wonder Where She Gets Those Poems Out From
Literature is a field which requires a lot of talent no doubt, but it also requires some real-life channeling as the things a person deals with in his or her life is the inspiration behind the creation.
Divulging in the similar context, we today have 2006 James Laughlin Award winner and amazing poet Tracy K. Smith, as there is a distinct quality of her when it comes to writing touching poems. All of these could be inspired by her married life with her husband and her motherly instincts, as she enjoys a perfect family life with them.
So, let us take a closer look at her perfect family life, also shed some light on her illustrious career as a poet.
The Fulfilling Married Life of Tracy K. Smith & Her Husband: Her Family Life Including Her Children:
There is no denying that Tracy K. Smith is a renowned poet who has several accolades and awards under her belt, but she herself would be the first to admit that without the love of her husband and children, she would not have become what she is today.
The whole credit for her success goes to her skills and talents, but the support and affection she receives from her loving husband and adorable children is the drive behind it.
She has been married to Raphael Allison for a long time now, and the two also have three children together, which makes them a family of five.
The exact tenure of their marriage is something that has not been made public, but there is simply no doubt that the love between them is immense.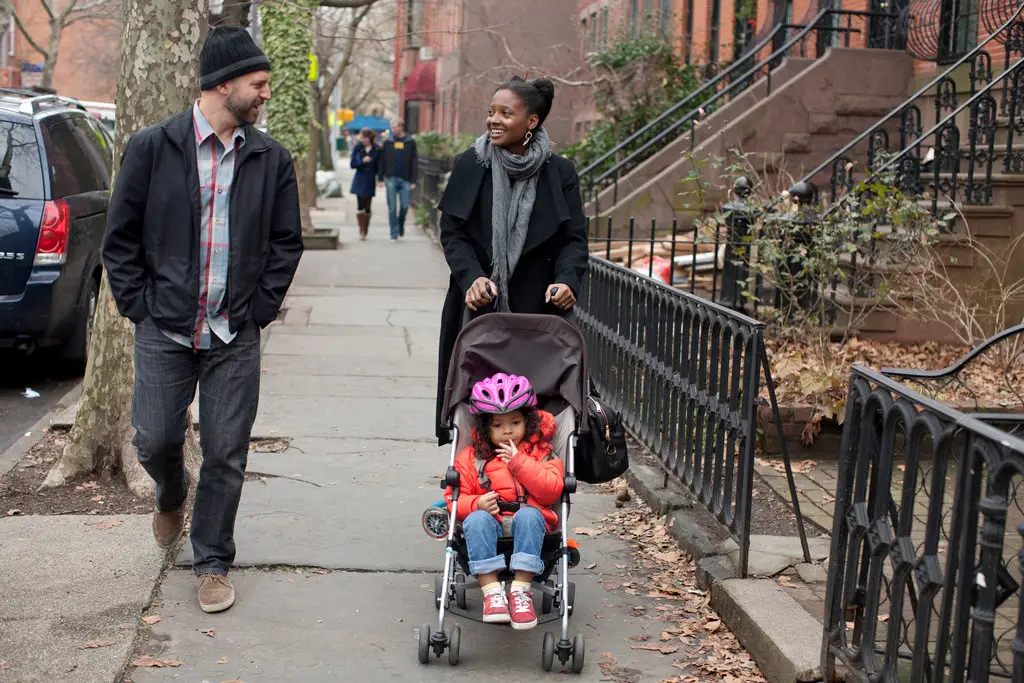 Caption: Tracy K Smith is living a wonderful family life with her husband and her kids.
Photo Credit: nytimes.com
Speaking about their relationship and the love the family shares, Tracy said,
We usually wake up around 7 with Naomi (her daughter). She's really active, but mercifully she's happy, for the first few hours of the day, to play with us at home. My husband and I take turns reading through the Sunday paper, with NPR on, tag-teaming Naomi reading books or doing puzzles. Our dog is gigantic, so we have to take him for a walk at some point in the morning. But it's almost never me
During that time, she only had one child named Naomi. Speaking of the daddy-daughter lunch, she expressed,
While I'm writing, Raf and Naomi will have a daddy-daughter lunch or go to a puppet show. There are a couple of places they like: 61 Local — it's a cafe during the day and a bar in the evening with locally farmed food. Then there's a sweet puppet theater in Brooklyn called Puppetworks. They do old-school puppet shows.
But now she is a mother of three, and it must definitely be noisy at her home, so how does she write all the great poetries? 
Tracy explained it herself,
I think that since having kids, it's really easy. My tolerance for noise has probably changed a lot. For me, quiet and space to create is 8:45 in the morning, everybody's at school, and there's just the hum of the refrigerator. That'll do it for me. That's my trick. Just close the door and sit down, knowing I only have a handful of hours before it's going to get noisy again.
However, it is a certainty that she loves the noise around her as for a mother, the voice of her kids is the thing she loves the most.
Tracy K Smith's Illustrious Career: Her Poems & Quotes:
Tracy K. Smith does not need any second introduction to poem and literature lovers.
Tracy is the proud author of three poetry books- "The Body's Question," which won the prestigious Cave Canem prize for the best debut book by an African-American poet, "Duende," which was the winner of the James Laughlin Award along with the Essense Literary Award, and "Life on Mars," which also was a mega-hit and was the winner of the Pulitzer Prize for Poetry
Back in 2014, she got awarded the illustrious Academy of American Poets fellowship. Smith has also written a memoir named "Ordinary Light" back in 2015, which was a finalist for the mighty National Book Award based on nonfiction.

In June 2017, Smith hit the major high in her career as a poet, when she was named U.S. poet laureate. Now, that must be enough to tell everyone how skilled and accomplished she is in her career. Moreover, she is an inspiration to many, and she also teaches creative writing at Princeton University.
She has quoted some famous and inspirational quotes, but our personal favorite is the one from Life on Mars, where she quoted,
time never stops, but does it end? and how many lives before take-off, before we find ourselves beyond ourselves, all glam-glow, all twinkle and gold?
Hands down a beautiful soul and an artistic writer!
Stay with us for future updates on Tracy K Smith!