Entertainment
Inside CityLine Host Tracy Moore Personal Life & Kids
Tracy Moore is the host of Cityline, the longest-running daytime talk show for women in North American history. 
Initially, the TV presenter started as a CBC intern before becoming a videographer and then a back-up host.
Eventually, she took on the role of Newsworld anchor and later joined Toronto's number one morning show, Citytv's Breakfast Television. Tracy put on the mantle of Cityline's host in 2008 after Marilyn Denis' departure from the show. 
Cityline
Cityline is one of Citytv's most popular shows, which began airing in 1984. As of February 2020, it is on its 23rd season run.
The show has a different theme for different days of the week. It revolves around Tracy interacting with guests who are experts on the theme and acting as a mediator between the guests and her audience.
Marilyn Denis:- The Marilyn Denis Show's Marilyn Denis: Raising Son as Single Parent Post Divorce
Some of the themes on the show are Fashion Friday, Wellness Wednesday, Around the House, and Travel Show, among others.
Tracy Moore's Husband & Kids
The Cityline presenter is married to Lio Perron, a freelance writer and former journalist. They first met as reporters before tying the knot on 1st July 2006.
His bio in his Twitter account describes him as "a bilingual freelance writer. Former journalist at Reuters, CBC, Radio-Canada, and LA Times. Sports junkie. Unsolicited opinion offerer."
Together, Tracy and Lio are parents to two kids, son Sidney and daughter Eva Simone.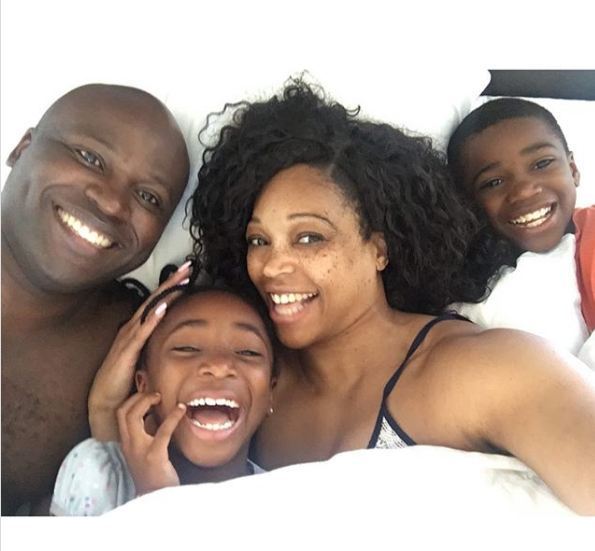 Tracy Moore with family in February 2020 (Photo: Tracy Moore's Instagram)
Sidney was born on 24th April 2008, while Eva Simone was born on 16th August 2010.
Age & Parents
The celebrated host was born to Marjorie and Leonard Moore on 6th January 1975.
Clothing Line
Tracy Moore Designed by Freda's is a clothing line that came into being through the partnership between Tracy Moore and Freda's. The line is made in Canada and aims to fulfill the needs of Canadian buyers. 
The TV presenter herself defines the clothing line in the following manner:
The biggest thing for us is that this line is made in Canada. Freda's is an iconic Canadian name, Cityline and Tracy Moore is an iconic Canadian brand.

We wanted to make sure that our clothing is made right here for the buyers who are right here. And we think that is a really important part of the story.
The goods are distributed exclusively online via TSC, a known distributor of multiple brands.