Entertainment
Comedian Tracy Morgan Fatal Truck Accident Survivor Cherishing Wife & Family
American comedian Tracy Morgan recovered from a fatal multi-vehicle crash on 7 June 2014.
The horrific incident not only increased his fortune but also enhanced his attachment to his family, proving once and for all that "daylight follows a dark night."
Walmart's Compensation Inflates His Net Worth, But Friend Dies 
Tracy is living a lavish life as a consequence of the 2014 accident that he, fortunately, managed to survive.
When the Walmart trailer truck on the New Jersey Turnpike crashed onto the rear end of Tacy seated Limo, many had thought that he would not live. The accident put him into a coma for eight days. He later woke up having no memory of the crash, or the show he had arrived from that night. 
Unfortunately, the saddening crash also killed American comedian James McNair on the spot, who was in the same vehicle as Tracy - a very good friend of his too. 
Walmart took the responsibility after discerning the fact that it was their truck that led the misfortune. As a result, the matter was taken to court, where the company settled its negotiations with Mr. Morgan. The settlement sure made him way more prosperous than he was before.
The amount he received from Walmart is yet undisclosed, but as Jonathan Stempel from Reuters writes, it may as well have been a sum of around $90 million. The comedian now lives in a 31000 Sq. Ft. mansion with 19 bedrooms and owns at least a Rolls Royce, a Ferrari, a Lamborghini, a Bugatti, and a Range Rover.
Survival Leads To Better Life: Marries After Miracle Recovery Post Accident
Tracy Morgan has had a second chance in life. He had many broken bones including most in his face, ribs, and legs. He also suffered a brain hemorrhage from the crash. He overcame all but not without a cost. He even had to learn how to walk again.
What's worse, the crash also halted his marital plans. He had been engaged with his girlfriend Megan Wollover, an American actress, with whom he shared a baby daughter, Mevan, who was just two years old at the time. 
Fourteen months into the crash which had made him wheelchair-bound for a good five months, Tracy finally married his fiancee, Megan, in 2015. They marked eight years of their relationship in 2018.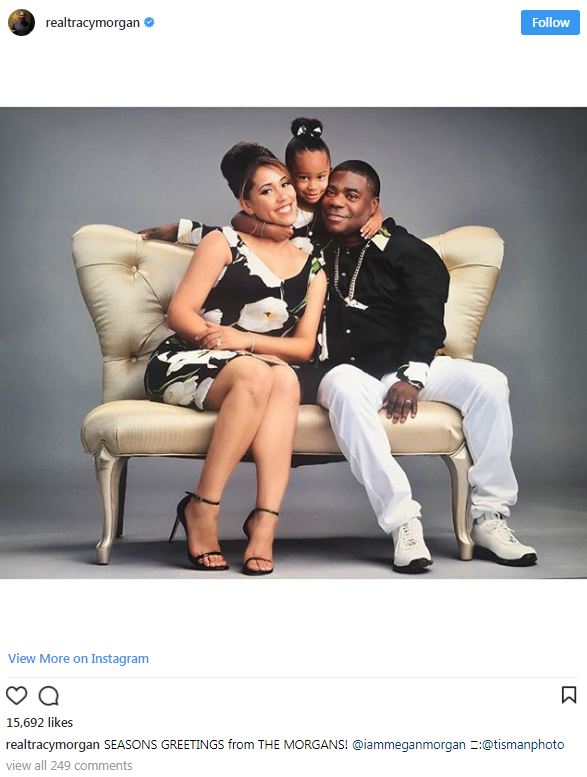 Tracy Morgan poses with wife Megan and daughter Mevan (Photo: Tracy's Instagram)
Post the crash; he has been funnier - his 2018's comedy special The Last O.G. tells all about it - and more prosperous. But most importantly, he values what he holds most dear in a greater magnitude than before - his family. 
He has been very much in the vicinity of his family, both physically and emotionally - especially after his accident.
In addition to displays of affection through social media, Tracy also surprised his daughter with warm celebrations with Minions in a Flagship store on her fourth birthday in 2016.
His very supportive wife Megan, who was there with him all along during the aftermaths of the accident, in an interview with Essence, conveyed that his recovery was a miracle. She said:
"You know, when you love someone. You stick in there. You pray for the best and you stick through it. It's almost like a miracle to me, where he's at today, because if this were maybe August 2014 (the accident was in June), I don't think I would have seen this progress at all. I didn't see this at all. You know?"
Tracy feels as the life he has now was the plan for him all along in contrast to cheating death.
Divorces Wife; Ex-Girlfriend Gives Him Kidney, Best Known
Tracy's past relationships were not as passionate as the relationship he has with his current wife.
In the distant past, he was married to his high school sweetheart, Sabina. After being in a relationship with her for 23 years, Morgan filed for a divorce in 2009. They were separated for almost eight years when that happened. The main reason for their separation was his alcoholism and indecency. 
Tracy then dated producer Tanisha Hall - the relationship didn't last much longer either, but it did favor him with an organ though.
As a longterm diabetic who was in a desperate need of a kidney transplant, Tracy got one from his ex-girlfriend, Tanisha, in December 2010, not long after their break up. He thanked her on the venue of the Screen Actor Guild Awards in January 2011, saying,
"I'd like to thank Tanisha for donating my kidney to me" 
Tracy Morgan is popularly known for his casting appearances on Saturday Night Live (1996-2003), and 30 Rock (2006-2013)