Entertainment
"Empire" Brother Trai Byers Showers "Queen" Wife Grace Gealy With Sheer Love
American actor Trai Byers has dug success hard in the 2014 critically acclaimed movie, Selma.
By now, the actor has outstood himself as a marketable star with his charming looks and solid performances in TV shows including All My Children, Jayhawkers and the most recent Empire.
And the series, Empire has helped write success in Trai's love story too for he found his lover on the sets of the series. From dating in sets to getting married, Trai's shares much love and affection for his "queen" wife.
Know all about the love story of this handsome young man and his beautiful wife!
Secret Dating On "Sets"; Announces Engagement To All
Trai was first co-star to the actress Grace Gealey before they started dating. He first met Grace on the sets of the TV series, Empire in 2015. Both, the pair developed an instant liking for each other and started dating but, in secret.
However, the secret soon came out as the co-stars-turned-couple was spotted kissing and cuddling on the sets of the series. An insider further revealed that the pair was having a great time working on the series. The source also mentioned that two started dating somewhere in the mid-season of the first season and were very serious about their relationship.
Finally, the day came on 28 July 2015, when the couple themselves acknowledged their relationship in public along with their engagement news. The couple soon got married on 14 April 2016, less than a year from their engagement.
They tied the wedding knot at a private ceremony and didn't share their wedding photos at the time.
However, on 5 June 2017, the 34-year-old shared a throwback picture from the event, in which the newly-wedded husband and wife were seen staring into each other. Further, in the post, Trai also described Grace as an angel and swore to remain with her forever.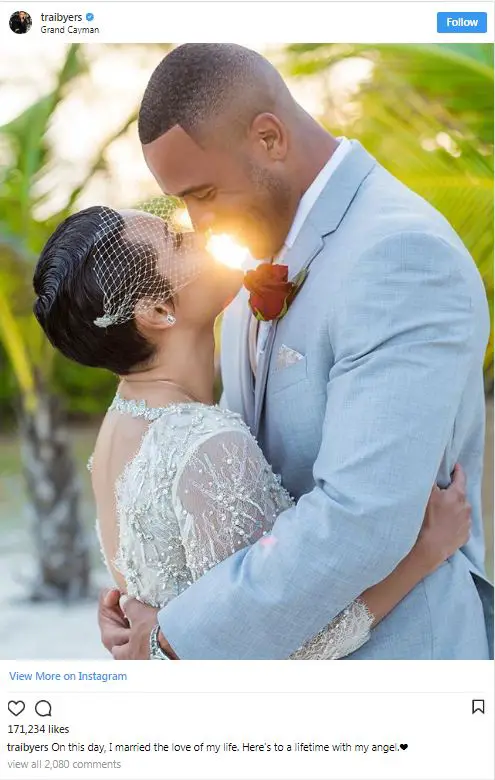 Trai married Grace Gealey in a closed ceremony on 14 April 2016 (Photo: Trai Byers' Instagram)
And the images of the couple with affectionate caption kept on coming. On 26 July 2017, Trai shared a picture of the pair along with a lengthy message dedicated towards Grace.
The Kansas native wrote in the post about his wife being his Queen simply because of her classic and subtle behavior. Further, he also mentioned that he was proud of his spouse's life decisions and claimed her as the source of his inspiration, congratulating his wife on her birthday.
Later on 14 April 2018, Trai uploaded another Instagram post wishing his partner on their 2nd Wedding Anniversary along with a picture of the two from their trip to Grand Cayman. In the post, he talked about how fast the time went by as he felt two years passed in two seconds. It was evident from his heartfelt message that the couple's hadn't degraded even a bit after two years of marriage.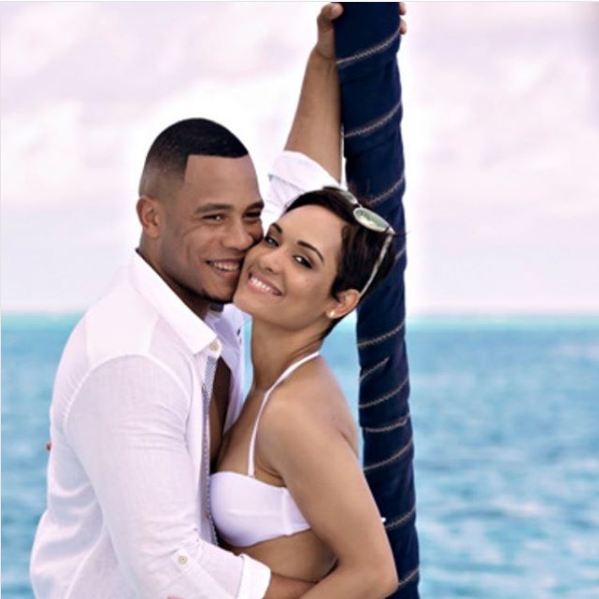 Trai and Grace celebrate two years of successful marriage on 14 April 2018 (Photo: Trai Byers' Instagram)
For the time being, the couple has been leading a blissful married life, with no signs trouble in their paradise.
As for finances, Grace enjoys the net worth of $2 million while her husband has a net worth of $1.5 million, contributed by his salary of $20000 per episode of Empire.
Onscreen Brother Gay
Trai has his own share of connection with gay sexuality.
Trai played the role of Andre Lyon in the TV series Empire, who is in conflicts with his two brothers, Sakeem and Jamal, for taking control over their father's business. One of Trai's brother in the show, Jamal, (played by Jussie Smollet), is an onscreen gay man. However, Jussie is not gay in real life and is assumed to be straight beyond the camera.