Entertainment
Transformer's Jack Reynor Escalated Dating Affair With Girlfriend! Vows To Not Splash Wedding Pictures
Privacy is something that everyone needs. No one wants to splash everything about their personal life; and the one who firmly believes that people need privacy is "Transformers: Age of Extinction" actor Jack Reynor.
Jack Reynor is engaged to his girlfriend turned fiance, but he has vowed to not sell or splash his wedding photos. So today, let's dig in to know more about the relationship between Jack and his soon to be wife.
Jack Reynor Not To Splash His Wedding Photos: Got Engaged To His Model Girlfriend:
Jack Reynor got engaged to his model girlfriend turned fiance, Madeline Mulqueen back in March 2014. The couple dated over a year before their engagement.
The couple confirmed their relationship with a flirtatious exchange over on Twitter. And after the confirmation, they simply kept on gushing about their love on social medias.
Moreover, the fans and the media noticed a huge shiny ornament on Madeline's ring finger when they attended the IFTA Awards in April 2014.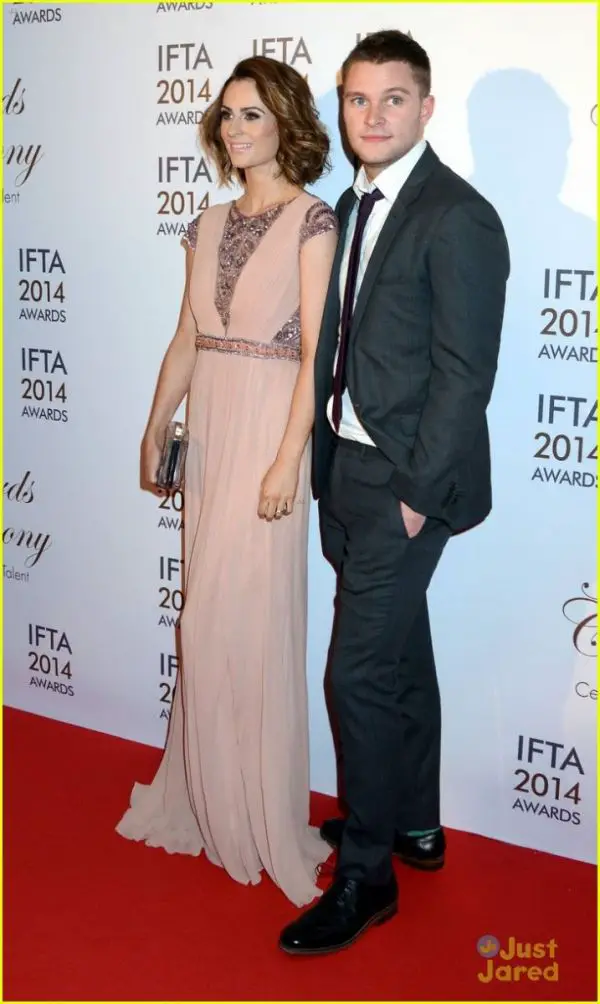 Caption: Jack Reynor and his fiancee Madeline Mulqueen attend the IFTA Awards in April 2014.
Photo Credit: justjared.com
The soon to be married couple looked adorable together. But they have not set any official dates to tie the knot, beginning their husband-wife relationship.
In an interview back in April 2015, Jack shared,
"I AM going to get married,"

"We haven't set a date."
Jack also said that he wants to live a low-key life with his soon to be a wife.
"We keep ourselves to ourselves. We're unassuming individuals. Anyway, people don't recognise me generally. I don't have people coming up to me. In the media, I do notice people writing things, trying to build an image of who I am. It's not for anybody to know who I am."
Jack further poured his thoughts on keeping his relationship with her fiancee out of the limelight.
"Some people are mad into it - they really want to have their relationships out there, to talk about their personal life. That's very dangerous. It's not the healthiest psychological step. You are leaving yourself open and vulnerable, in some of the most important things in your life."
However, one thing the star actor has expressed is his lack of willingness to splash his wedding pictures.
Jack said,
"Absolutely not,"

"It will be really low-key,"
Similarly, speaking of the marriage dates, Jack added,
"We will do it when we do it."
Moreover, in a recent interview, in February 2017, Jack revealed that he is in no rush to get married.
"I think we're going to wait a little while,"

"But it's great. We're doing good."
Well, if they are looking for some privacy, then we should respect that and give them what they want. But regardless, we would like to wish the pair the very best, for taking their relationship to a whole new level.
Gay Rumors Surrounding Jack Reynor.
After he admitted that he idolizes fellow Irish actor, Michael Fassbender, the world saw a fitting Irish bromance. The two starred in the Shakespearian tale "Macbeth," and they often sang each other praises in an awkward amount, which made people speculate about their gay-ish connection.
Jack once said,
"Michael Fassbender's my hero dude. I love that guy so much!"
But hello, that is just a man love by the looks of it, as Jack is currently on the path to get married to his fiancee Madeline.
On the other hand, Michael Fassbender is busy in his own life with Alicia Vikander.
Jack, who holds the citizenship of both the U.S and Ireland, has never really spoken about his ethnicity. He has killer looks and good physique, following which there are plenty of people willing to see him go shirtless. However, we are sorry to inform you that he has not been spotted shirtless anywhere.
Caption: Jack Reynor's interview on "Transformers: Age of Extinction" published on Jun 18, 2014.
Stay with us for the latest updates on Jack Reynor!