Entertainment
Transgender Actress Jamie Clayton And Her Dating Affair With Actor Keanu Reeves Amid Of 'John Wick 2'
Quick Information
Date of Birth

1978-01-15

Age

42 Years 5 Month(s)

Nationality

American

Birth Place

San Diego, California, United States

Profession

Actress, Model

Zodiac Sign

Capricorn

Religion

Christianity

Ethnicity/Race

White

Father

Howard Clayton

Mother

Shelley Clayton

Children/Kids

Not Yet

Relationship Status

Single

Gay

Transgender

Net Worth

Not Disclosed

Career

2010–present

Height/ How Tall?

5' 10" (1.78 m)

Hair

Long

Hair Color

Blonde

Plastic Surgery

Transgender

Facebook

https://www.facebook.com/Jamie-Clayton-117802378335365/

Twitter

https://twitter.com/msjamieclayton

Instagram

https://www.instagram.com/msjamieclayton/

Rumors

Keanu Reeves
American Transgender actress, Jamie Clayton is mostly recognized for her notable role as a transgender character in the Netflix's series Sense8, which is also directed by the transgender director Lana Wachowski.
Well, before landing a role in the series, she was the makeup artist and co-host of VH1's first makeover show TRANSform Me in 2010. Also, she was starred in the Emmy Award-winning web series, Dirty Work.
And also with her rising career, she found a cisgender actor-boyfriend after working together in the Generation Um.
Dating Rumors With Matrix Actor
The 40-year-old Jamie Clayton was dating Matrix actor, Keanu Reeves in 2015. The couple had previously worked on the drama Generation Um and the rumors say that they have been dating
Source says that since the couple meets on the set of the 2016's The Neon Demon, they have not been able to get enough of each other. And rumors are flowing that Keanu Reeves is already head-over-heels for somebody new.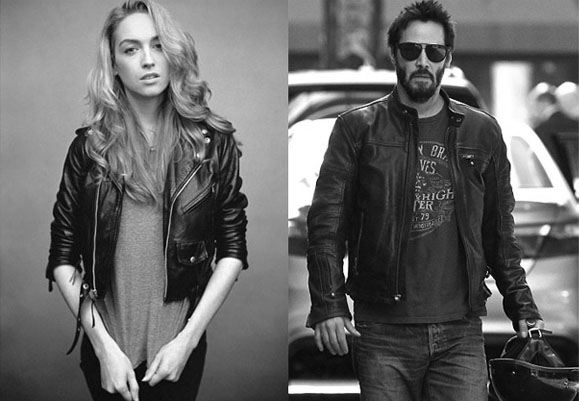 It is reported that Jamie Clayton (left) and Keanu Reeves (right) are dating. (Photo: livejournal.com)
According to various gossip news updates, the John Wick star is falling hard and true for his new transgender girlfriend, Jamie Clayton. No matter what is going on in the Speed star's personal life, Keanu Reeves's career is at it's best recently.
According to Star magazine edition of 3 August 2015, it claims that Matrix star, Keanu Reeves met transgender actress Jamie Clayton on the set of The Neon Demon and both haven't been able to get enough of each other.
An eyewitness said that both of them went on a date at the Chateau Marmont on 16 July 2015, and both couples had the best night out. A source said:
"They're definitely smitten. The fact the Jamie's transgender doesn't mean a thing.Keanu likes her and respects her no matter what. Jamie was acting all giddy on the way out of the restaurant when Keanu wrapped his arm around her lower back...and he went in for a kiss."
Fans of both, Reeves and Clayton are pleased about the couple's relationship and shared their happiness on Twitter:
If Keanu Reeves and Jamie Clayton are together I will be so happy. My 12 year old crush with my 31 year old crush. @MsJamieClayton #keanu

— Dan Medalle (@daniyellm) August 11, 2015
Although both of them haven't officially spoken about their relationship, sources claim that they are dating. However, there were no words on their wedding and the couple was also not spotted together since 2015.
In December of 1999, Reeves's then-girlfriend, Jennifer Syme, gave birth to a stillborn baby. But she was eight months into her pregnancy and unfortunately, died in a car accident in 2001. Moreover, in 2016, Clayton appeared in the film, The Neon Demon.
Jamie Clayton Finds Acceptance In Tv-Show "Sense8"; Married At Show's Ending
The Netflix series, Sense8 is a fictional drama series surrounding eight people around the globe who share their senses, both physically and mentally.
These eight strangers include Nomi Marks, a transgender Hacker who lives in San Francisco, California played by Jamie Clayton. Playing a role that fits themselves as well as speaks about their feelings personally is a treat, and it is evident that Jamie enjoys this role who talked about her experience working on the TV show saying,
"The biggest thing for me was to be able to play a character who's trans, but have the story have nothing to do with the fact that she's trans. They've moved past that with their storytelling, which is really great. Putting a label in front of someone's job title with their gender or race — that's the opposite of understanding who that person is" and further added saying,
"People want to use 'trans actress' as a disclaimer. It's like saying 'black actress.' You don't say that anymore. The only thing that should go before 'actress' is 'award-winning.' "
The show treats the LGBTQ community members quite well, and instead of contrasting them with the ordinary people or shedding them into a different light, the series tries to show that these people are the same as anyone else and tries to portray them as average humans living peacefully in the society.
Clayton talked about her opinion on how the show builds itself around the LGBTQ cast stating,
"The story does not center on transition, which I think is a really important step to take with trans characters. I'm excited that shows are moving towards the idea that trans people can just exist in the fictional worlds, because we exist in the real world. It's great that more people of trans experience are writing. That's where it comes in that we exist, because they have the experience of just existing."
The show not only brings together members of various sexual orientation together but also people of different origins and nationalities. The shooting of the scenes takes around the world, and it is amazing how inclusive the movie can be. Doing this, the series not only presents a huge opportunity for viewers to see all sorts of scenes but also provides a chance for the crew to visit exotic places. A chance that Clayton appreciates a lot who replied with this answer when questioned about her favorite part of shooting the show,
"Just being a part of it, full stop. I've always wanted to travel, and I could never afford it. And now, you know, not only am I working as an actor, but I'm getting to travel to all of these amazing places and, you know, it's opened up opportunities to travel for other jobs. The traveling and the being immersed in these other cultures. And meeting the local people. Smelling the smells and tasting the tastes. It's really incredible."
Sense8 starring Jamie Clayton, presented by Netflix (Video: YouTube.com)
The series, Sense8 has aired its final episode on 8 June 2018. Jamie's character in the series got married to her long-time love interest Amanita (Freema Agyeman) on the two-and-a-half hour finale of the show.
She has already wrapped up her Netflix's Sense 8. Though she has already earned fame in the entertainment industry, she seemed to have a disappointment in the way the transgender actresses are assigned the role to portray.
She claims that the trans actors never got to audition for anything other roles than of trans characters. She also explained that the transgender actress is not welcomed in the industry. She detailed:
"Actors who are trans never even get to audition for anything other than roles of trans character. That's the real issue. We can't even get in the room. Cast actors who are trans as non trans character. I dare you."
Her disappointment fired up along with another transgender actress, Tyle Lysette when they learned that the cisgender actress Scarlett Johansson was assigned a transgender role for the movie Rub & Tug.
And since the news of the casting aired, Scarlett has been backlashed by the two transgender actress. Tyle also took to her Twitter on 3 July 2018 criticizing the Hollywood for stealing their role by replacing them with the cisgender actors. She also expressed the other cisgender actors that they can play like the transgender actors but they can't portray like them. She expressed her frustration:
"Oh word?? So you can continue to play us but we can't play y'all? Hollywood is so fucked... I wouldn't be as upset if I was getting in the same rooms as Jennifer Lawrence and Scarlett for cis roles, but we know that's not the case. A mess."
Well, in the movie Rub & Tug is the biopic of the transgender man and Hollywood prioritizing the cisgender actors for the transgender role seemed to be discriminating to the transgender actress.