Entertainment
Travis Van Winkle Well on The Way To Get Married! Dating Affair with Girlfriend is That Perfect
Some celebrities prefer to keep their love life simple, far away from the media spotlight. But in the absence of their announcement, fans are left to scan their social media posts to get a glimpse of their affairs. 
One of the celebrities designing the exact scenario is Travis Van Winkle, a Hollywood and TV star, who gushes his love for his girlfriend, but only through his Instagram posts.
So let us run through their communication to find out what Travis and his girlfriend are up to!
Travis Van Winkle Love Life, Which is Confined to Instagram:
Travis Van Winkle, who stands tall at 6 foot, is currently dating his girlfriend, Jessica Kemejuk, an American actress and film producer. Although it remains unclear where, when and how the couple met; one of Jessica's Instagram images suggests that they started their affair around March 7, 2016.
Despite the couple's non-communicative nature, their social media do not hide anything about their fondness for each other, including chances of marriage.
Their posts are a wealth of information on their ongoing dating relationship, where Travis gushes about Jessica.
Here is one of the images he shared back in 2016, where he flaunts his beautiful moment with Jessica on a boat in Detroit.
This is just one of the several Instagram eulogies in praise of his ladylove. He has shared many photos showing them in loving moments, embraces and hugs.
Again on September 11, 2017, he shared another image gushing about his lady love, this time on the occasion of her birthday. The caption depicts volumes about the love they share as well:
transvanwinkle Last year I threw jesser_k a birthday party and had her friends write down well wishes for the upcoming year she was about to embark on. We shoved them into an old Edison bottle and she was instructed to break the bottle and read the letters a year from then, just before her next birthday. Last night we cracked open that son of a B! #SpecialMoment #SpecialLady
Despite being secretive when it comes to facing the media, Travis Van Winkle and Jessica Kemejuk's Instagram posts are like a window to their affairs. It is easy to infer that theirs is clearly no puppy love, despite their dog joining them on their outings together!
Travis Van Winkle's Short Wiki-Like Bio
Travis Van Winkle is an American actor born on November 4, 1982, in Victorville, California, to Sally Fitzgerald and Charles Van Winkle's second child. The family moved to Michigan when Travis was very young and later to Georgia where he finished his high school and went to college, which he dropped out to go to Los Angeles at the age of 20.
Talking about his first guest role on Disney's "That's so Raven," he said  laughing:
I got to kiss the two leads in front of a studio audience'
Travis is known for his wide repertoire of characters in both film and TV such as the thriller 247F and the TV sitcom, 'The Last Ship,' which awarded him with a lot of publicity.
Travis has been pictured shirtless several times in the sitcom, but has not played a gay role, nor is there any indication that he is one in real life.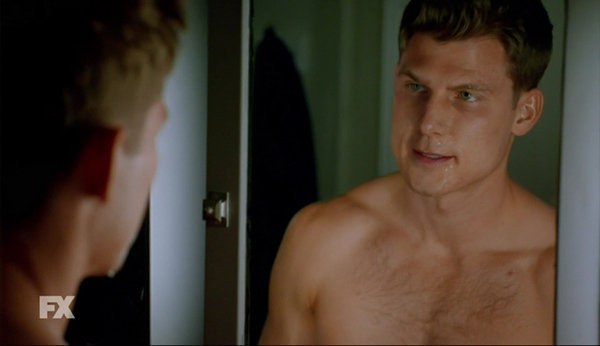 Caption: Travis Van Winkle 
Photo Credit: ausCAPS
Apart from being an actor, Travis is also a loving son and respects and holds his parents in high esteem as is evident from his twitter posts about them. In June 2014, he shared his picture with his mother on Twitter, flaunting the mother-son duo at the premiere of 'The Last Ship'.  
Moreover, he shared another picture a day later, this time with his father at the same function. 
Travis Van Winkle is proud of his loony surname and disclaims any affinity to Vanilla Ice, the rapper whose surname is also Winkle, as well as Rip Van Winkle, a famous fictitious character.
Travis not only loves Jessica and their dog but is also seriously involved in volunteering with buildOn, a non-profit organization based in Connecticut. He has helped build a school in Malawi, another in Nepal, and has led students and parents to build a school in Nicaragua. His love is obviously deeply entrenched in charity work as well!
Clearly, his success has not gone into his head. He is down to earth and reportedly enjoys outdoor, yoga and meditation and the road trips with his lady love rather than in restaurants.