Entertainment
Trent Garrett Isn't Married But Life's Perfect! His Little Family Is Goals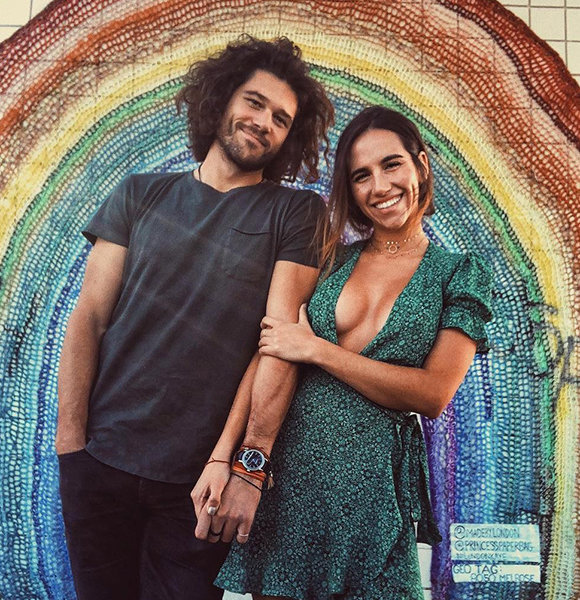 American actor and model Trent Garrett is mostly known for his role as Asher Pike on the American television soap opera 'All My Children.' Apart from the acting prowess, he has attracted a lot of fan following with his good looks and mesmerizing charms. 
Well, if you are one of the well-wishers of this model and want to know more about him and his personal life, keep reading until the end!
Trent Garrett's Love-Filled Life!
The handsome hunk Trent Garrett seems to be pretty smitten while being in a dating relationship with the pretty lady. Her name is Maya and goes by the name 'ohsomaika' on her Instagram account. Though the pair is not married, the relationship they share looks cozier just as a bond shared by husband and wife. 
Interestingly, Maya runs her a blog channel named 'OH SO MAIKA' where she timely writes about her personal life experiences. Previously on a blog titled 'How We Met' published on 15th February 2018, Maya revealed her story on how she met Trent at Barry's Bootcamp in 2017 and how their love flourished. 
Maya shared that she was naturally attracted to Trent and couldn't stop herself from expressing her love towards Trent. Maya wrote her feelings as,
I fell in love with him the first month we met and would stop myself from accidentally saying it every time I said bye to him or kissed him in the morning. I didn't know it was even possible to get so close with someone or become a couple so fast but my motto at that point was just go with the flow. 
Also, Maya gushed about the best qualities of her boyfriend while confessing that she doesn't know how to appreciate him for whatever he does for her. 
I don't even know how to explain my love and appreciation for this man. He is so kind, forgiving, understanding, loving, SO LOVING, real, creative and fun.
Moreover, Maya even quoted out that she feels the luckiest to have found such a man who loves her without any doubt and supports her every time. 
all I'm trying to say it that I am the luckiest girl in the world to have someone that loves me for who I am and continues to accept me as I grow. He keeps me close to his heart but allows me to still be free. Thank you T-dog for dealing with my crazy personality and life.
Well, not only Maya but Trent also doesn't hesitate to share his affection towards his girlfriend- who could easily be mistaken for his wife. Previously on  27th January 2018, Trent Instagrammed an intimate picture with his girlfriend and wrote down a long, affectionate poem for her. 
Trent also uploaded a picture of themselves alongside a beach where both can be seen in smiles while looking at each other's eyes back on 5th January 2018. Making the post more special, Trent dedicated a caption to his love saying that her smile feeds his spirit animal. 
When you smile you feed my spirit animal
Trent seems to be content while sharing his time with his girl and the pair looks to be a happy family despite the fact that they are not married. When the two posts the pictures with the baby boy Luca on their Instagram account their relationship looks more adorable 
Though the pictures and bond they share with the boy speculate them to be his real father and mother, it has come to the light that Maya and Trent are only raising the boy along with his mother Tereza, who happens to be the friend of Maya. 
Earlier on 4th December 2017, Trent uploaded a family-pole pose via Instagram and said that baby Luca was very happy that day at the Disneyland. 
Somehow we're surrounded by frightened spectators every time we do our "totem pole" pose. ?Thank you @disneychannelpr for giving us the VIP treatment and making our little Luka the happiest boy in a land of imagination. ?
Well, Trent with his girlfriend has evidently set a relationship goal, and both of them looks to be very serious regarding their affair. Hopefully, the two will continue to be in love with each other and escalated their relationship by getting engaged and married. 
As for now, the love affair Trent has with Maya must be enough to fend away the rumors and accusations of Trent being called a gay. The actor's sexual preferences reflect in his dating affair with a woman.