Entertainment
Who Is Trinidad Cardona? From Gender Details To Parents & Ethnicity
Social media has become one of the biggest platforms for people to showcase their talent. The 18-year-old star Trinidad Cardona also used the platform wisely and has become the rising star in the industry with his hit title Jennifer following singles like Ready and You Are Mine.
If you are not well aware of the young sensation, no worries, as we will present detailed information about Trinidad raging from his gender, family, and accomplishments.
Dive in!
Bathroom Singer To Rising Star
Trinidad Cardona, who is raised by his lesbian parents, enrolled in the music classes around 2015. He first joined the class out of boredom but fell in love with music after he went on regular sessions.
He realized that he had a singing passion, which would turn out to be a big thing, so he started spending time as a trainee for singing and dreamt of recording a song. 
Luckily, 2017 turned out to be the best year for the Phoenix-based singer Trinidad as his bathroom break hit titled Jennifer went viral overnight after he uploaded it to his Facebook account in a class break.
The next day when Trinidad woke up, he had over seven million viewers that included a massive audience from Brazil as well.
To quench the demands of his fans of hearing more of him, Trinidad, who possess black Mexican ethnicity, recorded a full version of Jennifer where he added some rap along with Spanish lyrics and later released it on the name Jennifer EP, which included his singles Ready, and You Are Mine.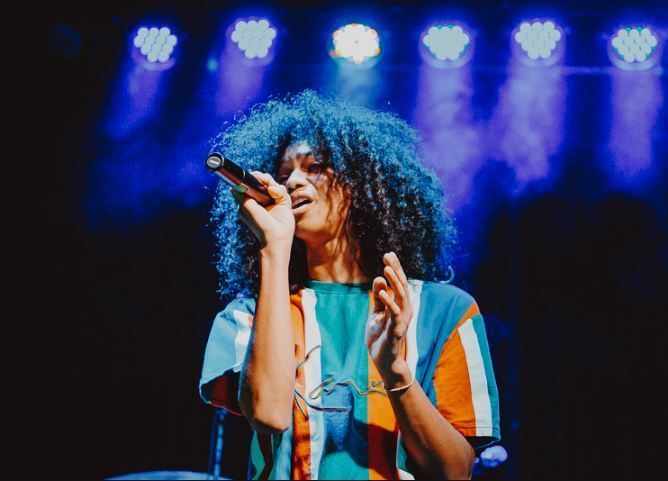 Trinidad Cardona sings at the Constellation Room in Santa Ana, CA on 31 January 2018 (Photo: fifteenminutemedia.com)
Some months after Jennifer skyrocketed to the internet, Trinidad completed his high school and decided to take music as his full-time career.
In an interview with the Genius, Trinidad was asked about the inspiration behind the song. Answering to that, he shared that he had a melody in his head but no lyrics and one day his homie recorded him singing 'Jenni-Jenni-Jennifer,' which he was freestyling in the bathroom,
However, the male artist said that the song was not about a girl named Jennifer but instead was for some other girl in the class whose name he did not reveal.
Trinidad, who celebrates his birthday on 23 of May, was also asked about how the full version of the song Jennifer evolved. In reply, he said that he went in a big studio in Arizona.
Initially, he did not have verses or the rap but ended with one at the last minute. He got a good hour and was recorded by his mutual friend's pal. He got a team that helped him contact and legally sort out everything. 
Besides the fame, his song has also helped him connect with his parents' family as many of his relatives contacted him and his moms after he became famous. Even the relatives of his father, who is in prison, approached him from various places.
Shares Love With Music
During an interview with the pigeonsandplanes.com on 30 June 2017, Trinidad quoted that he wants his fans to feel themselves through his song. He stated that he wants people to feel ok while being different than other people.   
Sharing his own experience, Trinidad said that he used to be neglected and ignored due to his black ethnicity. Moreover, he was not allowed to enter his Mexican friends' households just because he was Afro, but he always tolerated it. 
So, through his song, Trinidad wants people to know that its alright to have tolerance and patience. He wants people to realize that its normal to be friends with different people, with those who have a different religion, sexual orientation or any factor like that. He encouraged people to build a beautiful relationship despite the background they belong.
With such mature thoughts and mesmerizing talents at the young age of 18, Trinidad will undoubtedly surpass all the heights of stardom and garner all success he deserves.
Keep Visiting to stay updated on the life of Trinidad Cardona!