Entertainment
TV Host Wendy Mesley Revealed How Her Battle With Cancer Forced Her to Chase The Cancer Answer
She is a fighter and she is an inspiration to everyone over there. She fought cancer and she came out as a winner. She went under some serious treatments and it affected her, but she did not let it affect her mentality and fighting spirit. She had a breast cancer but after going through two lumpectomies and some chemotherapy she came out a winner and she has already returned to her work as well.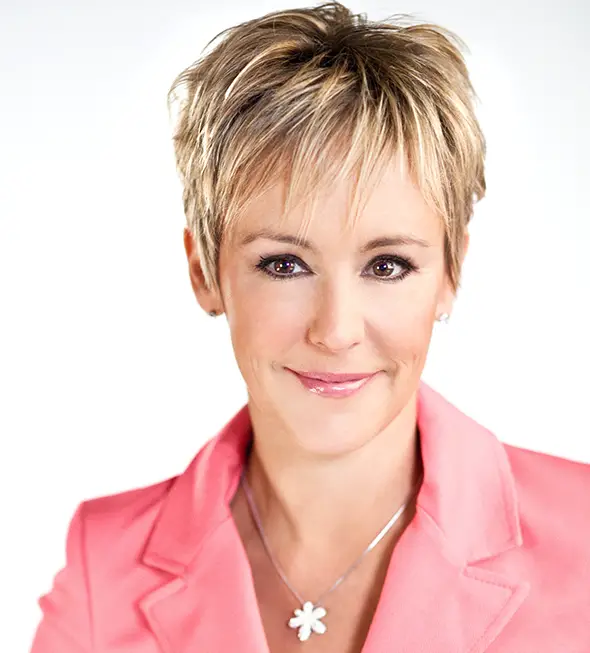 Battling cancer and eventually triumphing over it must be one of the best accomplishment one can ever have and Wendy Mesley stands tall on the pedestal reserved for those who have tried their best for this achievement.
In 2005, Wendy Mesley, CBS reporter and Canadian Television icon announced that she had breast cancer. She exclaimed that this came as quite a surprise. She talked about this experience and stated
It was just like in the movies. All of us were clinging to the idea that, well, you've had a few scares . . . it'll be nothing. But somehow I knew [this time would be different] When I got the call, it was like, 'Wow. Wow. Wow. I just never thought this would happen to me.
But she was more than determined to fight and eventually, she 'succeeded.' (Do note that she never treated her cancer. but just had it under control and was confident that she would survive long with it.)
Let's hear it from the courageous lady herself. 
"After I was diagnosed, I quickly moved from the "why me?" to the "why not me?" phase after a senior executive at Princess Margaret Hospital Foundation told me that cancer had just surpassed heart disease as the number one killer.He said statistics now reveal that almost one in two people born today will be diagnosed with cancer in their lifetime. I was shocked, and wondered why this hadn't made headlines. The stats don't mean that everyone diagnosed will die of it, and I'm grateful for the funding and research spent on treatment to keep people like me alive, but unfortunately we look at cancer as a chronic disease now. The untold story is that many cancers can be prevented because they're caused by environmental factors – things we eat, drink and breathe. Why aren't we doing more for prevention? It's difficult to prove that the cause may be found by adding up the chemical culprits we're exposed to daily; it's easy to get products onto store shelves: it's hard to get products off of store shelves. Europe and the US are much more proactive in both revealing information to the public, and reformulating products so that we can still have our hair dyes and cleansers, but without questionable ingredients. There are big issues, like breathing in benzene from car exhaust, that take big discussions and big decisions, and our society complacently discounts it with, "Doesn't everything cause cancer?" and does nothing about it."

"I considered that I've been using the birth control pill for decades, and estrogen is recognized as a class one carcinogen. It's proven that if you're on the pill for over eight years, you increase your risk of breast cancer. We're not told this, and then taken off of it; instead it's now being promoted for use to girls who aren't even having intercourse yet, to regulate their periods. I also discovered that the amount of alcohol that I drink, a glass of wine per day, also increases risk of breast cancer by approximately 30 per cent. You don't read that on wine bottles."
CBC News The National's Friday and  Sunday anchor, Mesley, was diagnosed with breast cancer (left breast) in January 2005. Fortunately, Mesley's prognosis came out excellent after she underwent series of treatment, including two lumpectomies, chemotherapy, and radiation. She managed to return to her CBC stints in March 2006 with the help of an oncologist.
"I have been a health nut all my adult life, watching what I eat and exercising," the 50-year-old says. "Sure, I smoked in the wild days of my youth, but I haven't smoked for 15 years, and they always told us that was a factor in lung cancer. They were not telling us back then it was related to breast cancer. And there is no history of it in my family." Mesley in an interview in 2008. 
 In 2006, she released her documentary 'The Cancer Answer' which showed her battle against Cancer and her efforts in finding the cure to cancer as well as the reasons for its current epidemic.
Caption:  Her documentary  "Chasing the Cancer Answer," which she created learning from her cancer experience.
Response to the Cancer Answer
The cancer answer provided a lot of inspiration and motivation to cancer patients to fight back. The documentary was a great unique insight on cancer from the perspective of a patient, who in her entire life, never thought she would have to go through such an experience. Although the documentary was quite motivating, a significant portion of the audience commented on the misinformation and wrong facts as well as how the documentary set its foundation on well-known facts about cancer and nothing actually of actual value.
On April 8, 2006, Margaret Wente expressed her opinion on the cancer answer on 'The Globe and Mail' highlighting how 'The Cancer Answer is no answer.' 
Married Life, Husband, and Daughter??
On January 6, 1989, Mesley married Peter Mansbridge, the then sole anchor of The National, but sadly they underwent a divorce in 1992. Later, she married for the second time on April 17, 1998, to a marketing executive, Liam McQuade. Liam and Mesley have a daughter, Kate Rae McQuade.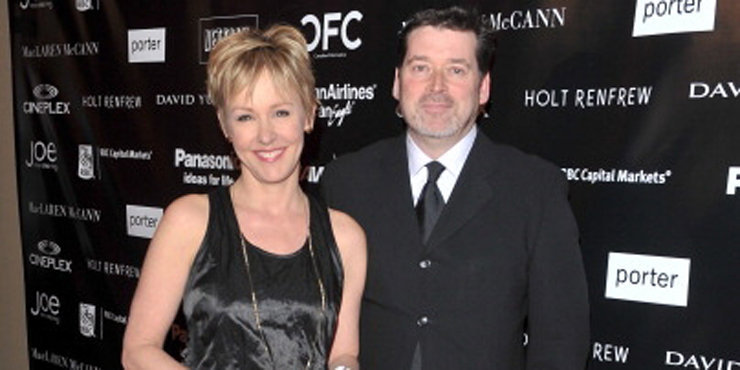 Caption: Mesley alongside her husband, Liam
Source: liverampup.com
Her successful career has rewarded her with an enormous salary and of course a significant net worth. Her exact net worth is not available right now, but there is no doubt in it being more than millions of dollars. She has toiled and thoroughly earned her current status and stardom.
As an inspiring lady, Mesley's fantastic lifestyle is also illustrated on her social networking sites. She has around 70 thousand followers on Twitter. She tweets more often on Twitter sharing her views.
Regarded as one the most sedulous Canadian television host and reporter, Wendy Mesley has hosted CBC Television's consumer investigation series Marketplace.  She currently co-hosts Test the Nation alongside Brent Bambury. Also, she co-hosted the investigative newsmagazine CBC News: Disclosure with Diana Swain in 2001 and 2002.
She previously hosted the media and technology series Undercurrents from 1994 to 2001. She also starred in CBC flagship news program 'The national' alongside Peter Mansbridge, Adrienne Arsenault, Rex Murphy and Neil Macdonald