Entertainment
TV Personality Antonia Wright: Wondering About Her Husband and Daughter's Identity?
Antonia 'Toya' Wright becomes an element of the news very often, if not because of her matters then because of being linked to the matters of her partner. By the way, who is the rapper and business woman dethroned to? Know more about her husband and what about her daughter who keeps coming up in her matters.
About Her Wedding, Married Life, and Husband:
Antonia Wright is currently living happily with rapper husband, Mickey Wright better known by his rapper name "Memphitz." They got married on June 2011 in an intimate ceremony in the suburbs of Atlanta. Not all of the photos were instantly released to the press because of the wedding was to be a feature on 'Toya: A Family Affair' but later the photos came out of the beautiful newlywed husband and wife.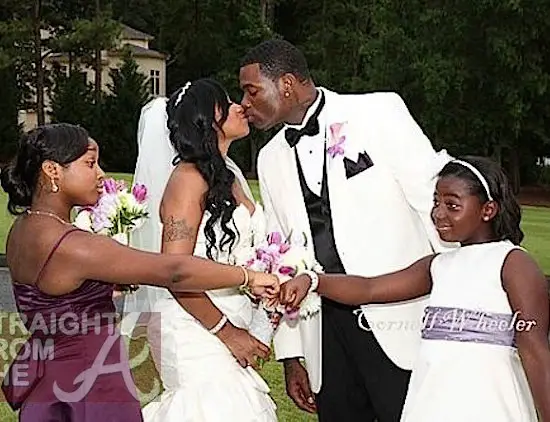 Caption: Toya Wright kissed her husband, Memphis on the wedding day on June 2011
Source: straightfromthea.com
Their On and Off Relationship:
The couple looked like their marriage was going strong especially after their romantic 1st-anniversary celebration at Paris. Sadly the couple was having problems after just a couple of years and after months of rumors, it was confirmed in February that the couple had split.
She had shared, "The current status of me and my husband [is] we are separated at the moment. And we're just — everybody has their marital issues. And right now, you know, we're separated." She had also added that even though they have split up, they aren't divorced yet, and she will keep fighting for her marriage.
Her decision must've paid off as they were spotted a few months later in July in the anniversary celebration yet another couple who were said to have split; British Williams and Lorenzo Gordon from the 'Basketball Wiv.'
Their reunion was confirmed when 'The Shade Room' posted a picture of the rapper praising his wife on Instagram. This was not all, when his pal Tiny Harris by the user name of @majorgirl wrote, "Y'all two need a baby..." Memphis replied by saying "@majorgirl that's what she said. I hear ya sis."This could be the sign that the couple may want to welcome a baby.
But the couple started to have problems in their marriage again. They decided to give their marriage one last try by entering the new reality series, 'Marriage Boot Camp Reality Stars.'
She later revealed in an interview with Big Tigger at the V-103 radio in Atlanta that even though they will look like they are mending their relationship, they had learned that it wasn't meant to be. "We did it with the hopes that we could kind of make things work; she said, "It's crazy because I realized that we are not as compatible as I thought we were."
Caption: Toya Wright's interview with Big Tigger on June 2016.
Source: essence.com
About Her Daughter:
Her daughter Reginae Carter is not a new name as well, born an heiress of two hip-hop celebrity parents she has come to limelight time and again. But even so, she is always sidelined by the big names of her parents.
Regardless, she still makes headlines often like the times because of events like being spoilt by her hip-hop sensation dad buying her luxury cars. She also threw a secret birthday bash to her father on 2015. She also becomes the center of the news defending her father and other members of her family. She also spoke out on social media about the shootout where she lost her two uncles.
Antonia 'Toya' Wright's Short Bio:
Antonia 'Toya' Wright was born on October 26, 1983, in New Orleans, Louisiana. She is the second child born to parents, Walter Andrews and Anita Johnson-Andrews. She was pregnant with former husband Dwayne Michael Carter Jr. (Lil Wayne)'s daughter at the age of 14. She later gave birth to Regina 'Nae' Carter at the age of 15 with on November 29, 1998.
She has an astounding net worth that is estimated to be about 4 million dollars. The news came on August 20, 2016, that why couldn't Lil Wayne attend the funerals of Toya's brothers who were shot down in New Orleans.