Entertainment
Twan Kuyper, 21, Makes Dating Look So Easy! Meet His Girlfriend
Dating is larger than life experience; it's something that girds your entire life, not just one fragment of it.
Challenges in our everyday life swarm our dating life, and issues in our dating life affect our day to day existence, setting up a self-perpetuating loop of frustration. 
More often than not, though, dating can be a prolonged, painful exercise in disappointment. That is why we all wish for some reliable ways to make dating easier.
However, the YouTube star Twan Kuyper is one of those who is savoring a satisfying dating life with his girlfriend.
Thus, let's have an eagle eye on Twan's comfortable dating life. 
Twan Kuyper: Easy Dating Life With Girlfriend
The famous YouTuber, Twan, who wanted a girlfriend as per his 2016 tweet in June 2016, may have finally found his soulmate. 
Twan's girlfriend is none other than the famous snapchat and Instagram personality, London Goheen.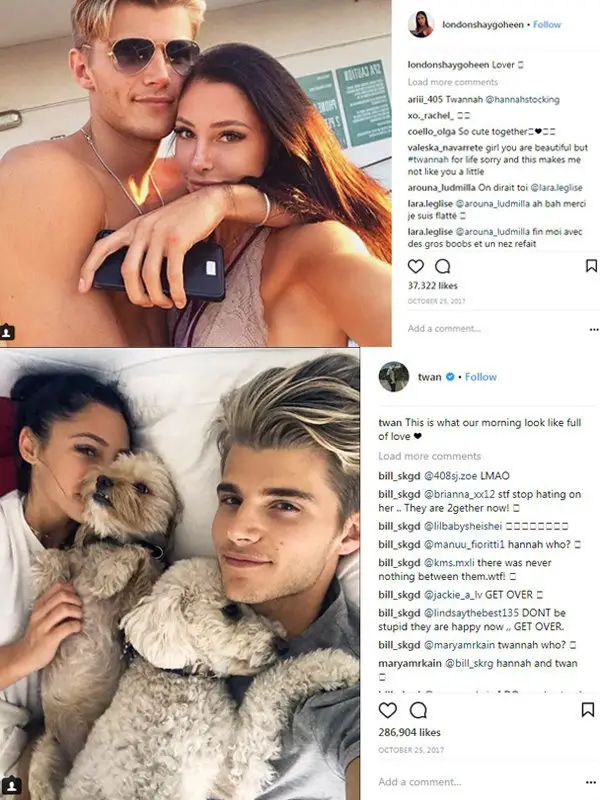 Caption: Boyfriend Twan and girlfriend London share picture, hint relationship
The duo posted their first couple pictures on Instagram on October 25, 2017. However, the famous pair hasn't officially confirmed their dating story in their interviews. 
Meeting Her Parents
Twan first met London in the states after he joined Vine in 2014.
Later, In November 2017, Twan again shared a beautiful picture with his girlfriend, London on Instagram.
In the Instagram post, Twan can be seen super excited to go to Houston to meet London's parents for Thanksgiving. Amazingly, he has only passed a year on the relationship clock.  
Not just this, the sarcastic love Guru of the Vine world frequently uploads his romantic pictures with his girlfriend London on Instagram. 
Dating Rumors with Lele Pons
Not so long ago, the YouTuber Twan was also rumored to be dating his best friend, Lele Pons, who introduced him to the Vines. However, they are just good friends.
In July 2017, Twan shared a picture on Instagram with Lele, writing about their friendship.
Fans may have referred the real-life friends as a couple because Twan's YouTube vine time and again features Lele.
Twan Kuyper's WiKi like Bio
YouTube star Twan Kuyper, who enjoys a lovely height of 6' 1.2", was born and raised in the Netherlands on February 19, 1995. He has four siblings.
Kuyper started his career at the age of 16. Since his early days, he has developed a real passion for modeling. Till date, Kuyper has thoroughly enjoyed his modeling stints for photo shoots, print campaign and runway and fashion shows.
In 2013, Twan moved to South Florida to pursue his career in modeling. Youtube and Vine Star Twan first got into Vines, courtesy of his best friend, Lele Pons. 
Kuyper amassed over eighty thousand followers the same day he joined Vines, and within twenty days, he enjoyed a massive two hundred thousand plus followers on his Vines profile.
Later, in 2015, Twan appeared in the movie 'Fifth Harmony: Worth It, PARODY,' which later helped him gain roles in 'Woman on the Edge' and The Broken Record' in 2016. 
Nevertheless, the YouTuber, Viner, Brand person, Philanthropist, and Businessman, Twan Kuyper,  has earned a net worth of $2 million plus in his successful career.   
Besides that, his hobbies include playing basketball and working out in the gym.