Entertainment
Tyger Drew-Honey, Dating With Regular Folks?: You can Start Affair and Be His Girlfriend
Plenty of TV star kids prefer to find their partner from the same background. But it looks different for the star kid Tyger Drew. The musician is looking forward to finding his girlfriend amongst the crowd of a normal being. Well, this news will make the female fan following go wild, crazy and be at their best as you never know when Drew might place his hand on you to be his partner.
The Reason for Dating Regular Folks:
Celebrities like Tyger Drew-Honey, Joey Essex, and tattoo fixer's Paisley are participating in a new reality show E4 where they are made to date regular folks. The show will last for about three weeks where the celebrities are made to date a noncelebrity partner. Every random female is eligible to participate in this show by filling the basic form.
The show shall focus on those celebrities who are lucky to find a love and on those who are unlucky ( well! camera shall capture all the actions of the celeb!). The board shall comprise of professional like Eden Blackman(dating expert and founder of would like to meet) and matchmaker Nadia Essex. As posted by Radio times on 20th July 2016, the channel 4 Head stated:
"If there's one thing we can't bear to see at E4, it's a celebrity who's unlucky in love. That's why we've created our own celebrity dating agency, whose sole aim is to find true romance for famous singletons. Celebs Go Dating will find real people and match them up with famous faces, all in the name of love."
Well, this seems to be a golden opportunity for the fan following of Drew to be his on-screen date. You never know what might turn the on-screen date to off-screen love. The actor is quite straight( not gay) with his sex, and I don't think so any female fan would miss this life turning the opportunity to become the on-screen girlfriend of Tyger Drew. Will you girls?
His Girlfriend and Dating History:
The star has been seen many times with Libby Millward and Maia Penfold in different events. In a quick question and answer round posted by mail online on 4th May 2015, the actor even confirmed his girlfriend to be his best friend but didn't mention her name.
Nevertheless, no specific detail on his dating history with these two beauties have been found. So we can't exactly say if he is single or with someone else but he apparently wants to be with one.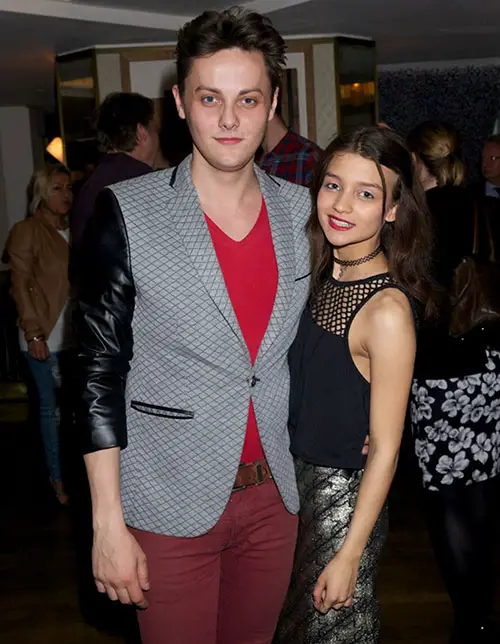 Caption: Inside Opening Night of THE RAILWAY CHILDREN at King's Cross Theatre Tyger Drew with his ex-beau Libby Millward (2015/1/5)
Source: stomp.co.uk
Caption: Penfold and Tyger saw at the wicked media even London.21/12/2012
Source: digitalspy.com
Drew's Family Background:
Being brought up in a family o adult stars, this tv personality seems to be quite comfortable in the surrounding of adult movies. On an interview posted by Radio times on 5th May 2014, he said:
"My parents never hid from me what they did for a living.It was a very slow, euphemistic process. A friend would come round and they'd say, 'This is Pascale. Mummy and Daddy take pictures of Pascale having a special hug with Charlotte.' By the time I was nine, I pretty much completely understood… I knew it wasn't normal, but it was just my life." He added," Every year we'd have sexually explicit stars coming around.They'd buy me presents and we'd play games – I remember them picking me up and walking me along the ceiling."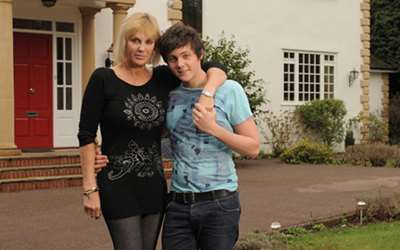 Caption: Tyger clicks with his mother.
Source: radiotimes.com
This star kid had been busted by some group of hackers by posting his x rate pictures. The actor has also stunned many of his fans by having sexual intercourse with a female robot and by launching three documentaries about sexually explicit art. As posted on radio times on 5th May 2014, the musician is quite confident about the sexually explicit art and states:
 "Sexually explict art is always going to be there and we're always going to be sexual beings who enjoy watching other people have sex. It's harmless and enjoyable if done correctly. It helps people get on with their life. The problem comes when they are watching it seven times a day and spending thousands of pounds on having sex with escorts because of it."
Tyger Drew's Shot Bio:
Tyger Drew was born on 26th January 1996 at Epsom, Surrey. He is the son Ben Dover and Linzi Drew. He received his education from Danes High School, in Oxshott followed by Epsom College.He has an estimated net worth of $2 million. He got a break in the year 2007 from the role Jack in the BBC starring series Outnumbered.
After that he started to act in series like The Armstrong and Miller Show(2007-2010), Outnumbered (2007-2014and Friday Download(2011-2013). He even worked in movie "Horrid Henry" (2011). He has lent out his voice in radio, television and also in animated movie(The Large Family 2006). Currently, he has undertaken projects like  BBC Click(2016)and The Chase (2016).