Entertainment
Tyler The Creator Dated Both Girlfriend & Boyfriend, Does That Make Him Gay?
Coming out has never been easy for anyone. Such is the story of the young rapper Tyler The Creator who before being identified as gay was dating...... his sexuality and love life has created a huge confusion to the public when the artist who was once called homophobic has been throwing gay lyrics in his new album.......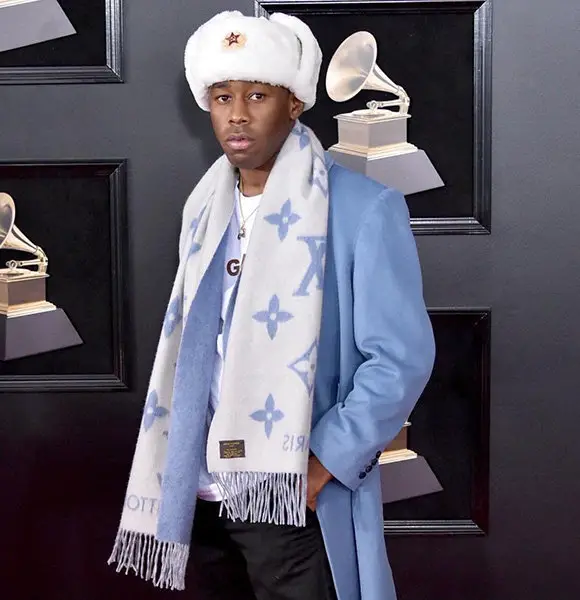 Every coming out story has its own perks and the 27-year-old American rapper, Tyler The Creator's story is full of it! 
First, he was deliberately criticized as either a 'misogynist' or a 'homophobic' and even criticized for his song lyrics accusing of female hatred and inappropriate gay reference!
However, in 2017, the artist weaved a new label to the artist when his debut album "Flower Boy" had the world introspect with the question whether the homophobe was gay himself. 
Learn how the rapper reveals his sexuality after making some space for public criticisms!
Tyler The Creator Labeled Homophobe: Throws Anti-Gay Slangs
Tyler was the young artist, who had provocatively used inappropriate lyrics that bulleted straight at the queer community and the female gender. His loathsome lines in his songs like
"Punch a bitch in her mouth just for talkin' shit"
made him bring out his misogynist side, giving a public clue about his detestable perspective towards women.
Interestingly even after such comments, the US Billboards hitmaker was in a relationship with the Australian rapper Iggy Azalea in 2014. The pair, however, declared their split after Tyler had publicly referred his girlfriend with her 'fake booty.'  
Tyler ended the relation with Iggy after calling her 'fake ass' (Photo: BallerStatus.com)
But, that wasn't enough, Tyler chose to bring more public hate after using the word "Faggot" more than 200 times in his 2011 debut album Goblin. The rapper denies such claims and reports he used the word as slang. Spreading such hate through music gained him the labeling homophobic.
Homophobic Finally Coming Out As Gay?
Tyler, who was previously accused of his anti-gay reference, may have gone way too far to show his disapproval towards such public opinion. The rapper established his own clothing brand GOLF, which turns out to be the rapper's platform to exhibit his support for the LGBT community.
And for his own sexuality, the first suspicious warning signal came after the California native posted a tweet in the year 2015 saying,
"I TRIED TO COME OUT THE DAMN CLOSET LIKE FOUR DAYS AGO AND NO ONE CARED HAHAHHAHAHA,"

Tyler's coming out the story was dated back in the year 2015 with this tweet (Photo: Linda Ikeji's Blog)
Later the evidence got stronger On July 4th, 2016, when Kendall Jenner tweeted him
"Apparently we're dating,"
For which he tweeted back saying,
"NOT POSSIBLE, WE'RE BOTH GAY,"
Further to this, he posted his drawing of a rainbow color man peeping out of the closet with a speech bubble saying "Is it Safe?"
The 2011 debut had given Tyler the nickname homophobic. But after nearly six years of releasing his next top Us Billboard hit album, the talented singer has finally brought his actual sexuality to the audience with his lyrical rap that reads,
"Next line I'll have em' like woah,

'I Ain't Got Time',

"I've been kissing white boys since 2004."
Coming out of the closet, where he now openly speaks his sexuality to all the people, just took a different in the Cherry Bomb singer's life. In the Rolling Stone interview he described himself as:
"gay as f**k"
He further added
"My friends are so used to me being gay. They don't even care."
However, the rapper has been dropping big clues all way long that points out his gay sexuality. One of such clues was when he revealed in an interview that he had a boyfriend when he was 15. All these statements just made the Billboard hitmaker embrace his actual sexuality without any hate or criticism from his behalf.