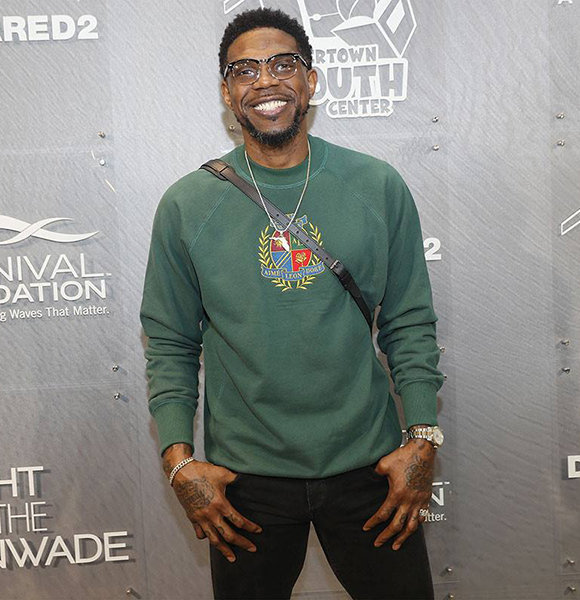 Udonis Haslem has been involved for a long time playing for Miami Heat since the team signed him in 2003. Moreover, he bought a significant win for the team by helping the team secured the NBA's first title in 2006.
His prolific and established career is well known in the sports arena. Likewise, outside the ring, too, he has managed to create a happy family by being a responsible and supportive parent in every way possible.
Girlfriend Turned Wife
Udonis is in a committed married relationship with wife Faith Rein, his longtime partner since his college years. The pair's love story began when they were studying at the University of Florida.
Interestingly, after first meeting each other in 1999, they were only good friends, and Faith was dating another guy. But she had always been attracted to him and even approached herself if he would take her out to dinner.
Yup, the start of his relationship was the other way around, and guess what? The athlete took Faith to Popeye's for fried chicken, and she was the one who paid the bill. Eventually, she left her then-boyfriend and began a relationship with Udonis instead.
However, throughout their dating period, the pair didn't make important decisions in haste and kept their career a priority as well. A year after their dating, his partner went through abortion after carefully considering that they couldn't sustain financially at that time with a baby in their life.
Got Abortion At Young Age :- Lira Galore Boyfriend, Pregnant, Baby Father
After all, back then, he was training for his NBA draft while his girlfriend was pursuing a career in sports broadcasting.
Kids, Footballer Son
Eventually, as years advanced, Udonis found success in the NBA, and they were finally ready to have kids in their life. So starting from 2007, they started their journey towards parenthood with the birth of their three sons Kedonis (eldest), Josiah, and Elijah Haslem.
The two later married on 24th August 2013 in a lavish wedding after he put forward the question on 29th August 2012. Their wedding ceremony took place in Palm Beach, Florida, in the presence of their loved ones along with notable players including Lebron James and Dwyane Jade.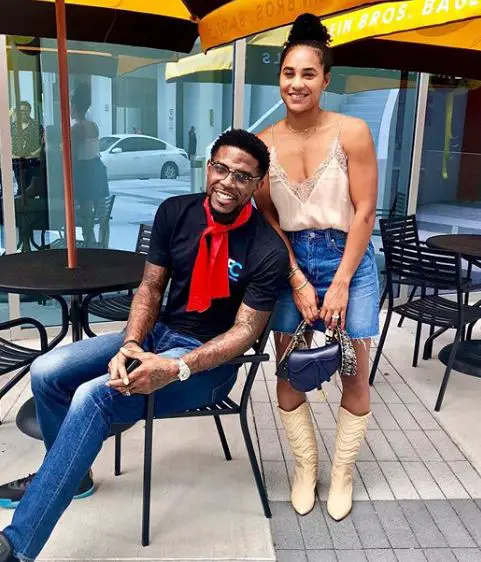 Udonis Haslem and wife Faith Rein spend time together during their sixth marriage anniversary on 25th August 2019 (Photo: Udonis Haslem's Instagram)
Interestingly, his son Kedonis has followed his footsteps by pursuing an athletic career as he is a professional footballer for the team Toledo Rockets.
Moreover, the NBA star remained supportive of his son Kedonis by choosing to appear at his son's event over his essential tournaments. For instance, in December 2016, he didn't join his team Miami Heat during their match against Cavaliers.
Since his son was competing for his last high school nationwide football match that day, his top priority for the day was to make sure he made his presence during his son's important day.
Age, Family, Mother's Struggles
Growing up, the 39-year-old basketballer was partly devoid of maternal love and care. His mother was addicted to drugs and went through unfortunate situations due to her addiction. She even had to work as a prostitute in one instance after being homeless.
Jackson Galaxy- Who Turned Addiction into Cat Love :- Married With Wife In An Unusual Venue! Detail
Thankfully, his mom was brave enough to fight her addiction but lost her life to cancer in 2012. Talking about his mother, he shared quoting,
"But my mother was the strongest person that I ever met. There are so many people that get lost in the streets. Drugs, violence, homelessness, prostitution, all those things that she went through, she came back from that. She cleaned her life up. She was a testimony to other people that was going through that. "
Due to uncertainty in her mother's lifestyle, the athlete grew up with his father and stepmother along with his stepbrother and sisters. However, he also has his brother named Samuel.
Talking in terms of his place of origin, Udonis (height of 6 feet & 8 inches i.e.2.03  meters) was born and grew up in Miami, Florida