Entertainment
Television Presenter Ulrika Jonsson Reveals She's Happy to Embrace Her Age! View Full Report
Ulrika Jonsson has been around as a TV presenter for many years, and we have seen her grow more mature, but it is astonishing how she still looks like a young woman who is in her 30s. Well, as intriguing her looks are, Ulrika embraces her age and married life too. Moreover, she even has a nickname for it. Let's find out what exactly is it that gave her nickname.
Ulrika Jonsson is currently 49 years old, but as we discussed, she still looks like someone who is in their 30s. However, she says that she is satisfied and happy with her life right now. She also said that she is embracing her seniority and said,
'Anyone who says they don't worry about ageing is either lying or 21!' She continued,
'I'm more aware of it now in my lovely menopausal glory! I'm enjoying it.'
She also admitted that she was at its highest and she was least settled and least happy and now that she is far far away from the public eye and the later stage of her career, she is happier and more settled.
As being late in her career and about to be in her 50s, she is all settled with a family that she is proud of. Ulrika is currently married, and her recent marriage is her third one of her many relationships she has had in her life. The fact that this is her third marriage, it is about her children that stand out. She has four children, and all of them are from different relationships she has had in the past and present.
Ulrika had four children with four different men, and she is called 4x4 from where the nickname steps in. Let's quickly have a glimpse over her four relationships that earned her the nickname.
Ulrika Jonsson's Married Life:
In 1990, she married John Turnbull who was a cameraman by profession. The couple separated about five years later, but before they divorced, the couple welcomed a baby boy, Cameron Oskar George Turnbull.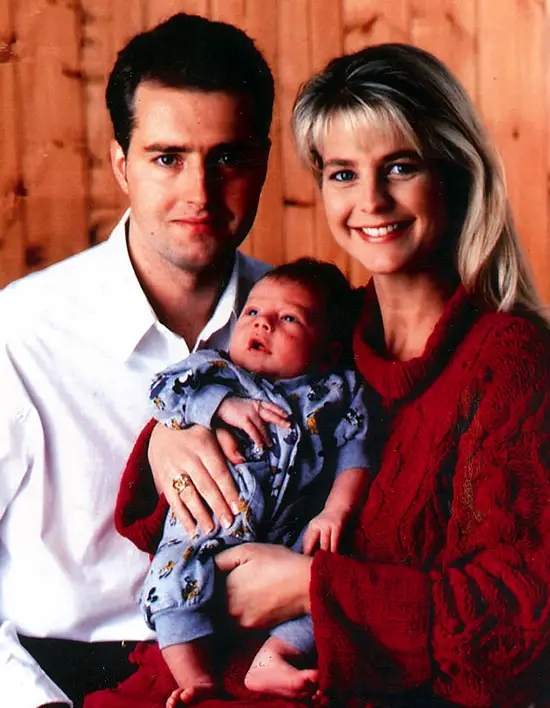 Caption: Ulrika Jonsson with her first husband, John Turnbull and son Cameron in 1994. 
Photo Credit: dailymail.co.uk
Her second child was born with her German hotel manager boyfriend Marcus Kempen in 2000, after a year of dating. Marcus and Ulrika never got married as Marcus left her while she was 8 months pregnant, came back for the birth and then vanished from her life weeks later Ulrika welcomed a daughter, Bo Eva Coeur Jonsson.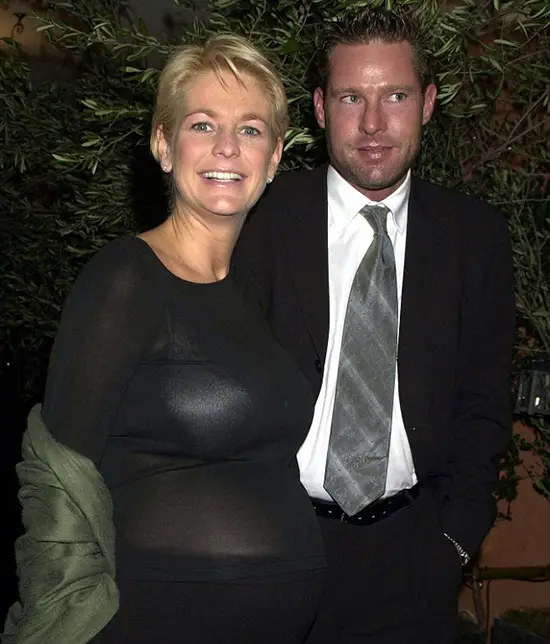 Caption: Pregnant Ulrika Jonsson with ex-boyfriend, Marcus Kempen in November 2000
Photo Credit: dailymail.co.uk
After that, she married Lance Gerrard-Wright, in 2003, while he was a contestant in a famous reality show Mr. Right. The couple welcomed a daughter named, Martha Sky Hope Gerrard-Wright in 2004. However, the marriage did not last and the couple got separated in 2005.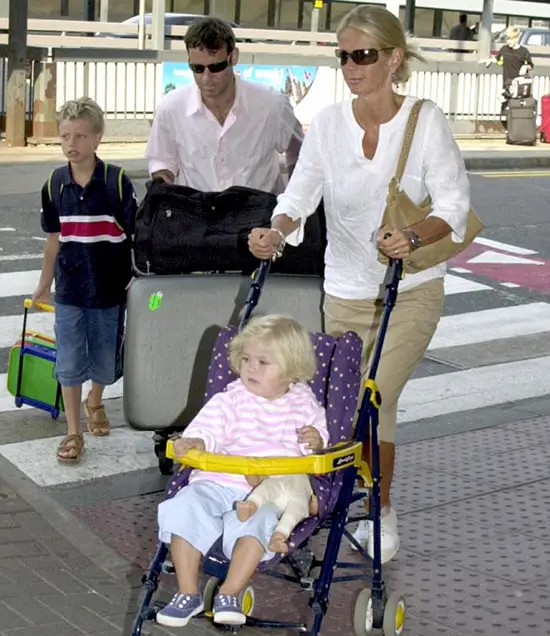 Caption: Ulrika Jonsson and second husband, Lance Gerrard-Wright with her son Cameron (left) and daughter Bo (centre) 
Photo Credit: dailymail.co.uk
She is currently married to Brian Monet, an American ad executive and this is her longest years as a married woman as the couples got married in 2008 and are still together. Ulrika and Brian welcomed a baby son, Malcolm Monet the same year they got married.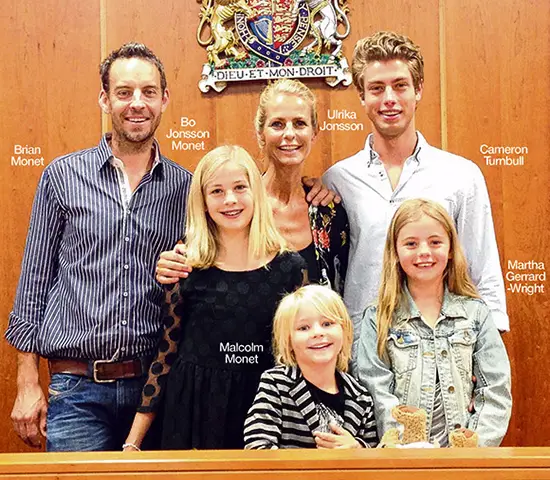 Caption: Ulrika Jonsson with her husband, Brian Monet and the children in 2014
Photo Credit: thesun.co.uk
Transition from 4x4 to 4x3:
Since August of 2014, Ulrika claims that she is officially a 4x3 and no longer fancies the 4x4 nickname as her current husband Brian Monet legally adopted Ulrika's eldest daughter Bo. The whole family took a trip down to the Oxford County Court early in August as a judge handed over a certificate which officially made Brian a father of Bo. As the judge passed the order, Ulrika said,
"When the judge granted the order, Brian and I wept. We rushed home to tell Bo,
who was so happy. It is hard to put into words what this means to us, now Bo has someone who has
truly earned the right to be her father."
The reason why the couple took this step was because Bo did not have anybody to call her father as for her siblings, they share a strong bond with their respective father and Brian is there for Malcolm. Bo was the only one whose father left her weeks before she after born. Ulrika said,
"My son Cameron, 19, has an excellent relationship with his father John Turnbull. Martha is the apple of her father's eye. And Bo had… well, me."
Now, Bo has Ulrika as well as Brian and Ulrika said that this accomplishment has made her family bond stronger.
Ulrika Jonsson: A Short Bio
During her career, Ulrika Jonsson has been majorly known as a TV-am weather presenter. She has also published a novel titled, The Importance of Being Myrtle on September 1, 2011. She has not revealed her current work field and neither has disclosed her salary or net worth to the media.