Entertainment
H2O actress Cariba Heine co-stars brothers dating fable. Australian Vacation With Boyfriend, Married Info Revealed
Cariba Heine, a talented actress, and even better dancer; who reached the skies of success at a young age, appeared in many acts and also in few movies across different countries, but it was her dancing that made her famous.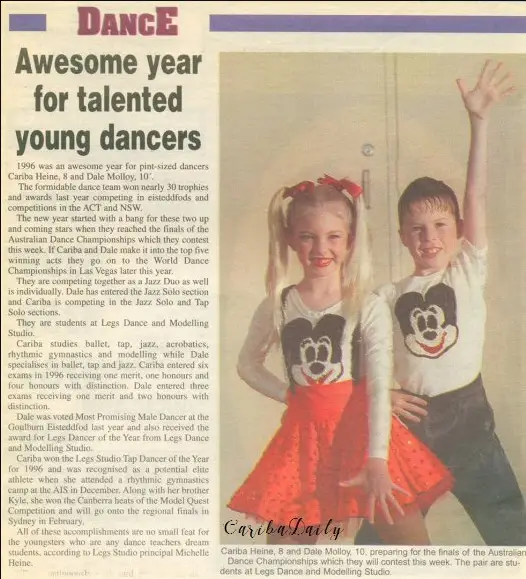 South-African born Australian actress/dancer Cariba Heine attracts success in young age: Young Cariba Heine and American choreographer Dale Molly dance three years together, DaleMolly also partners with Cariba Heine in American Television show Strictly Dancing in 2005 (Photo: Pinterest)
Fans associate her with the words such as beautiful, talented, charming, and inspirational; there's no reason why so many fans wouldn't keep immense interest in her personal details, especially in her relationships.
@Reneenanay101 @CaribaHeineFans no, they broke up around the end of 2013. She has a new boyfriend now :)

— Cariba Heine Fans (@CaribaDaily) January 19, 2015
As far as some Tabloids are concerned, they state that the Johannesburg native is unmarried. Likewise, such tabloids tend to assume that she wouldn't want to have a husband and family responsibilities at such a young age (she is in her late twenties), especially when she is doing so well in her career.
Caption: Cariba Heine (H2O's Rikki) and Jamie Timony (H2O Nate) (Famousfix.com)
However, according to many sources such as whomarriedwho.com, the versatile dancer got engaged to Scottish actor/musician Jamie Timony, @mossylovesyou in 2008.
Were They Married?
Nope, they were not. 
There are many fan pages and fake accounts related to the famous actress, and in one of them named @caribaheine, a post had referred Jamie using the word 'husband' back in 2012, further escalating the controversy.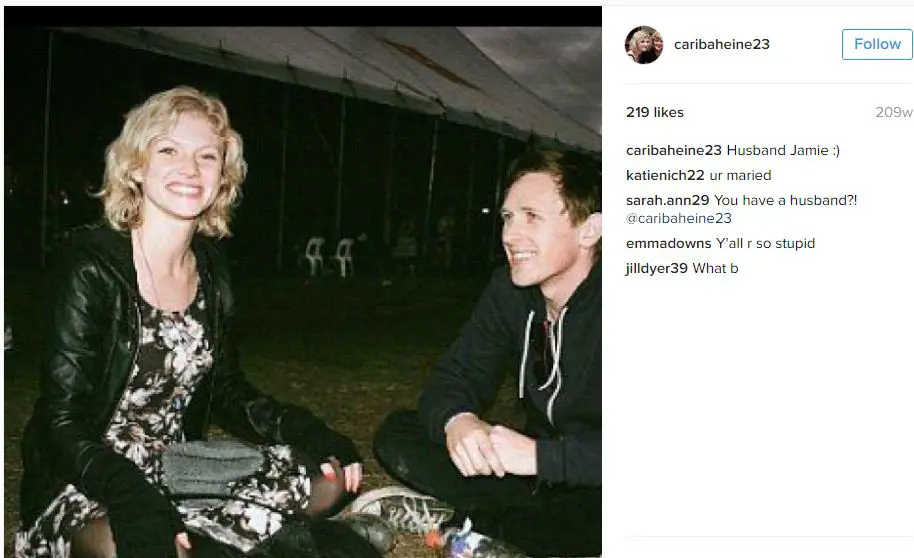 Photo: Cariba Heine's Instagram
Here's another post of them together posted by the fake account.  
But the question remains whether the St Clare's College graduate was really in a relationship with the Scottish star or not. 
The pair hasn't pondered their thoughts on the matter officially; thus the question remains unanswered, but as far as we know, Jamie is one of the important men in her life, as per the following post she posted on her Instagram in 2017.
They may have been just super cool friends, or they may have dated in the past, only they can tell. 
But what we can tell is that the fake account had been the major source of Jamie-Cariba relationship rumors until it was finally revealed that who she was dating. 
Who's She Actually Dating?
In 2018, Cariba's boyfriend was finally revealed. 
Caption: Cariba Heine - Rikki in Mako Mermaids // all scenes, 2016 (Published on Jun 23, 2016)
According to dailymail.com, the television series, Home and Away actress Cariba's boyfriend is none other than Australian actor Burgess Abernethy, who portrayed the bad-boy character, Zane Bennett, Cariba's character Rikki love interest, in the Australian fantasy television drama, H20: Just Add Water.
According to the online magazine, Burgess regularly posts the pictures of the actress on his Instagram, and the loving boyfriend-girlfriend spent a quality time vacationing together in Australian in 2017. 
H20 actress Cariba Heine goes green: Australian actor Burgess Abernethy regularly posts reported beau Cariba Heine's pictures on his Instagram (Photo: Burgess Abernethy Instagram)
In February 2018, the Australian actor was set to go to Vancouver, Canada to film the character, Prince William, in the Lifetime's 2018 biopic, Harry & Meghan: A Royal Romance.
In the article, the dailymail writer wonders weather Cariba would go to Canada to support her boyfriend in his filming or not. In February 2018, Cariba was filming her TV movie Everything Is Doing Great.   
Interestingly, the Australian actors, Jamie Timony,@mossylovesyou, and Burgess Abernethy,@burgess_abernethy, are real-life brothers. 
Timony and Burgess probably first met Cariba on the set of H2O: Just Add Water (2006-2010). The Scottish singer/actor, Jamie portrayed the character, Nate in the Australian television series, H20: Just Add Water
Cariba learned to work hard in her life and appraise love over hate, no wonder, so many hearts want to put the ring on her finger. The talented actress is someone with a close-knit family, and she herself values relationships: she has dedicated her entire Instagram to express gratitude to her friends and family.
Cariba's Family, Career:
I like listening to music, watching movies, going to the beach even if I don't swim and catching up with friends for lunch or coffee.

-Cariba on her spare time hobbies
Cariba has tried acting as well as dancing (has been performing since age 3), and although she began her career as a dancer trained in many dance genres, she later practiced acting and vocal at the National Capital Acting School. A student of St Clare's College, she became the youngest dancers to perform at Stargazers Convention in Sydney at the age of 15 in 2006. She initially learned dance at her mother's dance studio in Canberra. 
Having been homeschooled and trained adequately, she was set to shine in the world of dancing. Young Cariba had even appeared in many stage productions and enjoyed a US tour at a young age. Unfortunately, she had to give up dancing professionally because of a severe hip injury (at age 16).
Caption: Cariba Heine on TV show Dance Academy, 2010 (Published on Aug 3, 2016) 
Born on October 1, 1988, in Johannesburg in South Africa to South African parents, Cariba Heine is an Australian actress and a dancer. Her mother, Michelle, is a former model, and her father name is Kevin Heine. She moved to Australia with her family at the age of 4 in 1991. She has got one elder brother.
Her notable movies include television films such as A Model Daughter: The Killing of Caroline Byrne, and Blood Brothers. 
Furthermore, her notable television credentials include H2O: Just Add Water, Dance Academy, Mako: Island of 16 (2016), Designated Survivor, and Home and Away. 
 She is best known for playing the role of Rikki Chadwick, one of the three teenage mermaids facing everyday teenage problems in Australian dramatic fantasy television program H2O: Just Add Water. She later appeared on Mako: Island of 16 as adult Rikki.