Entertainment
Divorced Courtney Hansen's Perfect Weekend with Toddler Daughter and Boyfriend, Married Plans?
The host of Spike TV's 'Powernation', Cortney Hansen has taken some time off from her TV show. What could be the cause? The pre-recorded episodes cover her absence but know what she has been doing in her time off and about a grand weekend she had with her boyfriend and daughter.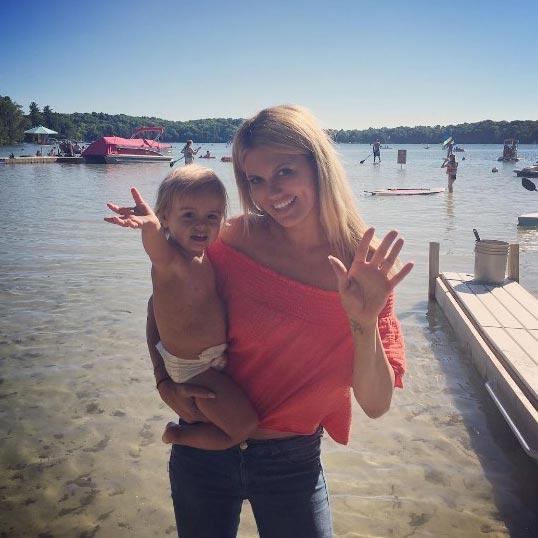 They say the car is a language of men, but many bright women are breaking these type of stereotypes. Who better to take as an example than Courtney Hansen. Being a wonderful host, she also knows about cars. Find out what is going on with her life.
The host of Spike TV's 'Powernation,' Courtney Hansen has taken some time off from her TV show. What could be the cause? The pre-recorded episodes haven't let us feel her absence nevertheless. Here we deal with what she has been doing in her time off and about a grand weekend she had with her boyfriend and daughter.
A Fun Weekend with her Daughter and Boyfriend:
Caption: Boat Ride for the Birthday Girl
The first week of July was a special week not only for her but also for her entire family as well. The week had marked the 2nd birthday of their lovely daughter, Holland. So, Courtney @CourtneyHansen and her boyfriend, Jay Hartington @jayhartington went a little bit out of limb for the weekend. No stories were shared by the couple but looking at the pictures updated on their Instagram; it appears as if they made the birthday girl jubilant.
The photo captions clearly depict that the couple went to Elkhart Lake. It seems as though they went boating on the lake.
They also had some quality time on the beach.
Caption: Hansen with her daughter- Testing the Water Before Going in
She also had the chance to take the following beautiful evening picture.
Perfect Patriotic Demonstration
She also had time to display her patriotism on the occasion of July 4th.
Past Married Life, Husband and Divorce Reason?
She has only one known past relationship, and that was with her ex-husband, Ilya Sapritsky. She was married to him in 2010, and they had no children. In 2012, news had it that these two were going to split because of irreconcilable differences. Soon, she filed a divorce with him and later also released a statement saying:
"Marriage is extremely sacred to me, and I took honoring those vows very seriously. Unfortunately, it has become necessary for me to move on. Thank you for respecting our privacy during this time."
The divorce must have been finalized later without the media's presence, as there have been no further updates on the matter and she is currently in a relationship with Hartington.
Her present boyfriend, Jay Hartington, @jayhartington, is said to be the Co-owner of 'Rumba Time,' a fashion watch company and previous owner of 'Marissa Collections,' a boutique. He has been together with Courtney for a long time, but they are not married. It is unknown of when and how they met.
Hansen first announced her pregnancy in March 2014 when she was already six months with a child in her belly. It was then that Hartington was revealed as her boyfriend. She delivered her beautiful daughter, named Holland Marysia Walker Hartington, on July 5.
Their relationship seems as if it is filled with love and won't break apart any time soon. Hansen appears to be a really motivated mother( see her interview with Parenting). In the interview, she has explained her motherhood experiences.
Courtney Hansen, however, has another love in her life - her love for cars. She has attended car shows and traveled to other places as far as Canada for it.
Hanging Out in Iola:
That is not all she is up to nowadays as the most recent update about her was that she was spotted in Iola on July 2016. She was gracious enough to pose for her fans at the Klein Automotive showroom in Clintonville besides a Corvette on July 6.
She also spent the next day signing autographs for the 44th annual show and celebrated the three days event. She said "What makes it special is Midwestern people are the nicest on the planet," said Hansen, who grew up in northern Minnesota and has hosted and been featured on some automotive-related TV shows."
Courtney Hansen Returns To USA Today To Cover Her Favorite Car Show
Courtney Hansen is back at USA Today and she's here to cover one of the most anticipated Car shows in the year. She was spotted at Iola last year as well at the same car show and this year she wants to be on the other side of the camera. Courtney revealed her plans to return to USA Today to cover the Wisconsin-based Car show on her Twitter, exciting many fans. The Iola Car show is currently ranked the #1 Car event in all of Wisconsin and is planned to be held from July 6-8 and Courtney will be covering the entire event from directly from the scene.
Caption: Presenting, the 45th Annual Iola Car show on July 6-8, 2017
A Short Bio on Courtney:
Born on October 2, 1974, in Minneapolis, Minnesota, Courtney graduated with a degree in marketing from Florida State University. 
An American television host/personality, syndicated columnist, published author, and former fashion model, Courtney Hanson is obviously a loving mother, but she is also an automobile enthusiast. Apart from appearing in different car shows like 'Powernation,' 'Overhaulin and many other shows, she has also been on the cover of numerous famous magazines like Hot Rod Magazine and Muscle and Fitness.
She has also authored a book called 'The Garage Girl's Guide To Everything You Need To Know About Your Car.' 
Caption: Power Nation with Courtney Hansen.