Entertainment
Still Not Married! With a Daughter, Leander Paes, on Domestic Violence Case From Alleged Wife
The biggest threat for any athlete is said to be injuries. However, few other events are as devastating as injuries as it can cause the downfall of their reputation they've built over the years. Let's see one such event that happened between Tennis superstar Leander Paes and his estranged live-in partner Rhea Pillai.
Leander Paes' Domestic Violence Case:
The tennis star was in a live-in relationship with his socialite girlfriend and former wife of Bollywood actor Sanjay Dutt, Rhea Pillai. Together Leander and Rhea have a daughter named Aiyana(11).
But unfortunately, there seemed to be trouble in paradise as in 2014, Rhea filed a complaint against Leander Paes and his father accusing them of domestic violence, demanding Rs.4 Lakh as a monthly maintenance and protection. She accused them of preventing her and her daughter access to their Bandra house and also ill-treatment during a party at the house. She also said that Leander failed to support her financially for the last two years.
Married Life, Wife, and Daughter?
Leander straightly denied the allegations made by his alleged partner stating that by Rhea and her associates failed to meet one of the criteria to seek protection under the Domestic Violence Act. Rhea was still married to Sanjay Dutt when they started dating and only moved in together after the divorce of Rhea and her actor husband.
His application included the statement Rhea made herself claiming that there was no intimacy between the two after the birth of their child, making their relationship not "in the nature of marriage." The couple was already in a legal battle concerning the custody of their daughter Aiyana.
The verdict was passed in Rhea's favor, but the case was re-opened in December 2015 stating that both the parties should be allowed to present arguments and produce an authentic evidence before drawing the conclusion and that the judgment was not that straight and straightforward.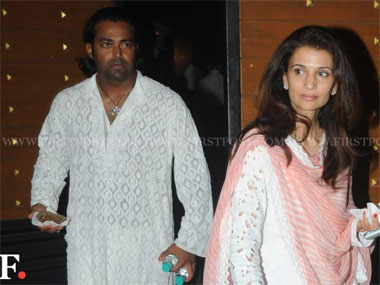 Caption: Leander Paes with his former partner Rhea Pillai.
Photo Credit: firstpost.com
Recent Update on Leander Paes and Rhea Pillai Case:
According to recent reports on May 8, 2017, the settlement of the dispute between the estranged couple, Leander Paes and Rhea Pillai seems impossible. 
Rhea's counsel demanded a house from Leander for their daughter but Leander did not agree to fulfill the demand. To which Leander's lawyer argued and reasoned that Rhea already has a house from her ex-husband Sanjay Dutt. 
Moreover, regarding the unsettled dispute, the bench said,
"It is not possible to say anything at this stage. We can't force the parties for settlement. We tried our best to persuade the parties while hearing them in-chamber."...
The bench has referred the matter to other appropriate bench and the next hearing date is fixed on July 18, 2017.
Leander's relationship turned bitter with his partner Rhea Pilla but he loves his daughter Aiyana and tweets beautiful words for her daughter with an adorable picture on the occasion of Christmas 2016.
A daughter may outgrow your lap but she'll never outgrow your heart...Merry Christmas to all of you from Aiyana and I ???????????????????????????????????? pic.twitter.com/vD6IsjgSf8

— Leander Paes (@Leander) December 25, 2016
Let's set Paes personal drama aside now and talk about his professional life!
Leander Paes' Professional Life
Leander Paes is a professional tennis player from India. He is considered as one of the world's best doubles and mixed doubles players of all time. He has ten mixed doubles and eight doubles Grand Slam titles under his bag.
With 42 victories, Paes holds a record for the most Davis Cup doubles wins and is also known for some memorable Davis Cups performances. He was named the Male MVP for 2009 and 2011 for World Team Tennis while playing in World Team Tennis for the Washington Kastles.
Paes recently completed his Career Grand Slam in mixed doubles, winning the 2016 French Open with Martina Hingis. He has also been qualified for the 2016 Summer Olympics in Men's Doubles with partner Rohan Bopanna. His net worth from his profession and brand endorsements is reported as $5.46 million.
Leander Paes' Short Bio:
Leander Paes, real name Leander Adrian Paes, was born on 17 June 1973 in Calcutta, West Bengal, India. He got his education from La Martiniere Calcutta and the St. Xavier's College.
Leander enrolled to the Britannia Amritraj Tennis Academy at the age of 12 that played a significant role in Paes development and his tennis dreams. He belonged to an athletic family as his father was a midfielder in Indian field hockey team and his mother was the captain of the Indian basketball team.
Leander was once admitted to MD Anderson Cancer Center after a suspected brain tumor, which later turned to be neurocysticercosis, a parasitic brain infection, weeks after winning the Wimbledon in 2003, with Martina Navratilova.
Along with Leander Paes celebrity player of Olympics-caliber including Missy Franklin, Andre De Grasse, and Tina Charles are surprising their fans with their performances.