Entertainment
Mel B Ex-Husband Stephen Belafonte Was Married Twice, Cannot Visit One Of Two Children, New Girlfriend
Mel B Ex-Husband Stephen Belafonte Was Married Twice, Cannot Visit One Of Two Children, New Girlfriend American producer Stephen Belafonte started dating a TV host after his tumultuous break up with a prominent America's Got Talent star. Stephen first met Mel on the set of a film called Talk in February 2007, and after a whirlwind romance, they got secretly married in June 2007 in Las Vegas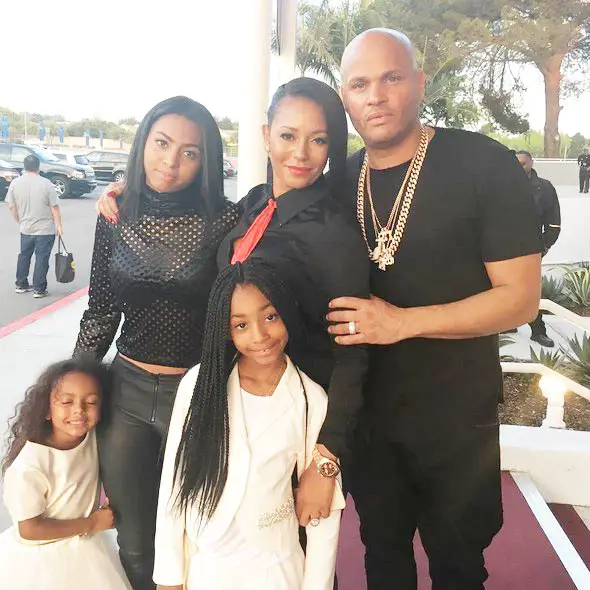 Quick Information
Relationship Status

Dating

Eye Color

Hazel Blue

Hair

Bald

Weight

N/A

Height/ How Tall? 6' (1.83 m)
Net Worth

$1 Million (Estimated)

Dating/Affair

Jessica Rich (2018-present)

Gay

No

Ex-Wife

Mel B (m. 2007–2017), Nancy Carmell (m. 1997–1999)

Girlfriend

Jessica Rich (2018-present)

Divorce/Split

Yes (Once)

Date of Birth May 18, 1975
Daughter/s

Madison Brown Belafonte, Giselle Belafonte

Brother/s

Jeremiah Stansbury

Mother

Sheryl Stansbury

Father

Thomas Stansbury

Ethnicity/Race

Mixed

Religion

Christianity

Zodiac Sign

Taurus

Birth Name

Stephen Stansbury

Profession

Film Producer

Nationality

American
American producer Stephen Belafonte started dating a TV host after his tumultuous break up with a prominent America's Got Talent star. 
First Met On Set, Married Soon 
Stephen first met Mel B, who once dated a mystery woman for four years, on the set of a film called Talk in February 2007, and after a whirlwind romance, they got secretly married in June 2007 in Las Vegas.
And once again in 2008, they exchanged wedding vows amidst friends and family in Egypt.
In an interview with Daily Telegraph, Stephen's then-wife said that she never had a romantic relationship with the producer before he kissed her.  
"Stephen and I never had a romantic relationship in all those years, so it was quite a shock when it happened.  One night, we'd been out and he just kissed me. I thought, what was that?"
Similarly, the then-bridegroom, Stephen once described his crazy romance with Mel B, stating,
"I'd never connected with someone on so many levels and, after a while, it just lined up. Knowing each other so intimately already meant all our cards were on the table. She knew all my crazy s**t, and I had her full story. That's been an amazing base for us. I've never had that before."
When asked about her relationship with Stephen, Mel had said in the past,
"Stephen is a great husband and a great father. I've always been very self-sufficient - in high times and low times"
Mel B and Stephen together have a daughter named Madison, who was born on 1 September 2011.
Stephen Belafonte's Divorce With Wife Of 10 years!
Stephen Belafonte's wife, Mel Brown filed divorce ending their married life of 10 years in March 2017. The divorce was filed citing "irreconcilable differences."
Mel asked for the joint custody of their daughter, Madison Brown Belafonte and also requested for the termination of the spousal support for Stephen. She also accused Stephen of making her nanny pregnant behind her back, which he denied stating "outrageous and unfounded."
The nanny, Loraine Gilles, later would file a case against Mel B for initiating threesomes with Stephen when she was just 18.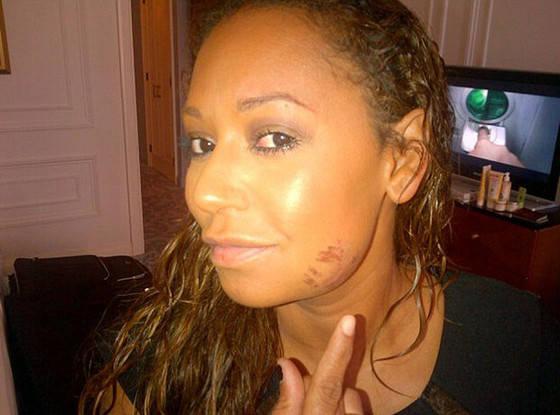 Mel Brown's wound in August 2012, said Stephen was involved (Photo: thesun.co.uk)
As per reports, Stephen didn't get half of the £48million of Spice Girl's fortune due to the prenuptial agreement.
Along with divorce papers, Stephen Belafonte was served with restraining Orders in April 2017. The orders were granted after Mel B claimed Stephen was physically aggressive in their decade-long marriage. 
After claiming that Stephen controlled her £40million finances in their turbulent marriage, Mel blocked Stephen from all of their bank accounts. Mel also hinted that she was not prepared to pay Stephen spousal support. But Stephen, in turn, filed a case against Mel B demanding an allowance and cover for his substantial legal costs. 
Later, Mel B would reach an agreement to give £6.5million to Stephen,' out of which £3.5 million would go to him after the sale of their marital home in LA.
Likewise, she was also ordered to pay for his health insurance since he suffered from the autoimmune disease lupus. Similarly, Mel B also agreed to pay $15,000 per month to Stephen til 2020 as part of the divorce settlement agreement that took place in December 2017. 
The former duo was also granted the joint custody of their 2011 born daughter Madison Brown Belafonte, but Stephen wanted more.  
Later in March 2018, Stephen was seen still fighting for the step-parent visitation rights to see Angel Iris Murphy Brown, the daughter of Mel B and legendary actor Eddie Murphy. Belafonte claimed that the legendary actor, Eddie abandoned Angel, and he looked after her as a father from the get-go. 
Mel B was pregnant with Angel when she started dating Belafonte. Mel B eldest daughter name is Phoenix Chi Gulzar, who was born from her marriage to former Dutch dancer Jimmy Gulzar (1998-2000), who in April 2017 claimed that Mel B tried to isolate him with daughter Pheonix after their divorce. 
Likewise, in April 2018, English model Lady Victoria Harvey confirmed that she had a threesome with Mel B and Stephen in 2007. 
Also in March 2018, Mel B also went to court to overturn the divorce agreements claiming Stephen "secretly funneled more than $10M from their joint accounts.' On the other hand, Stephen also claimed that the reality tv star trashed their $8 Million home. 
Previously, Mel B had claimed that Belafonte showed her daughters ISIS beheading videos, whereas Belafonte had contended that Mel B used drugs during the marriage.
During their marriage, there had been numerous rumors circling the relationship between Stephen and then-wife Mel B (Mel Brown). Some claimed that Stephen cheated on Mel after photos of Stephen and an unidentified woman leaving a restaurant surfaced. 
After they spilled in 2017, Mel B reportedly started dating a Beverly Hills policeman who was married. But later, Mel B ended the short affair after she found out that he was still in love with his wife.  
Previously in 2015, Stephen had made various posts through social media to assure his fans that he enjoyed a great marriage and was having a great time with his wife and family. 
Stephen's marriage with the X Factor judge, Mel B was not the first one as he was previously married to Nancy Carmell.
Stephen Belafonte's Past Dating Married Life: 
He first got married to Nancy Carmell in 1997 in Los Angeles, but, after two months, they got separated, The divorce was finalized two years later.
After Nancy, he started dating real estate professional Nicole Contreas with whom he even welcomed a daughter named Giselle Belafonte on 23 June 2004. They separated two years after the birth of their daughter. They remained together for six years.
In 2002, Stephen was involved in an attack against Nicole. The incident left Nicole with visible injuries. In 2017, Nicole claimed that she received no child support from Belafonte to look after their daughter Giselle.  
After his divorce with Mel B, Belafonte started dating television host Jessica Rich.
Stephen Belafonte, real name Stephen Stansbury, who belongs to mixed ethnicity, is a producer/director. 
He was born on 18 May 1975, in Hollywood, California.
He was associated with Atari, an interactive entertainment publishing company, and ROAM, high-quality headphones builder, in developing co-branded mobile and audio products.